Home » Cost Guides » North Carolina Cost Guides »
---
Greensboro was initially the largest city in the Piedmont Triad (Greensboro-Winston-Salem-High Point) until the U.S. Office of Management and Budget decided to redefine it. The statistical area was separated into two: Greensboro-High Point and Winston-Salem metropolitan area. Currently, the city is home to over 300,000 residents with a population growth of  nearly 11% in the past decade — almost 30,000 residents. One of the reasons people relocate to Greensboro is despite the city's relatively small-town feel, its economy is continuously thriving. In fact, WalletHub named the city as one of the best cities for jobs in North Carolina. The U.S. Bureau of Labor Statistics (BLS) also added that the city's employment sector is among the fastest in showing recovery from the COVID-19 pandemic. Traditionally, the city prospers through textiles, tobacco, and furniture. Today, construction, manufacturing, trade and transportation, and leisure and hospitality are among the industries showing the most significant improvements.
---
The Cost of Building a Home in Greensboro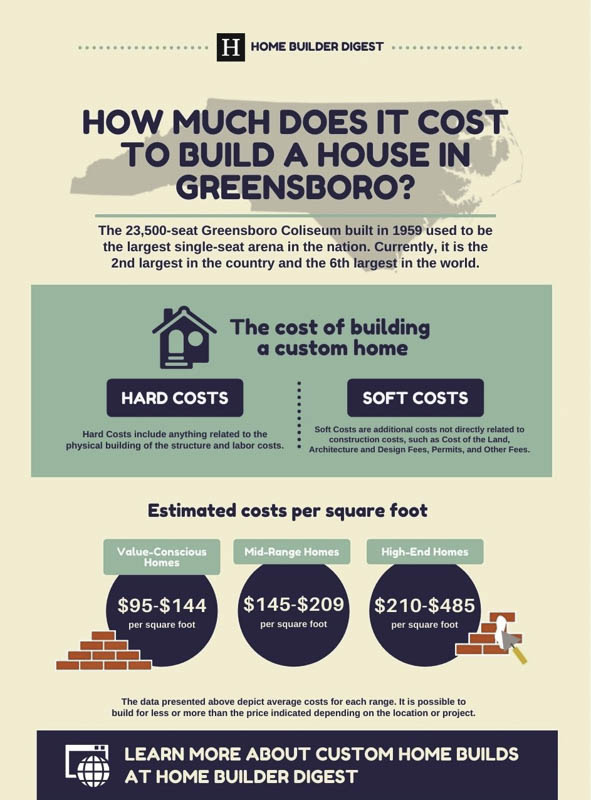 Although it may appear like purchasing a home is a simpler process, it does not guarantee that all of the items on the checklist will be ticked off. Building a custom home allows families to customize how they intend it to be and best suit their family's needs. Project owners can set a budget and concentrate on combining their goals and needs into their future dream home. This will allow them to stick to their budget and not worry about going over it.
Constructing a new single family home in the U.S. will cost roughly $300,000, according to the National Association of Home Builders (NAHB). In terms of square footage, value-conscious homes cost between $100 and $200 per square foot, whereas luxury homes cost between $200 and $500 per square foot. The project's customization, complexity, quality of finish, size, and location directly influence the cost.
Home construction costs in Greensboro range from $95 to $485 per square foot, which is within the estimated range given by the NAHB. To be more specific, value-conscious homes range from $95 to $144 per square foot, mid-range homes range from $145 to $209 per square foot, and high-end homes cost $210 to $485 per square foot; sometimes more. To build a 2,500-square-foot home in Greensboro, aspiring homeowners will need an estimated budget of roughly $240,000 to $1,215,000.
Bear in mind that the aforementioned figures are only approximations. Other than the ones listed above, further aspects must be examined before getting a solid answer on how much it costs to build a house in Greensboro. These are separated into two categories: hard costs and soft costs.
Hard Costs

Hard costs refer to all the fees involved in the actual building of the home. These include the materials used, labor fees, extra amenities, and landscaping.
The average cost of building a custom home in Greensboro is $120 per square foot. This estimate is for basic construction only, including labor fees, foundation, standard building materials, basic finishes, and cleanup. Additional upgrades such as premium quality materials, kitchen and bath customization, and construction of extra amenities may increase the price up to $210 per square foot. A 2,500-square-foot home will cost between $300,000 and $525,000 to build, excluding site work, land, and other expenses beyond construction costs.
Listed below is the price breakdown of each construction work:
Foundation: $10,000 to $62,500

Framing: $20,000 to $50,000

Exterior Finishing: $40,000 to $60,000

Interior Finishing: $50,000 to $175,000

Siding: $2 to $14 per square foot

Flooring: $3 to $22 per square foot

Heating, Ventilation, and Air Conditioning (HVAC): $30,000 to $75,000

Roofing: $2,500 to $25,000

Garage: $75 per square foot

Decks/Porches: $20 to $100 per square foot

Materials:

Lumber: $600 per thousand board feet

Concrete: $4 to $8 per square foot

Drywall: $0.50 to $1 per square foot
Labor fees, as per ZipRecruiter:
Framing Contractor: $30 per hour

Construction Manager: $34 per hour

Roofing Contractor: $24 per hour

Electrician: $18 per hour

Plumber: $22 per hour
Soft Costs

Soft costs cover all the expenses that go beyond the physical home building. These include acquisition of land, permit fees, and architectural or design fees. Most of these are settled on the pre-construction stage, and some are to be paid upon project completion.
Cost of the Land
Greensboro's Land Development Ordinance states that the prescribed minimum lot area is dependent on the home's location and area density. Traditional homes must have a minimum lot size of 4,000 to 10,500 square feet. A higher specification is set upon single family detached and zero-lot-line homes with a minimum required size of 5,000 to 12,000 square feet.
Current listings in the real estate marketplace Zillow show that residential land in Greensboro has an average cost of $115,000 or $5 per square foot. The cheapest land is situated on Baker Avenue near the Four Seasons Mall. It costs $35,500 for a 23,087-square-foot undeveloped land — roughly $2 per square foot. On the other hand, the most expensive listing costs $252,500 for a 23,958-square-foot lot — roughly $11 per square foot. It is located in the Grandover neighborhood, a community that is complete with outstanding amenities: Grandover Swim and Racquet Club with tennis courts, an Olympic-sized pool, fitness center, lounge, billiards, caterer's kitchen, children's playground, and an infamous world-class golf course.
Following the regulations set by the local government, acquiring land in Greensboro will cost $20,000 to $60,000.
Permits and Other Fees
As per Greensboro's Development Service Office, the building permit fee for new construction is based on the total construction cost, excluding plumbing, mechanical, and electrical. The calculation form is as follows, including a sample estimation:
According to the online contractor platform BuildZoom (BZ), recently built single family homes in Greensboro paid an average of $675 for the building permits. Some homeowners paid as low as $330, and some paid as high as $1,200.
Other fees that should be settled along the building permit are the administrative fee and the fire prevention review fee. The administrative fee is a fixed value of $75. On the other hand, the fire prevention fee is calculated based on the construction's total square footage, and the corresponding fee is as follows:
Architecture and Design Fees
Architects and designers usually use the percentage rate to price their services. They typically charge 9 to 10% of the project's construction costs. There may be instances that this rate will either increase or decrease depending on the workload, complexity, intricateness of details, and the home's size. Suppose the basic construction fee for a 2,500-square-foot home in Greensboro costs $300,000. The total architecture fee to construct a new single family home will land at about $27,000 to $30,000. This estimate denotes a specific scope of work based on a mutually agreed-upon agreement between the client and the architect. Any additional tasks will be paid separately — usually on an hourly basis — and will be added to the overall design fees.
---
How do Greensboro's custom home building costs compare to nearby cities?
North Carolina is located in the southern region, known as the cheapest state in the country. The region's median home building contract price is $110 per square foot — about 14% lower than the national average of $125 per square foot. With North Carolina specifically, the state is within the mid-range. Its median listing price is $135 per square foot, making it the 6th most expensive out of 17 states, as per Business Insider. North Carolina is 305% cheaper than the most expensive state, the District of Columbia (DC), and almost 30% more expensive than the most affordable state, Mississippi.
In terms of home building costs across major cities in North Carolina, BuildZoom (BZ) reports that the median ranges from $150 to $385 — around $375,000 to almost $1 million for a 2,500-square-foot home. For comparison, the median home building cost in Greensboro, according to BZ, is approximately $180 per square foot. The median home building value for each city is as follows, including its percentage difference from Greensboro:
Cary: $200 per square foot, 11% more expensive

Chapel Hill: $385 per square foot, 114% more expensive

Charlotte: $200 per square foot, 11% more expensive

Durham: $160 per square foot, 11% cheaper

Fayetteville: $150 per square foot, 17% cheaper

Raleigh: $225 per square foot, 25% more expensive

Wake Forest: $220 per square foot, 22% more expensive

Winston-Salem: $160 per square foot, 11% cheaper
---
The Future of Greensboro's Residential Construction Industry
When the pandemic began, the whole world went on lockdown, and people were forced to stay indoors for their safety. The more time they spend inside their homes, the more they realize that their space doesn't work for them anymore. Some families did renovations to improve their homes, but others have simply outgrown them and are now needing a new one. Numerous families are searching for a new home that works with their needs and lifestyle. This was initially great news for the real estate market and construction industry until it became an uncontrollable demand that placed immense pressure on the housing industry.
The real estate market's home inventory reached historically low supplies, which pushed the prices to increase. Bidding wars became the norm when buying a home. Greensboro's sale-to-list ratio — the amount a buyer pays for a home, divided by the last listing price — is 101.33% which means that homes are sold above their asking price. The value of single family homes in the city has also surged by 21% compared to the previous year — currently priced at $255,000, as per Zillow's Home Value Index. Additionally, smaller cities surrounding Greensboro, such as Julian, High Point, and Gibsonville, were known as one of the cities with the fastest-growing home prices.
For the construction industry, supply chain issues and labor worker shortages are some of its current major issues. The U.S. Census Bureau reported that construction costs have gone up to 15% due to these issues. The office predicts that it will continuously rise 1% per month until problems are solved. Fortunately, the world is progressively recovering from the effects of the pandemic. The restrictions are starting to fade, and supplies are reaching their destinations more quickly. This dropped lumber prices from $1,515 per thousand board feet to $1,113 — about a 27% decrease. Although this is a significant drop in prices, it is still above its pre-pandemic rates. Additionally, builders are still struggling to meet the high and still increasing demands for homes. Experts advised project owners to brace themselves for the sudden increase or decrease as prices remain volatile. On the bright side, the government of Greensboro is targeting to improve the city's manufacturing and supply chain logistics industries, which will greatly help resolve the high demand for housing.