Home » Cost Guides » California Cost Guides »
---
The city of Fresno, found in the heart of the Central Valley of California, is known as the center of agriculture in the state of California. In 2019, it was ranked as the top agricultural producer in the United States. Its location in the middle of the Central Valley makes it a prime location in the state due to its accessibility to other nearby cities in California such as Sacramento, San Joaquin and San Francisco. Fresno is relatively populous, with an estimated population of 539,962 as of 2022. It's the 5th most populous city in the state, and the 35th in the United States. 
---
The Cost of Building a Home in Fresno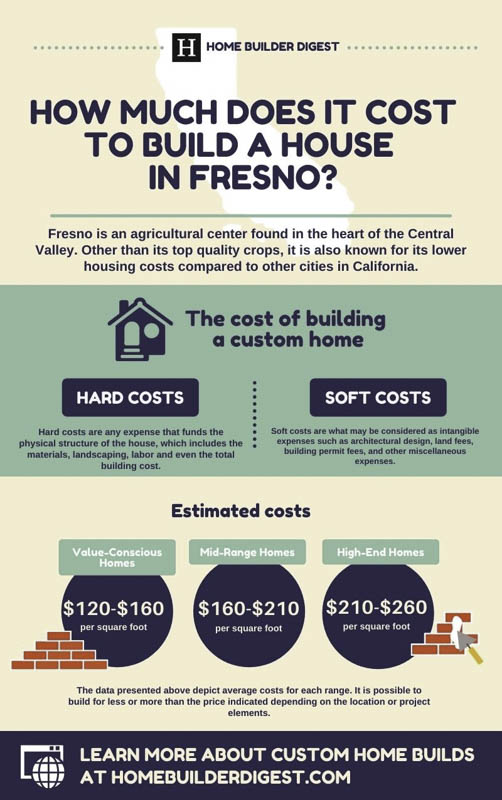 Fresno is most known for its capacity for agricultural production and prides itself in its ability to deliver farm-to-fork produce to residents. A prime source of grapes and almonds, Fresno county is considered the raisin capital of the world. Fresno is a city well known for its population's racial and economic distribution. The city has a decent blend of White, Hispanics, Asians and African-Americans distributed among various economic classes. This, coupled with lower land costs, makes the city very popular for new businesses and startups as a testing ground for new products. Similar to other cities in California, Fresno has a rather high living cost. Though cheaper compared to other cities within the state, it remains above the national average.
It is cheaper to own a house in Fresno compared to other cities in the state of California. As of 2020, the average price of a home in Fresno is pegged at $248,000. However, recent years following the pandemic have seen an increase in the cost of housing in Fresno by over 26% in the span of a year. The spike is mostly associated with people moving into Fresno from more expensive cities such as Los Angeles to avoid the high cost of living in their cities. This has caused a shortage in affordable housing in the area, thus increasing the number of homeless residents in Fresno. In addition, the cost of resources such as lumber has skyrocketed, rapidly increasing the price of homes in the city. Local government fees can accumulate to as much as $100,000 to the cost of building a home. Construction costs coupled with additional permit fees can accumulate. As of 2021, the total average cost to build a house in the city is $369,603.
Hard Costs

Fees directly associated with the construction of the physical structure of a house are considered hard costs. These include the home's individual components such as roofing, flooring, utilities, cost of materials and the labor fees involved. These costs do not include any underlying expenses yet such as government and inspection fees.
As of 2019, home construction in Fresno runs an average cost of $290,000 without including the contractor's overhead cost. With all fees included, the cost of building a home easily runs over $300,000, especially with the increase in the cost of resources for construction.  The typical range to build a home in Fresno is between $118 to $140 per square foot with an average cost of $131.54 per square foot.
The cost of roofing installation in Fresno varies depending on the style of roofing homeowners prefer. Standard-quality asphalt roofing has an average cost of $2.46 per square foot with a typical price range that runs from $1.88 to $3.05 per square foot. For tile roofing, homeowners can expect to pay $11.44 per square foot, with a price ranging from $8.79 to $14.1 per square foot. Wood shake roofs come with an average cost of $7.13 per square foot, with a price range of $6.16 to $8.10 per square foot. Metal roofing costs $10.08 per square foot, with figures ranging from $8.74 to $11.44 per square foot. Flat roofs are an affordable option costing $2.02 per square foot on average, with prices that range from $1.52 to $2.52 per square foot. Slate roofs are premium; the average cost to install one is $14.80 per square foot, with prices starting at $8.50 to as much as $21.11 per square foot.
The cost to install flooring in Fresno varies widely depending on the quality and type of flooring to be installed. Residents have paid a minimum cost of $801 up to as much as $6,013 for their homes. On average, homeowners paid around $3,407 for their floor installation. Wood flooring in Fresno can cost residents $7.74 to as much as $10.86 per square foot.
The installation of an air conditioning unit typically costs between $2,183 and $10,918 in Fresno California. Homeowners, on average, pay around $6,550 for air conditioning installation. Those desiring central air conditioning can expect to pay $7,203 to $13,615 on average. Cheaper unit installation typically runs at $3,350 but those desiring premium air conditioning services can pay over $20,000.
Soft Costs

Underlying costs such as the cost of the land and fees associated with government regulations fall under soft costs. These include expenses such as permit and inspection fees and any additional taxes required by the local government. These fees exclude any expense related to the actual construction of a house and its components.
Cost of the Land
Listings on Redfin cite that the average cost of land in Fresno is about $252,090 with an average cost per square foot of $11.20. Lot sizes in Fresno vary greatly. Smaller lot sizes typically run at around 5,000 to 7,700 square feet. Larger parcels of land are as large as 50,000 square feet up to 97,000 square feet.
Permits and Other Fees 
Based on housing permits collected, Fresno homeowners on average pay around $4,770 for their home construction projects. Fresno homes also come with an additional development fee that can cost up to more than $30,000. In addition, homeowners pay for a regional transportation mitigation fee that costs around $1,100 to $1,500. There are also fees for single family dwellings that include Park Facility Impact Fees that can cost as much as $3,923; Traffic Signal Mitigation Impact Fees of $488 and a Fire Impact Fee that can cost as much as $779.
Architecture and Design Fees
Architects charge either based on a percentage of a residential project (normally 5% to 20% of the total cost) or a fixed hourly fee. Hourly fees for architects average $100 to $250. An architect's full service can cost as much as $15,000 to $80,000. In 2022, homeowners typically paid $1,176 to $11,766 for architectural services.
---
How do the custom home building costs in Fresno compare to other nearby cities?
A Fresnan home is typically valued at $354,622 based on Zillow, with home prices rising by $22.10 every year. Neighboring Clovis City tends to be more expensive with homes that normally value $482,056. Selma homes run cheaper compared to Fresno, costing on average $318,246. The value of homes in neighboring Sanger City are marginally higher compared to Fresno City, at $377,437.
---
The Future of Fresno's Residential Construction Industry

The COVID-19 pandemic has undoubtedly left its mark on the residential construction industry in the United States. A decreasing number of laborers coupled with increasing material costs are making the cost of building a house skyrocket in recent years. Since 2020, Fresno has seen a major decrease in the construction of new homes. As of 2021, homes in the Fresno county area continue to increase in price, though changes can be foreseen in the future by experts. The Building Industry Association of Fresno (BIA) mentions that they still see high demand for housing in Fresno so they are optimistic that more units can be built to meet demand. Members of BIA anticipate that high demand will continue through 2022.
The construction of new homes may have been slowing down, but the inventory for existing homes for sale are expected to increase in the coming years according to the Fresno Association of Realtors. Much of the increase in demand is due to people from Southern California and the Bay Area wanting to move in. Many of them are moving due to lower costs of homes compared to their hometowns.