When the subject is custom homes in Arizona, the challenge isn't finding ace home builders who enjoy monumental success. It's about finding too many and agonizing over which are the 15 who stand out from dozens of big names. Why does the Grand Canyon State have so many top-tier home builders? For one thing, so many people want to live in Arizona, and so many of them are well-off. Nonstop sunshine and breathtaking landscapes are ideal settings for the opulent homes the upper crust crave.  
To prepare this list, we identified the industry leaders with stellar reputations who show a signature style widely recognized by the home building industry. We then turned to artistry, and counted several builders who create wonderful homes that improve with age. But, among those masters, one stood above the rest. His trademark approach is rooted in the classical architectural training that he rightly judged was necessary for success as a builder. He is a craftsman who is inspired by nature's enduring beauty and has a gift for bringing it to life.  
If you are thinking about building a custom home, we recommend checking each builder's license with the local licensing board, speaking to past clients, and using our bidding system to get competitive quotes from at least 3 contractors. Getting multiple bids is the best way to ensure you get a fair price and that bids include the complete scope of work.
---
12) Alexander Enterprises
1260 North Arizona Avenue, Chandler, AZ 85225
This leading member of the Arizona home building community is run by the powerhouse husband-and-wife team of Kevin and Kimberly Alexander. Since opening this boutique firm in Arizona in 1992, the couple has added over 85 sprawling estates in Chandler and Paradise Valley. The Alexanders share 60 years of construction experience between them, as both are third-generation homebuilders. Kimberly was born and raised in Arizona and started her own construction company at age 23. Kevin is from Southern California. After receiving his Bachelor of Science from Point Loma University in San Diego, CA, he served in management roles with Chandler Home Builders, Highlander Custom Home Builders, and the American Patriot Company.
The Alexanders are known for 6,500- to 12,000-square-foot modern and Old World-style estates with floating bridges, stainless steel cable railings, and barrel-arched brick entryways with cylindrical domes. The lavish builds have been featured in Sources & Design Magazine, AZ Lifestyles Magazine, and American Builder Magazine, and on the Channel 12 TV show Cool Homes.
---
11) Sonora West Development
8937 E. Bell Road, Scottsdale, AZ 85260
A pioneering spirit coupled with experience in tried-and-true methods are what the founder of this rising Scottsdale firm credits with putting him at the top. Principal and founder Scott Pfeiffer spent college summers framing houses. After receiving his degree in finance from Arizona State University, he joined US Home as a superintendent and decided he really liked the construction business. That experience led to a project management position with Desert Winds Development, where Pfeiffer ended up as vice president. In 2001, he ventured out on his own with Sonora West Development. Since then, he's built over 150 custom homes, priced between $1M and $7.5M, throughout Paradise Valley, Phoenix, and Scottsdale.
Pfeiffer draws inspiration from architecture more than design elements. Early on, the firm built California-style contemporary homes while competitors were putting up dark, Tuscan villas. Eventually, Pfeiffer's lighter tones became more popular for blending in with the natural desert terrain. Sonora West Development is a preferred builder in the Silverleaf, DC Ranch, and Arcadia communities. Pfeiffer was recently the subject of an article in Modern Builder Magazine.
---
10) Camelot
6607 N. Scottsdale Road, Scottsdale, AZ 85250
Builders of luxury homes since the 1960s, Scottsdale-based Camelot Homes is one of the oldest family-run contractors in Arizona. Principals Mark and Julie Hancock are continuing the tradition of high-quality home building started by Mark's parents, founders Maggi and J.W. Hancock. To complement his childhood experience of working on construction sites with his father, Mark studied business management at Arizona State University before assuming leadership of the company. He is former director of the Home Builders Association (HBA) of Central Arizona. His wife, Julie, who is managing director, has a Bachelor of Science and an MBA in Finance.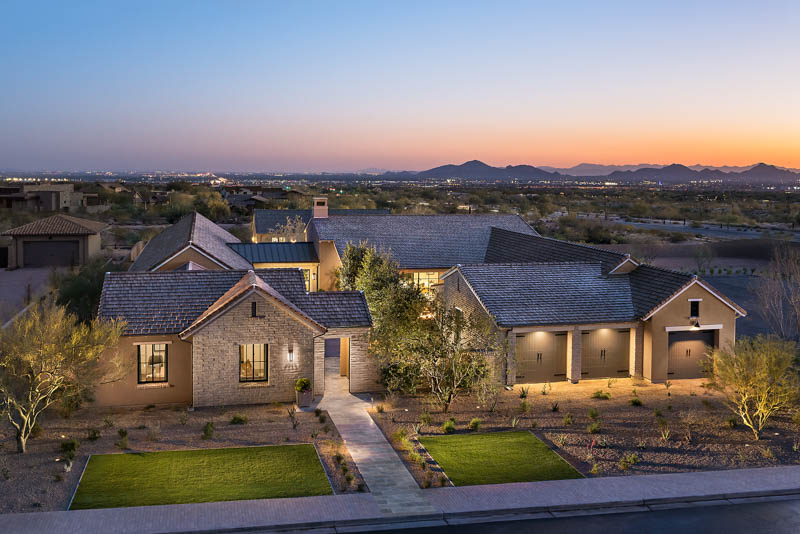 In its four decades, Camelot Homes has put up thousands of luxury residences throughout metropolitan Phoenix. A recent project is the development of single family homes in the gated White Horse community in North Scottsdale. The firm is constructing 4,000- to 6,000-square-foot, modern-style homes suited for an outdoor lifestyle. Among its honors are Builder of the Year by Marketing & Merchandising Excellence (MAME), Best Arizona Builder by Ranking Arizona, and Product of the Year by the NAHB.
---
9) Argue Custom Homes
8912 East Pinnacle Peak Road, Scottsdale, AZ 85255
Tom Argue embarked on luxury home building after graduating from the University of Arizona. He started in commercial and environmental construction, but then transitioned to custom homes when he opened this Scottsdale firm in 1995. Since then, Argue has built almost 200 grand estates in Phoenix, Gilbert, Mesa, Scottsdale, and Paradise. The firm also builds in Los Angeles and work on homes of high profile entertainment industry leaders. They also lead the design team on the largest home ever in Arizona at 100,000 square feet.
This master builder is known for homes that make the cover of Luxe. His style is diverse. Argue is known for 18,000-square-foot Spanish Colonials and Mediterranean villas with smooth stucco; limestone; 18-foot, bi-fold doors; 30-foot vaulted ceilings; and gold-tinged foyers. His desert palaces sprawl with airy floor plans and seamless transitions and overlook a Jack Nicklaus championship golf course. Argue is a preferred homebuilder in Silverleaf, where he lives. His homes sell for between $3.9M and $10M. Argue Custom Homes is one of the state's most decorated homebuilders. Recent awards include Best of Our Valley honors for No. 1 Custom Home Builder, Best Luxury Home Builder, and Ranking Arizona's Best Custom Home Builder.
---
8) Regency Homes
7377 E. Doubletree Ranch Road, Scottsdale, AZ 85258
The team at Regency Homes has mastered the use of green building technology to construct rambling estates and refined desert retreats. Founder Steve Wiggins has a Bachelor of Science from the Del E. Webb School of Construction Management at Arizona State University. After graduation, he supervised construction of over 350 homes in Phoenix and was promoted to purchasing manager for one of the country's largest homebuilders. With that extensive experience in large-scale residential developments, he opened Regency Homes in 1999.
Wiggins' masterful use of digital technology in luxury construction was lauded in a profile by New American Luxury Magazine and earned him the 2003 Pacesetter Award from Custom Home Magazine. He's had numerous write-ups in Phoenix Home & Garden and SuCasa. His trademark style includes juxtaposing sharp angles with slanted walls and windows, retractable corner pocket walls that open to infinity pools and sunken hot tubs, glass-encased powder rooms, and indoor water walls. Regency Homes consistently ranks among the top three custom home contractors with Ranking Arizona.  
---
7) CSE & Associates
20645 North Pima Road, Scottsdale, AZ 85255
After graduating from Southern Methodist University, Scott Edmunds took over land acquisition, design, and project management for his father's construction company. After more than doubling its yearly output of homes, he sold it to Toll Brothers and started his own company. Scottsdale-based CSE & Associates focuses on high-end production of luxury homes in master-planned communities. Assisting Edmunds in this goal is Vice President Kirby Korth, a former building consultant to Lyle Anderson Companies who has been an Arizona-based real estate investment giant for four decades.
The firm's philosophy is for homes to fuse into their natural environment with a layout and style reflecting a client's lifestyle. A preferred builder in Scottdale's ultra-rich communities — Silverleaf and Trapper Cabins — Edmunds was also invited to build in the exclusive Kaua'i community in Hawaii. Many of the firm's projects have been featured in Luxe, Professional Builder, and Smart & Stylish. A special build at The Casitas at Silverleaf was profiled in Builder Magazine, which praised the firm's skill with limestone tile floors, wood-beamed ceilings, and spa-like bathrooms. CSE & Associates has collected numerous awards from the National Association of Home Builders (NAHB), Best in American Living Awards  (BALA), and Pacific Coast Builders Conference (PCBC) for Home of the Year.
---
6) Stonecreek Building
3764 East Oasis Circle, Mesa, AZ 85215
The founder of this Paradise Valley firm is in the business of creating "truly" custom homes that blend a variety of beautiful styles. Joe Costello spent his childhood learning the family construction business, then went on to receive a Bachelor of Science in Construction Management from Brigham Young University. He soon landed positions with leading contractors McCarthy, Inc., and Oakland Construction, serving as project manager on several multimillion-dollar commercial projects. When he opened Stonecreek Building in 1993, he partnered with prominent architectural firms such as Gordon Rogers, McCoy and Simon, and Will Bruder to produce home designs known for their blend of layered modernism and refined contemporary.
It is common to see Stonecreek Building's homes in Luxe. Phoenix Home & Garden, Sources & Design, and Echoes are some of the other publications extolling this firm's signature style. A project in Glen Moor with Gordon Rogers required Costello to build a 70-foot bridge to connect a home with a lot that was separated by a ravine. The project won an American Institute of Architects (AIA) Home of the Year Award.
---
5) Fisher Custom Homes
7410 East Pinnacle Peak Road, Scottsdale, AZ 85255
Raze-and-rebuild and technical hillside are just two of the specialties of this custom home builder and leader in smart-home technology. Fisher Custom Homes blends the building and engineering expertise of Founder Tom Fisher with the architectural skill of AKA Associates. Fisher, who holds commercial and residential construction licenses, studied engineering in college. His team includes Project Manager Dennis Myers, a Michigan State University graduate with 25 years' experience in high-end building in seven states. The architectural designer, Jeff Biever, has 30 years' experience. One of the state's busiest firms, Fisher Custom Homes has put up over 1,000 luxury residences with many costing over $10M.
The company is a preferred home builder in the affluent communities of Silverleaf, Estancia, Desert Mountain, and DC Ranch, to name a few. Its lavish residences have been exalted by the New York Times, Betters Homes and Gardens, and Luxury Home Magazine. It has won numerous awards for Best Custom Home from the NAHB, PCBC, and the Phoenix chapter of the AIA. In 2015, it was ranked #4 on the Phoenix Business Journal's list of Best Custom Home Builders.
---
4) Calvis Wyant
8755 East Bell Road, Scottsdale, AZ 85260
In the 1980s, Tony Calvis was a veteran carpenter in Scottsdale who dreamed of improving the design-build process and gathering a team of like-minded professionals to help him do it. When he met architectural designer and now partner Gary Wyant, the duo set up this firm in Scottsdale. The team's motto is "single-source accountability," with architecture, design, and construction under one roof. Their business model is a spectacular success, with Calvis Wyant reporting a value of $18M on custom homes closed in 2015.
The firm works mostly in Fountain Hills, Paradise Valley, Phoenix, and Scottsdale. Designs tend to be modern and contemporary, but this firm is also known for effortlessly combining sleek modern lines with traditional patterns and colors to create crisp but warm looks. Awards include PCBC and Builder Magazine Gold Nugget for Best Custom Home over 8,000 square feet, the NAHB Gold Award for Best Architectural Design of a One-of-a-Kind Custom Home, and BALA Gold for One-of-a-Kind Custom Home. In 2015, The Wall Street Journal ran a story on a 5,900-square-foot sprawling modern ranch with floor-to-ceiling glass panes, spa-like master suites, and vaulted ceilings.
---
3) Cullum Homes
8408 E. Shea Boulevard, Scottsdale, AZ 85260
Among custom home builders in Arizona, Cullum Homes is known for its expert in-house architectural design team and its proficiency with high-tech building information systems. The Scottsdale-based firm was ranked the #1 custom home builder in the state by The Phoenix Business Journal each year from 2015 to 2017. It was founded in 1985 by Rod Cullum, an Arizona native and second-generation residential contractor. Cullum received a Bachelor of Science in Business Management from Arizona State University. His firm has led the movement to infuse high-tech into the luxury market.
Projects by Cullum Homes appear in Phoenix Valley's ritziest neighborhoods, including The Silverleaf Club and Mountain Shadows, AZ. Prices are between $1M and $100M. Cullum's groundbreaking designs have appeared in Luxe, Design Arizona, Sources & Design, and Phoenix Home & Garden. The firm won special praise from the industry for "the Village at Mountain Shadows," which is the first structure in Arizona built with Insulated Concrete Forms (ICF) materials. Cullum Homes was ranked on the Inc. 5000 list of fastest growing private companies in the US. Its awards number in the hundreds.
---
2) Salcito Custom Homes
20909 N 90th Place, Scottsdale, AZ 85255
Homes by this industry giant have names like "Worldly Wonder," offer between 7,000 and 20,000 square feet of living space, and are designed by architects as prominent as Dale Gardon Design and Wayne Swadron. Salcito Custom Homes, a family owned and operated business for three generations, has achieved national recognition for opulence, even by Paradise Valley standards. The company has East Coast roots. It was started by Principal Anthony Salcito's family as a small frame and trim company in Connecticut in 1970. By 1978, the Salcitos had relocated to Arizona and established Salcito Custom Homes.
Since then, the firm has built a total of 300 multimillion-dollar mansions, with 120 of them completed in the last decade. The homes appear throughout Scottsdale, Paradise Valley, Chandler, and Sedona. A special project was a 9,400-square-foot Mediterranean estate in Scottsdale. The home was described as a "highly crafted masterpiece" by Arizona Foothills Magazine, which put it on the cover. A particularly elegant feature was a façade that was hand-carved out of Italian Lecce limestone. Salcito Custom Homes has been featured in the New York Times, Entrepreneur, and Luxe.  
---
1) Fratantoni Luxury Estates
9811 E. Bell Road, Scottsdale, AZ 85260
A world-renowned builder, Sam Fratantoni has been a leader in the Arizona custom home builders market for over 30 years. Fratantoni was born and raised in Arizona. In his late teens, he decided he needed to learn architecture if he was going to build the fabulous homes he dreamed of creating as a child. Fratantoni received degrees in architecture from Scottsdale Community College and Phoenix Institute of Technology. In 1989, he started this firm with his wife, Josie, who learned the construction business from her parents, both builders in Arizona.
Fratantoni Luxury Estates is full service and includes several affiliates: Fratantoni Design is a licensed architecture firm; Fratantoni Interior Designers is run by Josie, who has international clients. Projects by Fratantoni are in the 16,000-square-foot range and show off the most dramatic designs, such as formal salons, ballrooms, and 24-carat gold bathroom fixtures. In Arizona, the firm focuses on the areas of Fountain Hills, Mesa, Phoenix, Rio Verde, and Paradise Valley. Most homes cost over $10M.
---
How can I find a home builder near me?
Read our latest articles on the best custom home builders across Arizona. If you don't see your city below, just let us know – we are happy to create a tailored recommendation list just for you.
Custom home builders in Phoenix
Custom home builders in Scottsdale
Custom home builders in Chandler
Custom home builders in Tuscon
---
About Our Rankings
This list takes a range of ranking criteria into consideration, including but not limited to: work history, customer satisfaction, awards and recognition, geographic area of work, cost, building permits, and clientele. We spent over 40 hours researching local contractors before calculating the final ranking for this post. If there is additional information about your business that could affect these rankings, please fill out this form and we will take it into consideration.
---
Get Bids For Your Build
If you are thinking about building a custom home, we recommend checking each builder's license with the local licensing board, speaking to past clients, and using our bidding system to get competitive quotes from at least 3 contractors. Getting multiple bids is the best way to ensure you get a fair price and that bids include the complete scope of work.