Virginia's custom home contractors are riding a robust market. Housing statistics for most of 2017 showed homes selling at a fast clip and at prices 4.4 percent higher than in 2016. In general, new builds cost more than resale homes, and that's reflected in the 2017 sales numbers throughout the state. These favorable trends have put savvy contractors to work. They are erecting high-end townhomes and sprawling estates that will be snatched up whenever buyers are ready to take the plunge.
Thus, it's a good time for house hunters to know about the top-tier builders on this list. Each consistently delivers precise craftsmanship and demonstrates an unshakable work ethic. The ranking is based on industry prestige, experience, level of customer focus, and the ability to design singularly impressive homes. Those services are taken seriously by the #1 custom home builder on this list. The company even performs a yearly strategic planning analysis to make sure it always meets the mark.    
If you are thinking about building a custom home, we recommend checking each builder's license with the local licensing board, speaking to past clients, and using our bidding system to get competitive quotes from at least 3 contractors. Getting multiple bids is the best way to ensure you get a fair price and that bids include the complete scope of work.
---
14) Matthew Bowe Design
610 E. Main Street, Purcellville, VA 20132
Matthew Bowe is the son of Irish immigrants, and, as a child, he preferred watching construction crews at work to playing after school. Bowe's Loudon County design company has been in business for about 13 years, serving upscale neighborhoods in Dulles, Ashburn, Hamilton, Lincoln, and Upperville. The luxury homes garner much local press and are often featured in the Loudoun Times.
A particular build in Avalon in 2016, priced around $1M, was praised as an open concept farmhouse that achieved rustic elegance. The firm created a mix of exterior materials to design a wraparound porch and a front entrance with stone details framed by oversized columns. The exterior blend of stone, board, and batten was highlighted by layers of lines. Inside, the breezy main-level floor plan was centered around an elaborate kitchen complete with a butler's pantry that had a wet sink and eight feet of counter space. The kitchen opened to an oversized great room accented by arched entryways, integrated columns, and a custom stone fireplace.  
---
13) Virginia Building Solutions
137 Hospital Road, Tappahannock, VA 22560
The owner of Virginia Building Solutions believes he has helped change local perceptions about modular homes. By the time John Garrett started this company in 2004, he had years of lucrative modular homebuilding under his belt with sales to Ford's Colony, the nation's number one planned community. Garrett had been an honors student at Roanoke College in Salem, VA, and was named in Who's Who in American Colleges and Universities. He served as a general manager for two of the largest factory homebuilders in the US before venturing out on his own.
With Virginia Building Solutions, Garrett combined his experience from two different segments of the residential construction market: speculation and factory-built houses. He now builds anywhere within a 100 mile radius of Tappahannock and focuses on the northern neck and middle peninsula of Virginia. Building Systems Magazine profiled him. In 2006, Garrett was selected for the President's Builder Advisory Board for Ritz-Craft Homes and was also selected every year between 2010 and 2014. A 2015 project by Garrett's team was awarded Home of the Month by the Modular Home Builders Association (MHBA). Most recently, they were named 2018 Best Home Builder for the Virginian Eastern Region by Virginia Living Magazine, while their Scott home was named 2017 Home of the Year by the MHBA.
---
12) Peter Johnson Builders
778 Wolf Trap Road, Charlottesville, VA 22911
Serving Charlottesville and Albemarle counties for over 30 years, Peter Johnson Builders prides itself on being a "low volume, high quality" custom home contractor. Founder Peter Johnson says that his workload today is about the same as when he started, and that's fine. It's the only way he can guarantee high-quality craftsmanship. Homebuilding was an early interest of Johnson, who was raised in a stone house built in the 19th century that had old-world charm but also drafty windows and noisy floors. It was an early lesson for Johnson in how technology has improved building systems.
Johnson earned the Master Builder designation from the Graduate Builders Institute (GBI). He's also a member of the Blue Ridge Home Builders Association (BRHBA) and has received Earth Craft House Certification (ECHC). Son Gordon is now lead carpenter and job superintendent. A story in Dwell magazine featured a Peter Johnson Builders home on the James River, which received the Residential Design Honor and Excellence Award by the Virginia American Institute of Architects (AIA).
---
11) Superior Home Services
2164 Wisconsin Avenue NW, Washington, DC 20007
High-end new construction and remodeling are specialties of Superior Home Services. The Washington design builder works throughout Virginia's affluent communities of Arlington, Alexandria, and Falls Church. The company was founded in 1989 by Daniel Steinkoler, a graduate of American University. New construction by Superior Home Services typically costs between $500k and $2.5M.  
Steinkoler takes an active role in his industry. He belongs to the National Association of the Remodeling Industry (NARI), the NAHB, AIA for DC, and the Georgetown Business Association (GBA). His team has been profiled in Home and Design and Arlington Custom Made magazines. His firm has been named to the Qualified Remodeler's BIG 50 Nationwide and has received the Peter Johnson National Association of the Remodeling Industry Image Award. In 2012 and again in 2014, the firm received five Contractor of the Year (CotY) Awards from NARI. A 2014 custom build made the cover of Arlington Magazine. The home featured a three-story open staircase, a central hall allowing access to main level formal and sitting rooms, and a gourmet kitchen with butler's pantry.  
---
10) Bonitt Builders
1305 Leslie Avenue, Alexandria, VA 22301
Murray Bonitt got the homebuilding bug as a college student, after he helped a friend build a fence around a McDonald's restaurant during summer break. The custom home builder in Virginia that Bonitt established 35 years ago builds homes costing up to $10M in Alexandra, Arlington, McLean, the DC metro area, and Great Falls. Recently, the firm opened a workshop where custom cabinets, built-ins, and casework is done under the supervision of a skilled craftsman.
Local press coverage of Bonitt's homes has been extensive. The firm has also been featured in American Builders Quarterly and other national publications, such as Town & Country, Residential Architect, Custom Home, Electronic House, and Home Magazine. The residential contractor has been honored with recognition from the Washington Chapter of AIA, receiving the organization's Merit Award in 1999 and the Washingtonian Award for design in 2011. In 2009, the firm received the Grand Honor Award from the Potomac Valley AIA for a modern pool house praised for "the clarity of its concept, rich palette of materials, and masterful design."
---
9) Hepler Homes
567 Glendobbin Road, Winchester, VA 22603
Based in Winchester, Hepler Homes was founded in 1994 by Dave Hepler, a lifelong resident of Frederick County. Hepler is a Virginia Class A licensed contractor, and his firm has built over 300 custom homes in Winchester, Frederick, and Clarke Counties. Hepler is a past vice president of the Home Builders Association of Virginia (HBAV) and past president of the Top of Virginia's Builder Association (TVBA). He has been a managing member of several land development and residential construction companies and is a Certified Business Coach.
The firm's luxury builds are known for finely crafted exteriors with mixed siding, stone facades, square windows with wide trim, and elaborate entryways. Dozens of awards have come from TVBA, the HBAV, and the NAHB. From the Blue Ridge Association of Realtors (BRAR), the firm won Realtor's Best Value and Realtor's Choice awards. Parade of Homes has also bestowed its Best Interior, Best Curb Appeal, Best Overall, and Best in Show Awards on the Hepler team.
---
8) Foley Development Group
1861 Wiehle Avenue, Reston, VA 20190
Five members of the Foley family make up this team of custom home contractors — all ace designers. The founding principal is Wayne Foley, who established the company in 1976 with the desire to build high-end homes throughout Northern Virginia. The company is now owned by his son, Kyle Foley.  It didn't take long for the locals to notice, and for industry watchers everywhere to heap on the praise.
Foley Development Group has won 12 Finest for Family Living Awards from the Northern Virginia Building Industry Association (NVBIA). The Pacesetter Award from Custom Homes Magazine was to recognize the Foleys as one of the top 10 best custom builders in the country. A Spotlight Award from Builder Magazine also gave national ranking as one of the country's three top design build firms. And a newly designed kitchen and bath by the team was featured on HGTV.
Kyle Foley is a past chairman of the NAHB and the National Custom Builder Committee's Design Committee (NCBCDC). He is a founding member and serves on the executive board of the Northern Virginia Custom Builders Council (NVCBC). He also serves on the executive board of the Great Falls Citizens Association (GFCA).  
---
7) Finecraft Contractors
104 Summit Hall Road, Gaithersburg, MD 20877
The founder of Maryland-based Finecraft Contractors, George Papaheraklis, received two bachelor's degrees in architecture from the University of Maryland. But soon after he founded this company in 1985, he realized he enjoyed building homes more than sketching them. New builds by this talented craftsman can cost up to $2M. The structures are known throughout Virginia for quality construction and cutting-edge designs.
Papaheraklis's team has completed well over 600 projects, many in Fairfax, McLean, and Great Falls. It's also been recognized with industry awards, such as the Silver Award in 2017 and Gold Award in 2016 from the Maryland Building Industry Association (MBIA). In 2010, the firm received the CotY Award for an Entire House over $1M. Finecraft Contractors has been featured in local and national publications, such as Washington Home & Garden, Bethesda Magazine, Home and Design Magazine, and Better Homes and Gardens. In 2016, the Washington Post did a feature on the firm's renovation of a home built in 1790, which won them the 2015 Peerless Rockville Award.
---
6) Paradigm Building Group
11230 Waples Mill Road, Fairfax, VA 22030
In just over 10 years, Paradigm Building Group has earned a stellar reputation in Northern Virginia for more than just luxury homes. This contractor has pledged to help people living in poverty. And to make sure that happens, owner Tim Winter has established the Paradigm Building Foundation, a nonprofit in which he deposits 10 percent of his firm's earnings to serve the "ultra-poor", a people group designated by the United Nations who live on less than $2/day and typically reside in developing nations. Giving back is how Winter hopes to reimburse a world that's made the business he opened in 2007 so successful.
Winter developed a passion for homebuilding as an 18-year-old, renovating rundown neighborhoods in his native Pittsburgh. He studied business management at Penn State, then served as project manager with a Fortune 500 builder. Since 2007, the homes he's built in Annandale, Oak Hill, Reston, and Seven Corners have earned him accreditation with the Better Business Bureau (BBB) and Best of Arlington awards from the Virginia Chamber of Commerce. In 2018, Winter was named to Professional Builder Magazine's 40 Under 40.
---
5) Bel Arbor Builders, Inc.  
9842 Lori Road, Chesterfield, VA 23832
European and Craftsman homes and cottages are a specialty of Bel Arbor Builders, custom home builders in Virginia. The company was established in 1995 by President Joe Hill, who graduated from the University of Virginia McIntire School of Commerce and then received a master's degree in architecture from the Massachusetts Institute of Technology. Bel Arbor builds throughout the affluent neighborhoods of Richmond, Chesterfield Court House, Midlothian, and Chesterfield.
Its entry in the Richmond Symphony Orchestra League 2014 Designer Home Competition was extensively praised for an aluminum exterior with arched casement windows and patio doors with fixed side panels. An oversized deck was built on top of a screened-in porch, and cultured stone created an elegant exterior. The company has received over 26 awards, including the Best Builder in Central Virginia award by Virginia Living Magazine in 2013, 2014, and 2017. Parade of Homes honored the company with multiple Gold Awards, an award in 2014 for home with Best Curb Appeal, and a Silver Award in 2016 for a single-family residence priced between $1.1 and $1.2M.
---
4) Sekas Homes
407-L Church Street NE, Vienna, VA 22180-4708
This Virginia custom home builder has put up more than 500 luxury homes and grand estates since its opening in 1987. It's also still run by founder John Sekas, who's affiliated with the Custom Builders Council. Sekas and team do most of their work in Fairfax County, especially Falls Church, Vienna, McLean, Chantilly, and Oak Hill. Their homes cost between $600k and $2M. All builds meet Energy Star certification for efficiency.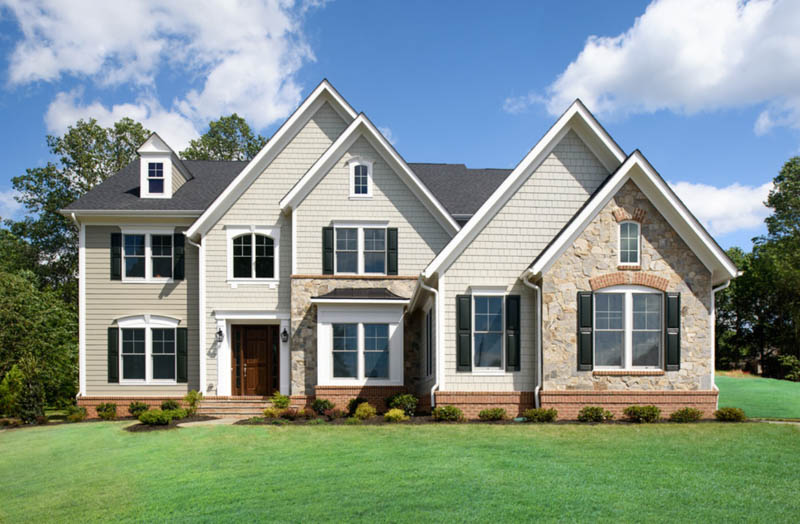 For an estate in Great Falls, Sekas designed a spiral staircase with wrought iron balusters and built a stone fireplace into a great room with a 12-foot stained beamed ceiling. A breakfast nook was embellished with a tray ceiling, chandelier, and five-inch-thick hickory hardwood floors. Habersham kitchen cabinets were built around a Sub-Zero refrigerator. The firm has received a steady stream of awards, including the Award of Merit for design and architecture from Great American Living Awards (GALA). In 2013, the NVBIA named Sekas Homes "Custom Builder of the Year."  
---
3) Bowers Design
6715 Whittier Avenue, McLean, VA 22101
Bowers Design is the second construction company owned by President and CEO Bruce Bowers. The first was one he started at age 18. Bowers went on to receive a bachelor's degree in architecture from the University of Maryland and to work as project manager for one of Virginia's largest building firms. The team he assembled for Bowers Design includes a director of architecture, Jennifer Callahan, AIA, member of the National Council of Architectural Registration Boards (NCARB). She has architecture degrees from North Dakota State University and over 25 years' experience in the field.
Bowers also has a design team headed by Angela Rotondo, who has a National Council for Interior Design Qualification (NCIDQ) Certificate and is a Leadership in Energy and Environmental Design Accredited Professional in Building Design & Construction (LEED AP ID+C). She has an interior design degree from Wentworth Institute of Technology. Homes by Bowers Design have been featured in Northern Virginia Magazine, Remodeling Magazine, and Professional Remodeler. The firm's numerous awards include the CotY honor in 2016 by NARI. A custom home built by the firm was also featured on HGTV's show Before & After.
---
2) Charles Ross Homes
3206 Ironbound Road, Williamsburg, VA 23188
Founder Charlie Ross, a Williamsburg native, hails from a family of carpenters and spent his early years as a framing contractor. In 1999, son-in-law Tim Cleary, a licensed engineer trained at the Massachusetts Institute of Technology (MIT), joined Charles Ross Homes. Cleary holds a Certified Green Professional (CGP) designation from the NAHB. He is past chairman of the Williamsburg Community Builders Association (WCBA) and past president of Peninsula Housing & Builders Association (PHBA).
Charles Ross Homes has enjoyed much local press, with features in Virginia Living, Modern Builder and Design, The House & Home Magazine Williamsburg, and national coverage in the US Developers Journal. Industry recognition has been just as impressive. In 2004, Design Build Business magazine said that Ross was one of the nation's leading residential design build firms. In 2009, Residential Design & Build magazine honored Ross with a Business Excellence Award, which has been bestowed upon only three builders in the country. In 2016 and 2017, the company was honored with Virginia Living's award for Best Home Builder.
---
1) Golden Rule Builders
3409 Catlett Road, Catlett, VA 20119
Founder and President Joel Barkman has said that one bonus to owning a thriving business is that he no longer has to do all the bidding, chopping, and hammering himself. These days, he spends more time mentoring his staff of 17. The Fauquier County builder credits the firm's success to his following of the biblical rule of treating others as he wants to be treated. Golden Rule Builders erects homes that can cost up to $5M, throughout Bristow, Midland, New Baltimore, Remington, and The Plains. The company is known for French country estates with dramatic stone-encased entryways, and rustic homes featuring all-wood vaulted tray ceilings.
The luxury structures have brought Barkman many prestigious awards, from Builder of the Year in 2009 by the Northern Virginia Building Industry Association (NVBIA) to the Big 50 Award in 2015 from Remodeling Magazine. In 2010, the state's Chamber of Commerce named Barkman "Business Person of the Year" for raising money to build homeless shelters and improve green building. Barkman made Qualified Remodeler Magazine Top 500 list four times between 2008 and 2012
---
Read our latest articles on the best custom home builder across Virginia. If you don't see your city below, just let us know – we are happy to create a tailored recommendation list just for you.
Custom home builder in Richmond
Custom home builder in Norfolk
Custom home builder in Chesapeake
Custom Home Builders in Arlington
---
About Our Rankings
This list takes a range of ranking criteria into consideration, including but not limited to: work history, customer satisfaction, awards and recognition, geographic area of work, cost, building permits, and clientele. We spent over 40 hours researching local contractors before calculating the final ranking for this post. If there is additional information about your business that could affect these rankings, please fill out this form and we will take it into consideration
---
Get Bids For Your Build
If you are thinking about building a custom home, we recommend checking each builder's license with the local licensing board, speaking to past clients, and using our bidding system to get competitive quotes from at least 3 contractors. Getting multiple bids is the best way to ensure you get a fair price and that bids include the complete scope of work.