Gilbert is a suburban town located southeast of Phoenix, just within the city's metropolitan area. Gilbert has completed a rapid transformation from a quiet, rural, agriculture-based community to an economically diverse suburban center. Today the town is filled with young, growing families, and the architectural themes in the area reflect that.
We decided to go looking for some of the best residential architects in Gilbert, and this list is the result: it names the firms behind some of the town's most beautiful homes and spaces. They were chosen based primarily on the merit of their work, but also on the backgrounds of their principals and the experience they bring to the projects they take on. Several of these architects offer their own unique services and showcase expertise for a rich range of architectural themes. 
---
GH2 Architects
1201 S Alma School Road, Suite 16100, Mesa, AZ 85210
Established in 1973, GH2 Architects has worked on over 3,500 projects in 48 states and 13 countries. Since its inception, the firm has been decorated with many awards and distinctions from organizations like the American Institute of Architects (AIA). Some of its most recent accolades include the 2017 "Firm of the Year" by the AIA's Eastern Oklahoma Chapter. The firm also specializes in hospitality, education, government, healthcare, and historic preservation projects. Its portfolio also depicts a variety of equine, transportation, and public safety projects. The firm assists its clients throughout the entire process and is particularly noted for its excellent cost management controls, sustainability efforts, and project management. As for its designs, the firm's residential gallery showcases its talent for an extensive range of distinctive styles. 
Its single-family homes vary from urban lofts and suburban residences to large residences on hundred-acre ranches. The firm achieves all of this success via its very own in-house professionals who provide interior design services and architectural design. The firm emphasizes the importance of close communication with its clients throughout the entire process and is noted for its ability to handle the most sensitive of projects. 
---
Baldinger Architectural Studio
1524 East Caroline Lane Tempe, AZ 85284
Operating out of its office in Tempe, Baldinger Architectural Studio has been in business since 1986 and extends its services throughout the area. The firm uses a collaborative approach and promotes an interactive environment that encourages heavy client participation throughout the entire process. The firm incorporates various sustainability efforts in its work and ensures high efficiency when it comes to its homes and spaces. All of its professionals are involved from start to finish and together they have secured a solid reputation for the firm. Baldinger has graced the pages of publications such as Contemporist and the Phoenix Business Journal.
The firm's methodological and comprehensive approach has resulted in uniquely crafted solutions and homes often noted for being responsive to their environments. Focusing more on its designs, Baldinger's portfolio showcases its expertise in modern and contemporary architecture.

All of the firm's virtues are embodied in the project we've chosen to highlight here. The Baldinger team opted for a recurring theme of straight lines. It also chose a neutral color palette so as to blend its themes with its desert surroundings. Inside, the firm used an open floor plan so as to perfectly blend its indoor and outdoor spaces.
---
Plans by Dean Drosos
950 E. Elgin St. Gilbert, AZ 85295
As its name suggests, Plans by Dean Drosos is the brainchild of Dean Drosos, a graduate of Arizona State University's College of Architecture and Environmental Design. He offers the firm's clients over two decades of industry experience. Under his leadership, the firm has completed projects all over the valley—Gilbert, Chandler, Scottsdale, Tempe, Rio Verde, and Paradise Valley. The firm has also taken on several projects in East Valley developments such as Whitewing, Tierra Linda, Circle G Ranches, Vasaro, The Pecans, and several other communities. Drosos is experienced in every facet of the home construction and design process and personally oversees each of the firm's work. Further, he and his team are up-to-date in terms of the latest building codes and regulations as well as the latest industry styles and techniques. Together they employ only the best materials and tools.
The project above depicts one of the firm's classic California Spanish revivals. The firm chose terracotta roofs coupled with stucco exteriors, clean finishes, and other timeless Mediterranean elements. 
---
Encore Design Group
2921 N. Power Road, Suite #101, Mesa, AZ 85215
Encore Design Group is a full-service architectural firm that specializes in every phase and aspect of the process. It operates out of its office in Mesa and extends its services throughout the areas surrounding it. Encore works on both commercial and residential projects and is respected for its excellent designs and processes. The firm is particularly noted for its site-specific designs, which come in handy in the Arizona climate and environment. The firm uses only the latest techniques and cutting-edge materials. Encore is capable of taking on projects regardless of scale and it has a mastery that allows it to work on everything from the largest renovations to the smallest, yet most challenging single-home remodels.
The firm's portfolio is a rich gallery of traditional and modern architectural themes. We decided to highlight one of its best Spanish colonials. The firm's team opted for stucco exteriors finished in warm clay. Several distinguishing fixtures and finishes may also be observed. To top it all off, the firm opted for clean terracotta tiles for its roofing.
---
Palmer Design
2785 E. Via De Palmas Gilbert, AZ 85298
Palmer Design specializes in new homes and offers a complete and comprehensive range of services. It works throughout Arizona, including Phoenix, Scottsdale, Gilbert, Mesa, and Queen Creek. The firm has worked on numerous compact and efficient plans, from small spaces to luxurious custom homes. It primarily operates out of its office in Gilbert and is well-regarded for its excellent customer service. Further, the firm focuses solely on custom homes and describes itself as a "one-stop-shop." It works everything from design to engineering. Clients can also avail of its various stock plans, which the firm's team can customize details to give their new homes a more personal touch. Palmer Design deploys the latest 3D software to complete all of its work, ensuring minimal revisions and no overspending. 
Ben Palmer leads the firm, an experienced professional in the fields of both building and contracting. He is a graduate of  Arizona State University and is a proud native, rendering him well-versed in the local landscape. He is also a former member of the Design Review Board at the Town of Gilbert.
---
Right Angle Drafting
1176 East Warner Road, Gilbert, AZ 85296
Drawing inspiration from over two decades of experience, Right Angle Drafting has completed hundreds of projects throughout Arizona. The firm adheres to the highest standards and emphasizes the importance of communicating with its clients throughout the process. That inclusive experience allows for a highly-collaborative approach that has resulted in some of the area's most beautiful homes. The firm's team can assist homeowners from site planning and floor plans to exterior elevations, building sections, and handling even the most intricate details. Further, it helps with handling permits and provides its clients with excellent renderings of their projects. As for its designs, its portfolio depicts an extensive gallery of various themes, with one of its best works featured below.
Labeled in its portfolio as the "Elm House," the featured project was designed and built in 2018. It sits in the heart of downtown Gilbert and was completed in collaboration with Bigelow Built.
---
Design Line Architects
470 E. Canyon Creek Court Gilbert, AZ 85295
Design Line Architects specializes in both residential and commercial projects and services the entirety of Arizona. The firm can take on both new projects and large-scale renovations but is particularly respected for its excellent remodels that seamlessly blend with a home's environment and its original plans. These include period restorations, age-In-place designs, accessibility modifications, room and patio additions. The firm's value engineering enables it to work on excellent master-planned communities and neighborhoods. It closely studies every lot its projects will be situated on. Doing so allows the firm to maximize the available space and design excellent indoor-outdoor architecture. The firm's projects are beautiful and maintenance-free and, more importantly, anchor themselves in a client's needs and budgets. 
The firm also often infuses sustainability techniques into its projects. Doing so ensures that its homes are energy-sufficient. As for its designs, the firm showcases expertise for the most intricate details and has worked on numerous complex and challenging homes.
---
Sead Architects
2009 N 7th Street, Phoenix, AZ 85006
Founded in 1999, Sead Architects offers a complete range of both construction and architectural services. The firm has been extending its services throughout the Valley since 2004 and is personally led by its principal, Jerry Little. He is an award-winning professional who oversees every home that the firm takes on, from inception to completion. The firm is cost and quality conscious. Given that the firm is relatively small, clients can expect it to provide their homes with its utmost attention. As both architect and contractor, it applies strict project management services that allow it to immediately address any problem that may arise during the entire process. From modern to contemporary to transitional architectural styles, the firm can take on any design or challenge. Its use of design often distinguishes its homes focused on shading and orientation to cater to the Arizona desert. Excellent building material palettes further enhance these designs. 
Depicted above is one of the firm's best projects. For this home, its team showcased its expertise for modern work. Large panes of glass allow in a generous amount of natural light and increase the sense of interior space. A blend of wood and concrete may be observed in the home's exteriors, giving it a light transitional appeal.
---
KHB Architecture Studios
3867 E. Palmer St., Gilbert, AZ 85298
KHB Architecture Studios takes on both commercial and residential projects. It walks its clients throughout the entire process, from design and handling documents to construction and working on finishing touches. The firm offers its clients over two decades of experience and strives to enhance the environment in each project that it takes on. Aside from its residential projects, it has also worked on urban infill, mixed-use, condominium, senior living, hospitality, hospitals, parking structures, and government spaces. At the firm's helm is Heather Brakefield, who got her first glimpse into the industry at a tender age. That early experience inspired her to work on beautiful and cost-effective design solutions. Under her leadership, the firm is proud to call itself a woman-led firm and adheres to every standard set out by some of the industry's most important agencies. 
The project above entailed a renovation of its main house and the addition of a master bed and bath to replace its rear deck. It features paneled exteriors, shuttered and trellised windows, and a hipped roof.
---
Eden Architects
922 N. GILBERT ROAD #104, MESA, AZ  85203
Eden Architects is licensed in Arizona, New Mexico, Colorado, Illinois, and Minnesota and offers a full range of architectural services. It provides comprehensive design and planning services for a wide range of project types and showcases expertise for a variety of themes. The firm's talented team has over three decades of experience. Together they employ a "team" approach to each of its projects, which has resulted in excellent work and communication with its clients. The firm has worked on numerous high-performance buildings, meaning its work is energy-efficient and environmentally-friendly. The firm also has an excellent understanding of the practical elements of a project and showcases a talent for various design styles from western revivals to Spanish, Cape Cod, and Mediterranean.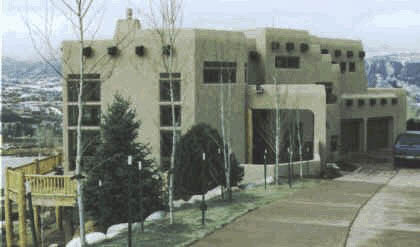 The project above was taken from the firm's "Southwest" gallery. The homes in this particular section of its portfolio take inspiration from  New Mexico communities. For this specific home, the Eden team was challenged with having to design five bedrooms and three and a half bathrooms. The project spans 4,700-square-feet and primarily features a contemporary Santa Fe theme. Inside, you'll find an art gallery with stunning views of the surrounding areas.