San Luis Obispo, with its rolling vineyards, is home to a community that is strongly engaged in sustainable living. It can be challenging to find a seasoned professional whose practice is aligned with the city's commitment to the environment and has the necessary expertise in green design.
To help you choose the right designer equipped to handle any building requirements you and your environment might require, our team has curated a list of the best residential architects in San Luis Obispo. These firms were selected for their accreditations, certifications, and professional affiliations. We also considered the recognition each firm has received in the form of industry awards, client reviews, and press features. To make your search easier, we have laid out the range of services the firms offer, their specializations, and the length of time they have been in the industry. 
---
studio 2G Architects
811 Palm St. San Luis Obispo, CA 93401
studio 2G Architects is both a Certified Women Business Enterprise and—as a small business—a Disadvantaged Business Enterprise. The firm curates a harmonious balance between design, the client's needs, and an appreciation of the natural environment. The firm makes every effort to spread awareness about green design and building materials. Certified by the US Green Building Council (USGBC), it embodies what it means to be a sustainable and energy-conscious practice.
The principals of studio 2G—Heidi Gibson and Laura Gough—are licensed architects in the state of California. In 2013 Laura served as the Design Awards Co-Chair of the AIA Central Coast Chapter (AIA-CCC) and the organization's Secretary for almost four years, while Heidi stood as the President for two years. Passionate advocates for sustainable environments, they are both Accredited Professionals for Building Design and Construction (BD+C) from the Leadership in Energy and Environmental Design (LEED). They are a part of the Architecture 2030 Commitment, a promise to design all new buildings as net-zero energy by 2030.
The firm's Stoneridge project was awarded Project of the Month by the AIACCC. It provides panoramic views of the city and natural rock formations are central to the overall design. Adjusting the original plan to accommodate a larger family, this 2800-square-foot home is equipped with four bathrooms. Part of the garage floor plan has been transformed into an extra bedroom. 
---
Ten Over Studio
539 Marsh St., San Luis Obispo, CA 93401
Ten Over Studio creates lasting impressions for its modern and contemporary residential designs accredited by the National Council of Architectural Registration Boards (NCARB), the AIA, and the USGBC. The firm offers architectural, landscape, and interiors services with an emphasis on environmentally sensitive design. It designs spaces that connect people with each other and with their surroundings, helping clients fulfill their needs while leaving a minimal environmental footprint. The firm takes a team approach that is up to the standards of the San Luis Obispo (SLO) Chamber of Commerce and SLO Downtown Association. 
President and CEO Jim Duffy draws upon 25 years of experience with a wide variety of projects ranging from various commercial, civic, medical, and retail developments to large-scale master planning and design. As a former Architectural Review Commissioner, Jim is keenly aware of the role of good design on successful business outcomes. He draws upon his knowledge of sustainable design as a LEED accredited professional (LEED AP) at each level of planning, design, and construction to ensure all of the most environmentally friendly options are considered. 
Ten Over Studio's expertise is reflected in its collection of works, including this 1970s, oceanside, bluff-top residence. The design features an open floor plan that provides ocean views overlooking Avila Beach and Port San Luis. Having been previously remodeled away from its original minimalist style, the residence was restored to its modern roots.
---
Andrew Goodwin Designs
2050 Parker St, San Luis Obispo, CA 93401
Andrew Goodwin Designs provides a full range of services, encompassing architecture, design, and planning. It designs projects that transform through a spirit of stewardship for clients, communities, and the environment. Prior to establishing the firm, Andrew Goodwin co-founded the design-build firm ConsciousBuild, Inc. in an effort to dedicate his design passion towards more environmentally, economically, and socially responsible projects around the world. His passion for public interest design led him to create RED Studio Foundation, focusing on providing socially responsible design services for non-profits. Andrew has overseen the design of community-enriching projects in countries from Rwanda to El Salvador. Andrew has been in leadership in the AIA as the Vice President, President, and Board Executive of the AIACCC. He is also a lecturer at California Polytechnic State University in San Luis Obispo. Elevating the importance of architecture and its increasing influence over climate change and social impact is the root of Andrew's work.
He has led his team in designing modern homes such as the Diablo Residence, a 2500-square-foot home crafted to showcase the owner's love of modern design and craftsman furnishing. With an open floor plan and gorgeous views, the home is a three-bedroom, two-bath home on an acre of land looking into the San Luis Obispo coastal range. A close connection to nature was extremely important to the owners.
---
Danciart Architecture
1750 Prefumo Canyon Rd, Apt 46 San Luis Obispo, CA 93405
Danciart Architecture delivers full architectural design services with an emphasis on suitable, sustainable solutions. The firm services the residential and light commercial sectors on California's Central Coast with projects varying in size from the home remodel to the multi-thousand square foot facility. Its residential projects comprise single-family residences and historic rehabilitation projects. 
Peter Danciart, the firm's Principal, is a LEED AP affiliated with the AIA and AIACCC and a licensed architect in the state of California. A member of the US Green Building Central Coast (USGBCC), he follows a regionalist, site-specific approach in the design process. He draws inspiration from the site and context—be it natural, man-made, or the client's vision. This fuels Danciart Architecture's dedication to the service of the client and the stewardship of the planet as it works to contribute to the Architecture 2030 Commitment.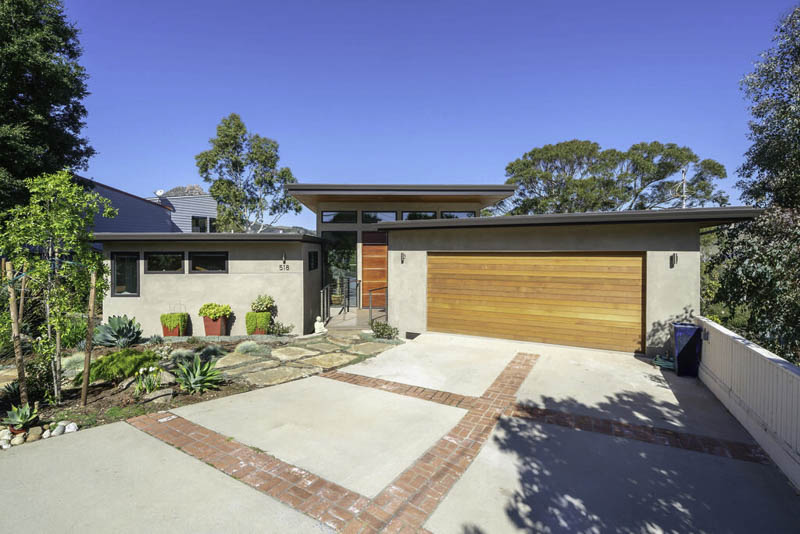 Its roster of modern homes includes the 1970's Steeb Residence. The redesign involved maintaining and expanding the view from inside the house. Existing forms were differentiated from the new forms with alternate materials and colors that blend in with the surrounding natural environment. A new bridge entrance was created to expose existing boulders and provide a dramatic sense of entry. The new entry roof and exterior walls were reconfigured to create a large roof overhang. 
---
Isaman design, Inc.
2420 Broad Street, San Luis Obispo, CA 93401
Based in San Luis Obispo, Isaman design, Inc. is a full-service architecture firm specializing in custom residential, multi-family, and small-scale commercial projects. Founded in 2006 by architect Bill Isaman, a member of the AIA, the firm aims to produce thoughtfully designed spaces that cater to a variety of budgets and aesthetic preferences. 
Bill grew up in construction, framing custom homes for his father's General Contracting business. After working for a large architecture firm for many years, Bill decided to open his own practice that he runs along with Leslie Pink Morgan, Kate Walstad, Sergio Ochoa, Cooper Hitchcock, Logan Suhrer, and Joey Cox. The team focuses on examining the financial, environmental, and client-specific considerations with each project, bringing a transparent approach that puts the clients and their needs first.
Prominent among their contemporary and traditional residential designs is the Vineyard Residence. The home's private spaces radiate from a central great room that opens onto a covered stone patio overlooking the vineyard and distant mountain views. The circular breakfast nook soaks up the morning light through the tower of windows which look out onto an impressive oak tree anchoring the site. There is a climate-controlled wine room just off of the fully custom kitchen which has top-of-the-line stainless appliances. A concealed television pops up from the island. 
---
Garcia Architecture + Design
1308 Monterey Street, Suite 230, San Luis Obispo, CA 93401
Founded in 1998, Garcia Architecture + Design is a multidisciplinary design firm consisting of architects, engineers, artists, craftsmen, sculptors, painters, musicians, and design instructors. Its design philosophy embraces architecture as art, viewing each project as an opportunity to create a practical work of art. The firm's team calls upon its sensory resources, formal training, and practical experiences, in order to create solutions that address its clients' needs. It ensures that every client feels involved with the entire design process. Garcia Architecture + Design operates on the belief that healthy architect-client dialog creates successful projects, but more importantly fosters long-term client relationships.
George Garcia, the Principal, is a member of the AIA and has ushered the firm in building an affiliation with the Royal Institute of British Architects (RIBA), San Luis Obispo Green Build (SLOGB). The firm is recognized by the International Conference of Building Officials (ICBO) and NCARB as well. 
George guided his team in providing this residential remodel and addition, which evolved into an exhaustive two-story gut and rebuild. The design team was challenged to maintain visual harmony and continuity while skillfully migrating this small one-story structure into the modern era. By installing a 12-foot-wide sliding glass panel door system, what was once a physical barrier to the outdoors turned into an expanded living area that cloaks the line between indoors and out. The firm completed the newly imagined property as a flowing, sophisticated, inviting home.
---
CRSA Architecture
860 Walnut St., Suite B, San Luis Obispo, CA 93401
CRSA Architecture was founded in 1986 by Craig R. Smith, AIA. The firm has since established itself as an innovator in combining effective purpose with vibrant, place-making, award-winning design. The firm's organization is characterized by an open and collaborative spirit that extends to its clients and communities. It has earned a reputation as a firm capable of delivering innovative design while respecting schedules and budgets. Its professional services include feasibility studies, programming, space planning, architecture, interior design, and landscape design. The firm provides construction documentation development and construction administration through occupancy as well. 
Craig believes in a holistic approach to design. This affords the firm a balance between the current needs of its clients and respect for the future needs of the community. CRSA Architecture fully understands that sustainable development needs to be an integrated process involving all members of the project team.
It has consciously developed a diverse body of work and an excellent representative of which is the Alrita Residence. The contemporary-style home is distinguished by an elevated patio that wraps around the second story. Having the living room and social spaces on the second floor adds a sense of height to the house. Its interior is accented by exposed beams and trusses. Beginning on September 1, CRSA will become Hunter Smith Architecture, and that HSA looks forward to carrying on the legacy of good design and collaboration that defined CRSA Architecture. Learn more about them at www.huntersmitharchitecture.com
---
MS|Architecture
1022 Mill St., Suite D, San Luis Obispo, CA 93401
MS|A, founded in 2011 by Micah D. Smith, AIA, is a small San Luis Obispo-based architecture firm specializing in custom residential and small to medium-sized commercial projects. The firm executes designs by upholding the value of sustainability, creative use of materials, clean lines, strong massing, and complementary uses of color and materials. A core principle at MS|A is building strong personal and professional relationships that transcend any individual project. Success is measured in human terms, not just the traditional metrics of design, budget/schedule/execution. The importance of a strong team plays out throughout the life of a project thanks to MS|A's collaborative design approach, an approach that brings together the right team for each project.
With 15 years of architectural experience, Micah's creative problem solving, knowledge, and resourcefulness has led to value-added architectural services and superior built work. Micah worked with a variety of firms and construction-related businesses before settling in the last seven years at Leonard Grant, Architect (LGA). At LGA, Micah made primary contributions in construction documents, electronic 3D modeling, and design.
The firm's practice is broadened and strengthened by design concepts that maximize each project's potential as you'll notice with the Pala-Temecula House. The home blends seamlessly with its surroundings, characterized by the natural tones in the textured flooring and walls that resemble that of the outdoor environment.
---
Reiss Design Studio
3055 Duncan Lane, Suite A, San Luis Obispo, CA 93401
Reiss Design Studio is a comprehensive architectural firm with a worldwide clientele specializing in wineries, residential housing, commercial spaces, and civic architecture. Reiss Design Studio uses green design and humanitarian architecture to make a positive impact on its clients and the world. The firm places utmost importance on the details that relate to the environment and the surrounding community it is designing in. Reiss Design Studio maintains NCARB Certification and LEED Accreditation.
Shana Reiss, the Principal and Principal Architect, is a LEED AP with a strong background in the implementation of green design principles and extensive expertise in designing wineries. She has a desire to promote positive stewardship practices in the design, construction, and longevity of a project, and that desire informs everything her firm does. Her team includes architect Jacob Van de Roovaart and its in-house designers and drafters who are proficient in green design, code compliance, and project delivery, as well as the precise execution of drawings.
A testament to Reiss Design Studio's skill in design is this 4,250-square-foot modern vineyard retreat located ten acres. It features a main residence, a caretaker's unit, an apartment, a barn, and mature vineyards. The original residence was completely renovated to meet the entertainment needs of a multi-generational family and take advantage of the sweeping views. 
---
Steven Puglisi Architects
569 Higuera St, Ste A, San Luis Obispo, CA 93401
Steven Puglisi Architects, Inc. has been designing custom residential and commercial projects across California's Central Coast since 1991. It offers design, programming, construction documentation and construction administration, 3D rendering, and master planning services. The firm is built on the philosophy that the design process should be fun and collaborative from start to finish. The firm takes the time to understand the clients' vision and turn that dream into a reality through a personalized design process, whether it be a Mediterranean, modern, farmhouse, coastal, or sustainable custom home. 
For over 48 years, founder Steven Puglisi has designed numerous buildings that define the architectural nature of the Central Coast. The New Times of San Luis Obispo referred to Steve as ". . .more than just an architect. He's one of SLO County's best and most prolific designers, and his many buildings are familiar to everyone in SLO County." He is well-respected by jurisdictions throughout the county, having cultivated a long partnership with the SLO Chamber of Commerce.
Steve has built a trusted team from the robust professional workforce in the area to produce quality custom homes such as the Perron Residence with Jeff Bague as the lead architect. The Cape Cod cottage sits on a long, challenging lot. It has two smaller detached cottages, both complete with a full bath and fireplace. The custom home was completely furnished, decorated, and landscaped.