Home to an abundance of natural sceneries, Sammamish offers plenty of beautiful views of the mountains and lakes. Lining Sammamish are an array of houses surrounding the different areas, ranging in various architectural styles, with a common theme of blending indoor and outdoor living.
The best custom home builders in Sammamish, Washington provide attention to detail and a high level of execution in their projects. This list looks into these firms' processes, recognitions, styles, and portfolios. 
---
Rainier Custom Homes
306 Wells Ave. S Suite E, Renton, WA 98057
A two-time Design Award winner from the National Kitchen Bath Association (NKBA), Rainier Custom Homes has established itself as a leading custom home builder in Washington. More than two decades of experience has led the firm to work with a bevy of styles ranging from Mediterranean, ranch, and contemporary. Focusing on a transparent cost-efficient approach, the firm ensures that budget plans are well-managed to provide the best results possible. 
Situated on an urban hillside, the Innis contemporary home takes advantage of the Puget Sound views. Featuring a contemporary layout, modern furniture establishes a luxurious aesthetic and glass walls and windows that provide natural lighting throughout the day. The home is custom-designed with a detail-oriented process to cater to the client's needs and provide scenic views of the mountain and ocean. 
---
Walter F. Toth Construction
6506 Second Ave. South, Seattle, WA 98108
After four decades of being in the business, Walter Toth handed the company to his two sons Klaus and Erik. Today, it upholds the standards as it did in 1976, providing clients an easy, enjoyable, and stress-free process. For the firm, building a vision into reality doesn't have to be daunting. Instead, it tries to make it an exciting experience for the client. This led to numerous press features from Vogue and Luxe, to name a few. 
Working alongside DeForest Architects, the firm completed the Three Tree Point home, incorporating the forest aesthetic with the contemporary design of the house. A prominent feature of the home is the landscaping, which offers a secluded atmosphere with a serene ambiance. 
---
H2 View
PO Box 846, Snohomish, WA 98290
As a local builder focusing on new construction and renovations, H2 View's success comes from the ability to re-envision the home. It involves maximizing spaces to reach the project's full potential, providing the best experience possible for the client. In terms of the firm's process, it aims to keep moving forward with contemporary designs through a detail-oriented approach resulting in homes that are desirable and livable.
With 13 years of experience in the residential construction business, and 25 in commercial construction, the firm has produced a long list of completed projects for its portfolio. Featuring an array of styles, the firm's portfolio primarily features contemporary luxury houses. Shown here is a house situated in Newport Heights that offers homeowners an incredible view of Mercer Island, Seattle and Bellevue. A home built for relaxing and entertaining, its second floor provides a striking aesthetic and scenic views of the lake. Projects like this have led the firm to receive the Best of Houzz badge each year since 2014. Most recently in 2021 for service. Mickey Hansen's 25 years of experience as a Project Manager in commercial construction earned awards from the AGC for Excellence in Construction Award and the ABC Eagle of Excellence Award.
---
Bender Custom Construction
1800 112th Ave. NE Suite #210W, Bellevue, WA 98004
A small sloping lot situated along Lake Washington, Bender Custom Construction completed this three-story house, maximizing the property's limited space. Some challenges the firm faced were strict view corridors and height restrictions. Despite this, the firm maximized the home space and provided views of the Olympic Mountain Range and Seattle skyline. Materials that the firm used for its interior design included clear cedar siding, Corten and blackened steel, and Montana drystack stone.
More than three decades of being in the business have established Bender Custom Construction as a top custom builder. Principals Don and Steve Bender lead the firm to complete more than 360 residential projects throughout the Pacific Northwest while maintaining relationships with architects, tradesmen, and clients. The firm focuses on eight to ten projects at a time, allowing the team to fully pay attention to their client's needs, ensuring a smooth process. 
---
Urban Restoration
14250 NE 21st St., Bellevue, WA 98007
Featured in the photo below is the Meydenbauer Bay residence in Belleview. Contemporary furniture and cabin-style finishes offer a natural aesthetic for the house, complementing views of its surroundings. One notable detail of the home is the landscape design with its spacious garden and patio area that features the use of stone and tiles to offer a lush ambiance. Led by Reg Willing, the firm has produced award-winning residential homes through a solid foundation. The firm follows a process built on quality craftsmanship, trust, and accountability for each client. From small to large-scale projects, the Urban Restoration team offers quality results that exceed expectations and ensure client satisfaction. 
---
Better Builders
4800 California Ave. SW, Seattle, WA 98116
Creating a well-grounded foundation is the cornerstone to providing quality service. For Better Builders, the team's success relies on understanding the client's vision and building long-lasting relationships with numerous business partners. Throughout the process, the firm follows green building methods that provide a sustainable form of living for both the client and the neighborhood. The goal of these methods is to promote healthy living and keep costs down without compromising the quality of the project.
Situated in Seward Park, the firm completed this whole house remodel, revamping its large floor spaces and additions of numerous artworks. It features a unique exterior finish with a blue and red palette, making the home brighter. Some details of the house include two living rooms, numerous artworks, and views of the neighborhood. The numerous artworks are seen in many areas of the home, providing a traditional classic aesthetic that complements the colorful modern design of the home. The project would earn the 2016 Design Excellence Rex Award.    
---
RD Homes
1320 Market St., Kirkland, WA 98033
Providing exceptional homes, Ryan Deason leads the firm through green building methods that not only emphasize sustainability and energy efficiency, but also maintains outstanding quality in every detail. Each project is Built Green certified, establishing the firm's reputation for its cost-efficient process and timely deliveries. Long-lasting relationships with these clients have led RD Homes to numerous referrals, which is currently expanding the firm's projects.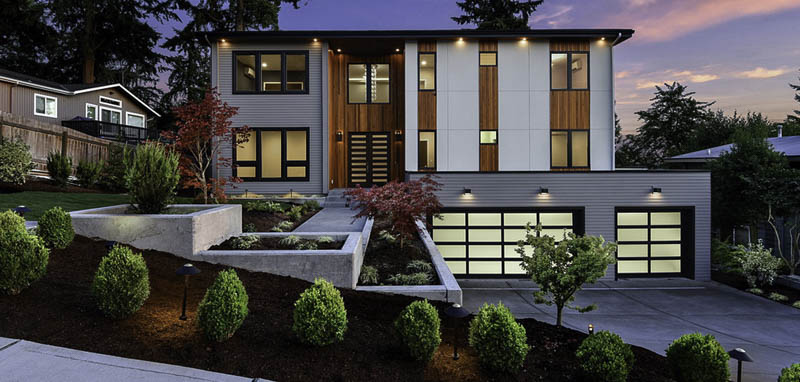 A portfolio featuring modern and transitional homes, the firm offers an array of designs. Varying from rustic to contemporary aesthetics, Ryan and the firm delivered a house that best represented the client and neighborhood. Shown here is a photo of the Kirkland residence built on a sloping property. Featuring contemporary interior finishes, the firm provides a simplistic, clean finish that complements the neighborhood's aesthetic. 
---
Phoenix Fine Homes
704 228th Ave. NE Suite #705, Sammamish, WA 98074 
In 2016, Phoenix Fine Homes, LLC, (Phoenix) completed this 5160 square foot home in the Grand Ridge neighborhood of Issaquah Highlands. With a value over 2.4 million the firm provided a unique hill-side design with the exterior cladding features of concrete, stone, cedar, and stucco culminating in an artistic color array which blends well within this forested estate. The use of commercial sized windows throughout the exterior brings in extraordinary levels of natural light into each room, blending the indoors and outdoors on this 2.2 acre site.
Phoenix is a family- owned company, takes its inspiration for this contemporary masterpiece from classic homes found high above the Pacific coast beach fronts. Producing timeless designs and with attention to key details, utilizing extremely skilled craftsmen as in the "classical era" Phoenix is well positioned for future successful projects.
---
Boitano Homes
1427 E Lake Sammamish Pkwy. SE, Sammamish, WA 98075
The project featured here is the recently completed Newcastle custom home with a property size of 8,000 square feet. Featuring a simple exterior finish, the firm provides a vintage aesthetic with wooden doors and gates along with a gray backdrop. The house is a five bedroom, six bathroom home that includes views of the Newcastle golf course and mountains. Other notable details of the house include a built-in bar and wine cellar. 
Owner Jay Boitano distinguishes each detail throughout the building process. Being actively engaged with an attention to quality allows for a meticulous process taking into account client requests and property details. The base of the process begins with ample research and initial planning to ensure the client will receive the best home possible. The firm has been providing homes for the past three decades, giving the team an abundance of experience. 
---
MasterCraft NW
15631 Issaquah-Hobart Rd., Issaquah, WA 98027
Offering over three decades of experience, MasterCraft has a loyal team of craftsmen that provides new construction projects, multifamily complexes, and commercial construction. The firm includes subdivisions for each project, from managing infrastructure through home completion. Members of the team provide personal service throughout the process with builder Preben Espersen focusing on project planning, while Michael and Thomas Espersen oversee each project's progress, working closely with the client. 
Featured here is the Sammamish Custom Home completed in 2006. The two-story home sits on nine acres and features classic exterior finish using stones and wood, along with a contemporary interior design. With the property size, the firm takes the opportunity to incorporate outdoor living, providing ample backyard space, patios, and ponds. Overall, the firm offers a classic aesthetic using traditional furniture. 
---
Sullivan Custom Homes
P O BOX 2970, Issaquah, WA 98027 
For more than 22 years, Sullivan Custom Homes has been an all-around residential firm, providing services from new construction, additions, remodels, and outdoor spaces. Owner Kraig Sullivan has an extensive background in the business, starting his career working with numerous Seattle builders until he established his own firm in 2005. Today, he emphasizes creating long-lasting relationships with clients and maintains a high standard of quality in the homes his firm produces. 
Featuring a traditional home, this Sammamish residence includes a traditional exterior with a Victorian interior aesthetic. The exterior has a simple wooden finish, complementing the interior's classic furnishing and artworks. Its interior offers a cozy aesthetic, which provides a unique home experience.