Last Updated on
Belmont is a part of the San Francisco Bay Area and located in San Mateo County. 'Belmont' is an Italian name, translating to "beautiful mountain" in English, a reflection of the rocky hills and grassy fields. The city is perfect for active people who enjoy trail hikes, though it offers so much more in terms of comfortable living. For people who are looking to put down roots in the area, we recommend hiring a reliable, proficient partner to design their new home.
We decided to showcase some of the top residential architects in Belmont, California. These studios stood out to us for the quality of their work and their prominence in the area. We took into account several factors as we determined the list: company history, portfolio strength, principal background, client feedback, and industry awards and accreditations.
---
De Meza + Architecture
60 Santa Marina Street, San Francisco, CA 94110
De Meza + Architecture, known as DM+A, has been celebrated for its use of creative and innovative spaces throughout California. The full-service studio incorporates clean and contemporary designs in every project, mostly in residential markets.
In 2003, principal Gregg De Meza started the practice with a team of skilled architects and interior designers. Though small in number, its intimate set-up is centered around the vision of strong service and even stronger craftsmanship. The firm's in-house professionals stay laser-focused on providing quality architecture, multi-family remodels, and custom home designs throughout San Francisco and beyond.
The Fieldstone House in Sonoma is a 5,200-square-foot property with a relaxed, casual atmosphere. The home incorporates materials such as fieldstone, concrete, glass, Honduras mahogany, and copper, all framed by a modern design that embraces indoor and outdoor living. The residence has an exterior space for entertaining guests that capitalizes on the scenic views of the surrounding wine country. The interior includes three bedrooms, two and a half bathrooms, a two-bedroom suite, and a master suite and art studio. Services rendered for the project included interior architecture.
---
Diebel and Company | Architects
1141 Capuchino Avenue, #1044, Burlingame, CA 94011
Diebel and Company is a design practice that specializes in modern and contextual architecture. Gary Diebel, an American Institute of Architects (AIA) member, handles the operations as principal architect. The creative stalwart has been a staple of the Bay Area since 1990 and focuses on residential projects that involve interior design, additions, remodels, and more. Its architecture combines function and style to create spaces that enhance the owner's way of living.
The Suzanne Residence is among the standout houses in the studio's portfolio. E-architect, an architecture site, even ran an online feature on the project. A notable feature of the structure is the abundance of light. Illuminated spaces in the interiors bring a gentle quality to the abode. Low-ceilings create an intimate atmosphere. Outdoors, the lush garden of the Silicon Valley home provides peace and privacy for the homeowners. The San Jose property is a collaboration between Diebel, Victor Construction, Inc., and MHA Consulting Engineers, Inc.
---
EASA Architecture
307 South "B" Street #12, San Mateo, CA 94401
EASA Architecture strives to create residential properties that elevate living conditions with inspiring designs. The firm's tight process incorporates meticulous attention to detail and quality service. The firm shapes each project to fit the owner's lifestyle, preferences, and budget.
Ellis A. Schoichet has the owner of the Bay Area studio since 1992. Ellis, a veteran architect for 36 years, is well-versed in many architectural styles. His dynamic portfolio features French Country houses, Spanish Colonial Revivals, compact modern homes, and accessory dwelling units (ADUs).
This New Mediterranean residence in San Francisco reflects a design that parallels Italian country villas. The multi-level manor was completed in 2014 at a project cost of over two million. Redbrick roofs complement the cream-colored walls of the exteriors, surrounded by the lush landscape of the Hillsborough domain.
---
John Lum Architecture, Inc.
3246 Seventeenth Street, San Francisco, CA 94110
Award-winning studio, John Lum Architecture, balances modern design with innovation creating personal spaces that are unique and meaningful. Since establishing the firm in 1994, Founding Principal John Lum consistently operates with a focus on substance and style. His studio also practices sustainable development through energy conservation and environmentally-responsible methods.
JLA's focus on artistry, coupled with a pragmatic approach, has led to over 800 projects successfully being completed throughout the Bay Area. Their experience covers a variety of types, from new construction to remodeling, including residential single and multi-family housing, affordable housing, commercial interiors, retail spaces, educational buildings, and medical facilities. Designs have won numerous accolades from local and national industry organizations. Two recent awards are the 2020 California Kitchen and Bath Award, Kitchen Category and the 2018 AIA San Mateo County Design Awards, Residential Merit Award.
This Hillsborough Residence was a joint effort with interior design firm Mansfield + O'Neil. The 8,000 square foot house is a Japanese-inspired Craftsman built for an active young family of five. The natural aesthetic meshes well with its stunning hillside location; the open porches encourage outdoor living with a casual flair. The project was profiled by online outlets AEC Cafe and E-Architect.
---
Klopf Architecture
2180 Bryant Street, Suite 203, San Francisco, CA 94110
Klopf Architecture specializes in unique, custom solutions tethered to modern, sustainable philosophies. The client-focused studio is on its 20th year in business of creating projects for Bay Area homeowners. The firm's process involves a thorough understanding of the client's needs and preferences, which forms the foundation of the personalized design. This produces comfortable residential spaces that elevate the owner's living conditions. 
A common theme of the firm's architecture is the use of clean lines, proportions, and restful alignments, plus materials that foster a deeper connection with nature. Led by principal architect John Klopf, the firm has an in-house team of experts in design with a strong interest in green architecture.
The featured Glass Wall House is a 2016 project located in the San Mateo Highlands. It has an Eichler-inspired design that blends modern and open-living properties through connected indoor and outdoor spaces. The firm's architecture team includes John Klopf, Klara Kevane, and Yegvenia Torres-Zavala. Other key personnel includesArterra Landscape Architects and contractor Henry Calvert of Calvert Ventures.
---
Koch Architects – Joanne Koch
2512 Ninth St. #5, Berkeley, CA 94710
Koch Architects is a Bay Area practice that specializes in residential and commercial projects in urban and rural markets. The firm's portfolio of homes is a showcase of striking designs that defy the norm. That portfolio sports contemporary forest cabins, open homes, and Mid-Century houses. The firm is also familiar with eco-friendly design and building methods that foster sustainable living.
Principal Joanne Koch is a member of the AIA member, and she has been a licensed California architect since 1994. Her studio's work has won several client-voted merits from local homeowners, a testament to the high caliber of its design and service.
The Wine Country Modern Home is built on a lot surrounded by tall trees and forest trails in San Francisco. It was originally completed in 2008 at a project cost of two million. The one-story residence has crisp wood sidings, exterior and interior columns, and a shed roof. Horizontal lines are prominent throughout its design, from the outdoor walls to the patio rails and dividers.
---
Mark Brand Architecture
1339 Mission Street, San Francisco, CA 94103
Since 1986, Mark Brand has been lauded as one of the most proficient firms in San Francisco when it comes to architecture and interior design. The firm's expertise lies in new home projects, house remodels, and additions. The firm's taste for sophisticated style combined with function is noticeable in every space and structure it builds, each one also tailor-made to fit the homeowner's taste. This creative and versatile handiwork reflects a dynamic portfolio that spans modern dwellings, classic California houses, and properties inspired by foreign design. The firm's stunning craftsmanship led to a spot on Expertise's Twenty Best Architects in San Francisco in 2018.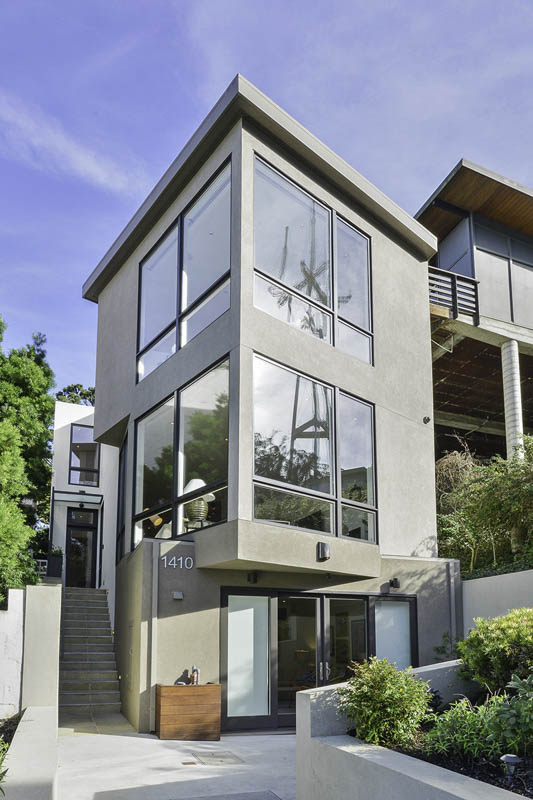 The Clarendon Heights Infill is a three-story residence built on an upsloping lot. At a project cost of over two million, it's no surprise that the contemporary house echoes a lavish visual style. The minimalist stucco exterior overlooks the scenic views of San Francisco with a façade that blends bay elements with dark aluminum window trims. Notable aspects of the interiors include an open plan, high ceilings, upscale finishes, and a curving stair that connects to a second-floor sky bridge.
---
Mattingly Thaler Architecture
646 Church Street, San Francisco, CA 94114
Mattingly Thaler Architecture is driven to provide professional and quality service to homeowners in Northern California. Founded in 1988, the studio specializes in planning, architecture, and interior design. Judith Mattingly, the owner of the firm, crafts tailor-made spaces that suit the owner's lifestyle. Her projects across the Bay Area include custom homes, educational facilities, dormitories, retail spaces, offices, restaurants, and more. Mattingly also works on custom cabinetry and furniture.
A full-remodel and expansion of this English Country house updated the 1930s estate for modern lifestyles. A soft beige tint covers the exteriors, a classic touch that echoes its original era. A new pool house features a guest suite, an outdoor fireplace, and a barbecue frame. Several noteworthy additions include a conservatory, refurbished bed and baths, and a larger basement with a wine cellar and a billiards room.
---
Michael Tauber
2325 Third Street, San Francisco, CA 94107
Michael Tauber Architecture is a San Francisco firm committed to building timeless spaces with minimal environmental impact. Principal Michael Tauber started the studio in 2004, driven by a strong creative spirit and architectural know-how. His work takes into account details, textures, materials, and function to produce projects with optimal potential. To date, the seasoned architect has designed many single-family homes, apartments, civic buildings, and laboratories throughout the Bay Area.
This high-end home in Napa Valley is surrounded by a local vineyard. The project was a collaboration between Michael Tauber, Butler Armsden, and April Sheldon Design. The house is built atop a slightly raised tiled plinth that separates the structure from the natural terrain. The private residence has three spine walls, one of which links directly to the main entrance. This connects the interiors to the outdoor space, which includes a large pool and lounge area. Other notable aspects include custom wood pocket doors, a hanging steel and wood wine rack, and a custom steel fireplace.
---
ODS Architecture
5895 Doyle Street, Emeryville, CA 94608
ODS Architecture—also known as Ohashi Design Studio—has over 20 years of industry experience in the San Francisco Bay Area. The full-service firm's services include architecture and interior design, with a style that focuses on modern, efficient structures. The studio strings together planning, design, and management to create spaces that elevate people's way of living. CEO Alan Ohashi and his team of seasoned professionals mostly focus on custom homes, home improvements, and office and museum spaces.
The Kentfield house is a 4,700-square-foot property located in Marin County. In 2017, ODS conducted several remodels and executed a 462-square-foot addition to the existing structure. The ceilings were raised, opening up the house to views of San Francisco Bay. Outside the kitchen, a new concrete patio was added for cooking and dining purposes. A Zen-inspired garden with Corten steel planters was also added for peace and relaxation purposes.
---
Studio S Squared Architecture, Inc.
1000 S. Winchester Blvd., San Jose, CA 95128
Studio S Squared Architecture is a premier design boutique that excels in residential projects and commercial improvements. The firm is led by Eugene Sakai, who serves as the president, co-founder, and principal architect. Founded in 1996, the firm takes a team-oriented approach and insists on close collaboration with the client from start to completion.  The studio's consistent workmanship and positive feedback have earned numerous client-voted merits from local homeowners.
The architect's process produces standout spaces with strong practical and visual qualities. Its design methods also incorporate natural resources and techniques that minimize environmental impact. A sample of its work is this South Bay Contemporary home from 2015. The 6,708 square-foot site is a new construction project by the team of Studio S Squared Architecture, Chapman Construction, KDS Designs, and more. The modern residence features four bedrooms, three and a half baths, a living area, a garage, and a porch.
---
Sutton Suzuki Architects
39 Forrest Street, Suite 101, Mill Valley CA 94941 
Sutton Suzuki Architects is a design powerhouse that yields dynamic output no matter the project. Ron Sutton and Elizabeth Suzuki, the firm's founders and principals, lead a roster of skilled designers who always work with quality in mind. The team works on residential projects throughout Northern California, Hawaii, and Wyoming. To date, they have amassed a dynamic catalog that ranges from modern retreat homes to luxury mansions to sustainable spaces.
Sutton Suzuki—in partnership with C. Wright Design—pulled out all the stops in designing the Tiburon House in San Francisco. The 4,500-square-foot residence exudes modern elegance: an abundance of glass openings, heavy stone walls, and wooden surfaces. It has low roofs and view corridors that fully embrace an open design. A sheltered veranda allows the homeowners to enjoy outdoor living and offers scenic views of the surrounding expanse. The house's strong design earned a feature in Dwell Magazine and was chosen as a residential showcase in Marin Home Tours.
---
TOPOS Architects
654 Gilman Street, Palo Alto, CA 94301
TOPOS Architects is a Palo Alto practice that has been designing high-quality spaces since 1992. The firm perfectly meshes the client's style with the environment to create practical designs that reflect the owner's identity. Principal Peter Baltay heads a six-person group who are all well-versed in design and construction. They specialize in new developments, remodels, renovations, and additions, with complementary services such as construction management, budget tracking, and monitoring.
Completed in 2013, the Belmont Hillside View is a residential remodel with a project cost of over a million dollars. The exteriors feature vertical cedar sidings, pigmented cement plaster, and a dark roof with a crimson vent pipe and entry trellis. The interiors showcase a curving stairway of floating maple treads and a glass-enclosed office on the main floor. The kitchen and living areas connect to the curved ironwood outdoor deck through floor-to-ceiling windows. Tall central windows also add to the beauty of the house and help illuminate the interiors with daylight.
---
TRG Architecture + Interior Design
1014 Howard Avenue, San Mateo, CA 94401
TRG Architects is known for its creative, functional, and sustainable design solutions for residential projects. The firm operates mostly in the San Francisco Bay Area with a staff of 14 licensed professionals. The studio is overseen by Randy Grange, AIA, and Leslie Lamarre, CID, founding principals. Their practice excels in producing livable homes that exude visual charm, a trait that has earned plenty of merits in the area.
The Easton Tudor combines elements of traditional European architecture with the aesthetics of modern living. Designed in 2015, the two-million-dollar house uses white as a dominant color both indoors and out. The exteriors of the two-story house combine stucco sidings, brick roofs, wooden frames, doors, and columns. Its façade overlooks a circular driveway and a front yard of trees and a stone-laden road. Inside, dark-colored surfaces and furniture complement the pristine walls, which add a stylish flair to the abode. A back door opens up to a grassy backyard, a compact version of the natural California landscape.
---
WA Design Architects
805 Folger Ave., Berkeley, CA 94710 
Founder and architect David Stark Wilson started WA Design Architects in 1985 with a design philosophy that centers around the connection of the building and the site. Every design incorporates the environment into the process—how the project affects it, how the project benefits from it, how the owner adjusts to the site. This process consistently results in sustainable spaces with inspiring and functional designs. Whether it's small remodels or large-scale houses, the firm sees to it that every project enhances the lives of its inhabitants.
The Strathmoor House in Berkeley stands out with its unique design and sleek finish. The residential structure parallels an artistic commercial architecture, the unorthodox build a striking sight from neighboring lots. Wide spaces and tall ceilings give the interiors an open atmosphere, augmented by floor-to-ceiling walls on its lower and upper levels. The slightly narrow layout is filled with contemporary furniture, and its gray walls and ceilings are bare save for the few brilliant decorative touches that make the space. The home is a beacon of practical modern style, a true beauty from the inside out.