Recent legislative changes removed the legal barriers to constructing Accessory Dwelling Units (ADUs) in California and have led to a major ADU boom in California. The engines of this growth and popularity are the best accessory dwelling unit builders in Long Beach.
These professionals specialize in custom home building and constructing ADUs that combine style and functionality. Many of these professionals also incorporate sustainable and energy-efficient methods into their design and building process. Most importantly, these builders are some of the highest-rated professionals serving the residential market.
---
Treeium
5352 Laurel Canyon Boulevard, Suite #200, Valley Village, CA 91607
Treeium's ADU and garage conversion portfolio highlights spaces that celebrate textures, palettes, and materials and create a warm and inviting environment in the process. These secondary dwelling structures feature interiors dominated by smooth textiles of transitional design and the overall functional and smart use spaces of contemporary style. The firm's ADU project in Sherman Oaks, for instance, embodies the best of both worlds. Dominated by a white palette and light beige tones, these elements are contrasted by minimalist dark lines and frames. Every corner of the home is built with space and function in mind to accommodate the daily demands of modern living.
One of the factors that helps the company produce thoughtfully designed ADUs is its 30 years of practicing the design-build delivery method. Collaborating with its clients from conception to completion allows the firm to provide a more detail-oriented approach to every project. The result is a multi-awarded portfolio that has secured the firm consecutive wins on Inc500 and Qualified Remodeler's top contractors' rankings.
---
Zieba Builders
1390 E Burnett Street, Suite A, Signal Hill, CA 90755
From start to finish, Zieba Builders stays with its residential clients to deliver thoughtfully designed interior and exterior spaces. As a design-build company that serves coastal Southern California, the firm's extensive portfolio features projects in varying styles, value, and structural complexities. Its custom home construction work, for instance, is inspired by the traditional materials and forms of Cape Cod, Spanish Revival, Mid-Century, Craftsman, and Tudor, as well as the practical, stylish geometry of Contemporary and Modern designs.
Smaller, yet equally efficient and stunning remodeling, renovations, and additions work are also highlighted in the company's 30-year-old multi-awarded project list. This extensive scope can be attributed to the engineering and architecture background of its founder and principal, Joe Zieba. The firm's overall practice has been applauded through recent recognition from the National Kitchen and Bath Association (NKBA), Remodelers Council and the Chrysalis Awards committee.
---
Harding Design & Construction
4040 E Vermont Street, Long Beach, CA 90814
Green construction and sustainable building methods are the consistent results of Harding Design & Construction's practice. As a general contractor, the firm offers specialized services that incorporate environmentally conscious elements and can be added to its remodeling, renovations, and additions work. Aside from its energy-efficiency upgrades, the firm's service list also includes rainwater harvesting features for existing homes and new construction work. Long Beach Register, Long Beach Magazine, and Energy Upgrade California are just some of the many publications that have highlighted the firm's homes.
The same advocacy for green construction extends to its service scope of building small footprint structures, including ADUs. The firm's over 20 years of design-build experience allows it to conceptualize and construct guesthouses, cottages, mother-in-law suites, granny flats, and other types of ADUs. It also remodels, renovates, and transforms existing detached structures to provide the same functional living spaces.
---
7 Point Construction
201 Covina Avenue, Suite #4, Long Beach, CA 90803
7 Point Construction was established in 2007 as an answer to the region's call for a construction company that focuses on the ergonomic and high-performance qualities of modern and contemporary structures. Principal Josh Espinoza's background in residential and commercial design and construction has allowed the company to take on everything from mid-range to complex projects for years.
As a residential general contractor, Espinoza also leads the firm to the specialty venture of ADU design and building. His team has produced some of the most functionally relevant and architecturally stunning accessory dwellings in Long Beach and its nearby communities. These projects are conceptualized according to the needs of their project owners, whether they add value to their home or provide additional living space for the family.
---
EcoSmart Builders
5000 Parkway, Calabasas, Suite #114, Calabasas, CA 91302
EcoSmart Builders is one of the region's strongest advocates for green design and construction. This is evident in the firm's work in small-footprint living, especially embodied by its ADU projects. Some of its built units can be found in Los Angeles. These units feature open-space layouts and a dominantly white palette both designed to provide a more airy and expansive atmosphere. Its interiors also highlight the textiles of transitional design and its sleek and semi-minimalist spaces. Aside from LA, the firm has also ADU build-outs in Long Beach.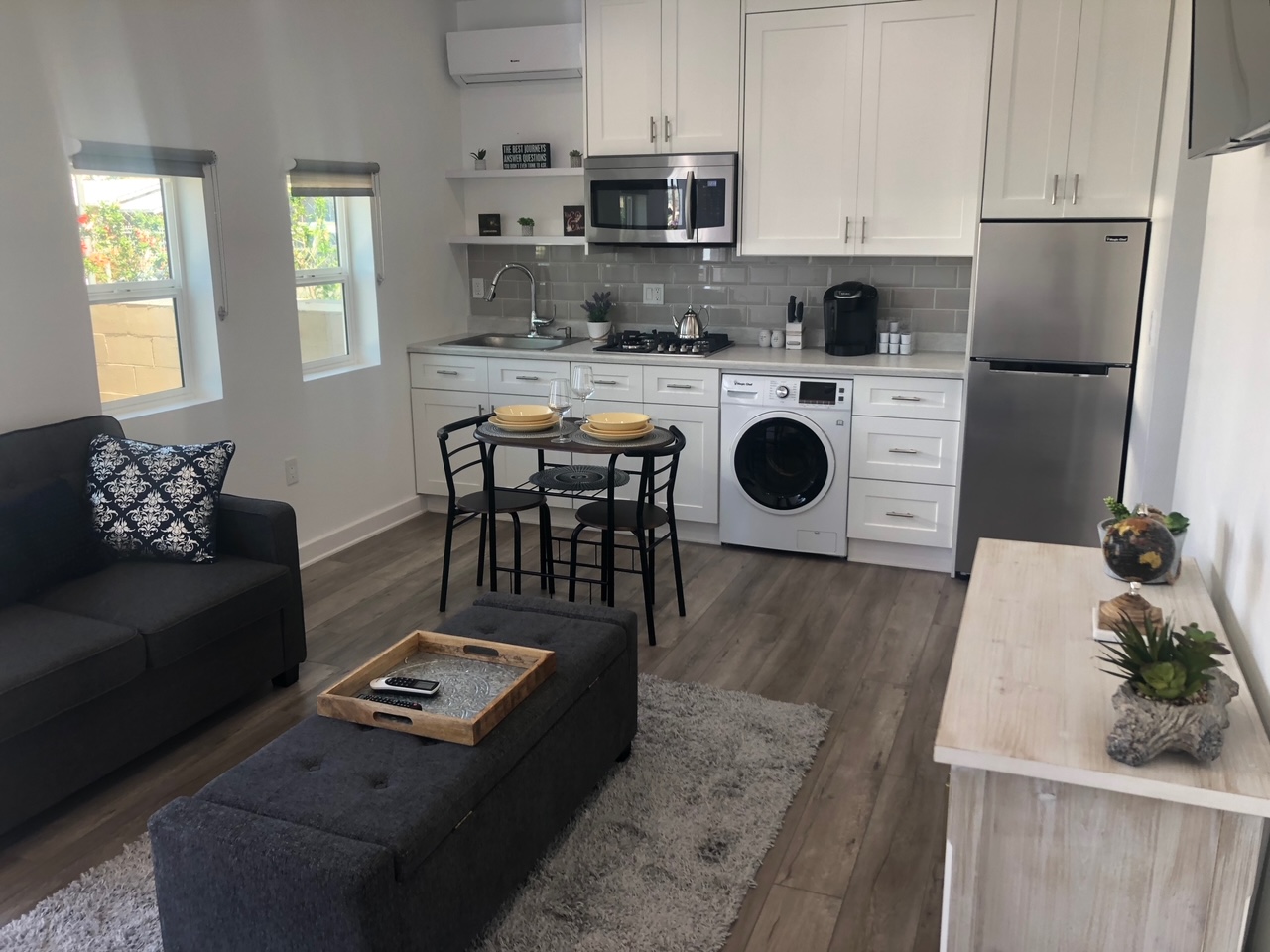 Projects of similar quality can be found on the firm's project list. The firm has been in the construction business since 2012. In 2018, its operations and services focused on ADU construction. The company caters to the residential market of LA County. Freddie Zamani, the firm's CEO, takes a hands-on approach to every project.
---
ADU Homes Inc.
Long Beach, CA
ADU Homes offers pre-designed and custom accessory dwelling unit construction. As a builder that specializes in this specific housing style, it has developed a detail-oriented and function-focused approach to designing, engineering, and building ADUs. Homes of varying sizes, floor plans, structural configurations, and architectural styles can be found in the project list it has developed over the years.
Units from converted garages, studio homes, one to three-bedroom units, and carriage homes built on top of residential garages are among its most in-demand ADUs. Living spaces for these homes range from 400 square feet to 1,200 square feet. Providing project owners with guidance in making educated decisions about the project is the firm's principal, Robert Berry.
---
CGS Home Improvement Inc.
7189 N Figueroa Street, 2nd Flr. Los Angeles, CA 90042
CGS (California Green Smart) Home Improvement Inc.'s construction practice centers around sustainability and energy efficiency. Its contribution to shaping the region's residential landscape is represented by its long list of small-footprint living spaces that put emphasis on energy-efficient design, environmentally friendly materials, and green building methods. One project that embodies all three is this San Gabriel ADU. The tiny home occupies only 472-square-feet of space yet offers all of the amenities found in a regular-sized home. Aside from a functional kitchen, the home has a full bathroom, living area, and full-size bedroom.
The firm is an emerging company, founded in 2017. Boris Torres is the President/CEO, and Irving Torres is the Vice President/ General Manager. Together they are known as The Torres Brothers leading the firm and making sure it stands by 3 important traits: Integrity, honesty, and loyalty. In its short time in the industry, it has provided residential homeowners with a comprehensive approach to general contracting for ADUS offering a full service from planning to project completion and installations for air conditioners, cool roofing, solar systems, and windows. All these services follow the same standard of sustainability and energy efficiency that the firm is becoming known for. Learn more about their work at www.cgshomeimprovements.com.