California is one of the most challenging places to build; due to the state's strict construction regulations, housing and affordability remain tight in the region's building landscape. However, a slate of new laws allows Californians to build additional living units on existing single- or multi-family properties. These living units, referred to as Accessory Dwelling Units or ADUs, are becoming more popular as they benefit property owners while simultaneously adding to the state's housing stock. These new laws have led to a boom in the construction of such structures, and there are a number of specialized professionals who work on this particular project type.
Our team has evaluated and selected the best ADU builders in Los Angeles based on a variety of criteria. We looked at experience, their mastery of the trade, and industry accreditations and certifications. We also considered awards and press features as well as other recognitions the firm has received in the course of its business. The result is a list of builders who have the training, experience, and talent to integrate ADUs into existing properties, and thus provide flexible new housing options.
If you are thinking about building an accessory dwelling unit, we recommend checking each builder's license with the local licensing board, speaking to past clients, and using our bidding system to get competitive quotes from at least 3 contractors. Getting multiple bids is the best way to ensure you get a fair price and that bids include the complete scope of work.
---
ADU Homes
401 Pine Ave., Long Beach, CA 90802
The ADU Homes team has more than two decades of experience in the home building, design, finance, and technology industries: ADU Homes offers a convenient one-stop-shop for diverse ADU needs. The firm brings a novel approach to building ADUs, using efficiency and innovation to deliver value, cost savings, and a hassle-free building experience to homeowners.
ADU Homes has pre-designed and engineered ADUs in a variety of sizes, floor plan configurations, and architectural styles. What's unique is the firm allows clients to modify the style of a particular plan type to match that of their existing home. Likewise, if an existing plan doesn't meet certain needs, the firm's in-house design team can work with clients to make adjustments to cater to specific ADU requirements.
The company also offers custom ADU alternatives, which come in the form of either an ADU carve-out, an ADU addition, a custom garage conversion, or a build-your-own ADU design. In these options, the ADU will be created within the existing home: the permitting and construction time are often shorter and the city and impact fees are significantly less than building a detached ADU.  If a client already has a design, the ADU Homes team can also build it for them. The team is also capable of coordinating with the client's existing design team and processing the permits as well.  For more information, you can visit their website here.
---
All American Builders
19327 Ventura Blvd. Suite A, Tarzana, CA 91356
For almost a decade and a half, All American Builders has built a reputation for providing some of the best home remodeling solutions in Los Angeles. This track record was built on the firm's collective knowledge and experience in constructing and upgrading homes. The firm provides a wide range of construction projects, including residential and commercial remodeling as well as new home construction. The team also builds patios, wooden decks, driveways, retaining walls, and converts garages into ADUs.
Since its establishment, the firm has developed a core business philosophy of high-quality work and customer satisfaction. Combining this philosophy and expertise in a variety of trades — such as carpentry, plumbing, tiling, and electrical work — allow the All American Builders team to provide synergy and professional management to every project. Additionally, the firm offers affordable solutions, from its diverse decorating options to its myriad new home plans. The practice is also quite popular for providing free on-site, one-hour appointments to go over the details of a project while performing an inspection of the area.
---
America Green Builders
14545 Friar St., Van Nuys, CA 91411
Full-service general contractor America Green Builders has been increasing the value of homes throughout Los Angeles with its exceptional construction and renovation projects for over 15 years. The family-owned business offers primarily ground-up construction and kitchen and bath renovation services. The team is also capable of redesigning interiors, removing walls, changing layouts, and adding rooms to an existing home. Additionally, America Green Builders can help homeowners purchase materials with special discounts and direct deliveries (to their homes).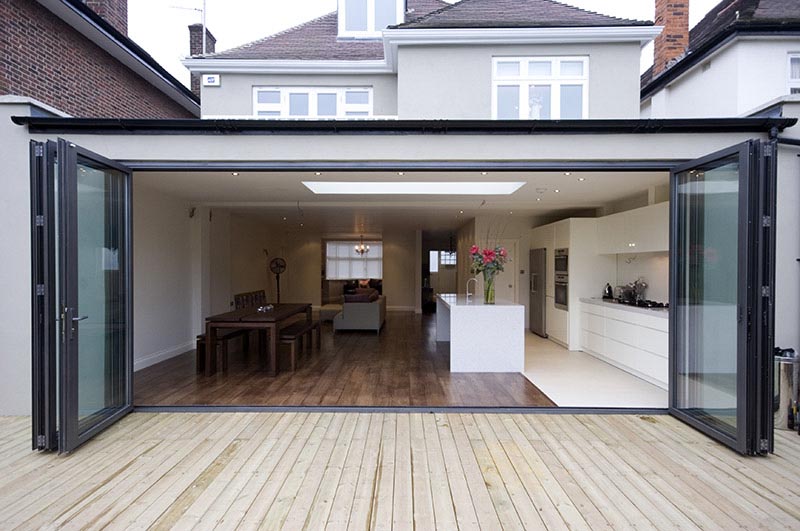 The company is highly-regarded for the smooth construction process it brings to every project. American Green Builders maintains all necessary communications with homeowners, project managers, designers, architects, engineers, and city inspectors. Doing so ensures that the team accurately and efficiently turns the client's visions into realities. The firm continues to impress by applying innovative ideas to its unique construction projects.
---
Connect Homes
706 S Hill St. Suite #1060, Los Angeles, CA 90014
Jared Levy and Gordon Stott founded Connect Homes to deliver affordable modern design to homeowners throughout Los Angeles County and beyond. Prior to starting the company, Levy and Stott worked at Marmol Radziner Prefab, a renowned architect-led design-build firm. While there, Levy served as director of architectural services and the firm won several national design awards and was published in numerous magazines including Dwell, Builder, Newsweek, Time, GQ, and Architectural Digest (a first-ever for a prefabricated house). Years in the industry opened Levy and Stott's eyes to the problems of the prefab industry, particularly in the modern design segment that they were part of. They set out to find a better building solution.
© Matthew Williams
Levy and Stott spent two years developing a patented modular system that delivers the most complete, easy-to-finish, and affordable product in their category. Connect Homes are designed to be simple, smart, and efficient – turning modern residential architecture into a product that more people can afford, whether it's a tear-down replacement or a backyard ADU.
---
Construction Consulting Services
3575 Cahuenga Blvd. W Suite #350, Los Angeles, CA 90068
Construction Consulting Services (CCS) is a design-build company that extends its services across the greater Los Angeles area. With its in-house architectural and construction divisions, CCS provides ADUs and room addition planning and development under the same umbrella. More specifically, the firm provides architectural plans, structural engineering, soil reports, survey, title 24, energy calculations, and permit expediting. In addition to constructing ADUs, the firm is also capable of providing design and construction services for Junior ADUs as well as Multi-Tenant ADUs. Over the last two decades, the company has helped clients maximize their building investments by expanding their living space and simultaneously increasing their property value as well as enabling them to generate more income.
CCS employs a multidisciplinary approach, allowing the company to maximize resources, maintain a team of experts, and improve service coordination. The firm also regularly complies with government construction standards and it is fully licensed and bonded in the state of California. Similarly, CCS is a member of Associated General Contractors of America, the Building Industry Association of Southern California, and the Contractors State License Board. These affiliations help the firm focus its efforts on total client satisfaction by ensuring outstanding building solutions and customer service.
---
Cover
Los Angeles, CA 90247
Cover has been designing and building quality custom homes since its establishment in 2014. The technology company brings cross-disciplinary expertise from the fields of design, architecture, software engineering, computational physics, automotive manufacturing, aerospace, and professional services — this diverse proficiency enables the firm to build impressive structures and spaces through remarkably enjoyable experiences. Prior to working at Cover, the team helped build everything from modest studios, rockets, and racecars to $120 million mansions. Today the company designs, permits, manufactures, and installs impressive backyard homes in Los Angeles, with the promise of personalized design, a streamlined process, and a fixed-price contract.
In the creation of Cover homes, the team handles zoning research, design, permitting, manufacturing, project management, and installation. In fact, its fixed-price guarantee is all-inclusive, encompassing fees for design, permitting, unit, foundation and utility hookups, plumbing, electrical, Wolf Sub-Zero appliances, and all fixtures and finishes. Cover Backyard Homes are tailored to their environment and have a minimal impact. For instance, Cover's team designed an energy-efficient hydronic heating and cooling system to comfortably regulate a home's climate with minimal energy usage. The team also designed all of the cabinetry and built-in storage out of bamboo, an incredibly sustainable material that is also more durable than most hardwoods. For more information on Cover, you can visit their website here.

---
Levi Design Build
21118 Vanowen St., Canoga Park, CA 91303
Tel: 818-703-0232

Homeowners throughout the Los Angeles and San Fernando Valley areas have been relying on Levi Design Build for their construction needs since 1999. The full-service design-build company specializes in ADUs, garage conversions, and home additions and brings exemplary skill and professional knowledge to each endeavor. This expertise accounts for the firm's many successful projects and the company's remarkable growth.
The firm primarily provides detached, attached, and internal ADUs as well as garage conversions. Prior to starting an ADU project, the Levi Design Build team offers clients a free consultation and help to navigate through permits and regulations. If a client decides to hire the firm for the design and planning stage, the team will then design floor plans and 3D renderings followed by architectural and structural plans, and it takes care of submitting the plans for city approval. The firm also offers ADU construction consulting and supervision services, including demolition, foundation, framing, electrical, plumbing, roofing, finish installation, and more.
Levi Design Build employs a comprehensive, streamlined process that provides clients with a dedicated team of designers, permit expediters, and builders. The team manages and implements all design and build aspects, including budgeting, design, issuing plans, city approval and permits, and the actual construction. For more information on Levi Design Building, you can visit their website here.
---
Los Angeles Home Remodeling
554 S San Vicente Blvd. Suite #160-C, Los Angeles, CA 90048
For Los Angeles home and business owners looking to improve their building's interior or exterior, Los Angeles Home Remodeling offers a wide range of remodeling and renovation services. The general contracting firm provides expertise and professional services for an array of remodeling endeavors, including kitchen, bath, and general home remodeling; room additions; deck installation and repair; patios and patio enclosures; as well as outdoor kitchens and barbecues. The company also performs interior and exterior painting, landscaping and hardscaping, and energy efficiency improvements.
The firm has all relevant California state-issued contractor's licenses and carries liability and workers' compensation insurance. It also touts detailed knowledge of local building codes and permit rules. The firm has developed a strong track record for completing projects with the highest level of workmanship. Los Angeles Home Remodeling also strives to keep costs down and complete projects in a timely manner to ensure the most efficient process with reduced downtime for clients.
In addition to providing valuable remodeling solutions, the firm helps clients find a way to finance their projects as well as reduce costs and qualify for incentive programs and rebates. The team can assist clients in qualifying for the HERO (Home Energy Renovation Opportunity) financing program and exploring other financing options. The HERO program is designed to help homeowners finance the improvements to their home's energy and water efficiency levels, saving them money and helping the environment at the same time. The process involves repaying the loan through property taxes collected by the county.
---
Modative
8757 Washington Blvd., Culver City, CA 90232
Since 2006, Modative has been dedicated to designing and building attainable residences in Los Angeles. By helping create over 300 small-lot subdivision homes throughout its years in business, the firm has learned the ins and outs of designing, permitting, and building residential units in small spaces across the city. Today, the firm is using that expertise in combination with a single-stop approach to develop ADUs. Originally an architecture firm, Modative is now a design-build practice specializing in building detached, ground-up ADUs and garage conversions.
The Modative team handles all aspects of the construction process, including architecture, engineering, permit processing, construction, finish and fixture options, as well as financing partnerships. The firm also offers a pre-designed 310-square-foot studio apartment unit with plenty of storage, a full-size kitchen and bath, an in-unit laundry nook, a bed niche, and an outdoor patio. This unit offers predictable costs, schedule, and quality—it costs from $99k to $149k all-in (depending on property and garage condition), takes only two months to construct, and touts high-quality fixtures, finishes, and craftsmanship.
---
Progressive Builders, Inc.
7445 Topanga Canyon Blvd. Suite #220, Canoga Park, CA 91303
Progressive Builders has been contributing to the home building and renovation landscape of Los Angeles for the past decade. The general contracting firm was formed by a team of professionals with considerable experience in kitchen and bath remodeling. Today, the firm offers a slew of home modification projects, like garage conversions, kitchen and bath remodeling, room additions, flooring installation, as well as patio and deck remodeling. The company also provides landscaping and hardscaping, roofing, solar panel installation, and general remodeling solutions.
Whether a project involves knocking down walls for more kitchen space or turning your garage into a bedroom, the Progressive Builders team is capable of delivering unique building and remodeling solutions. The firm continues to amass referral clients, thanks to its determination to deliver complete satisfaction by focusing on the details.
---
Snow Construction
3268 Hillock Dr., Los Angeles, CA 90068
Snow Construction is known in Los Angeles County for detail-oriented, full-service home remodeling and renovation. The family-owned and operated business has been operating since 2013, working on a variety of projects such as ADU building, room additions, office renovations, kitchen remodels, bath remodels, patios, pools, and other residential and commercial construction work.
The firm is led by Billy Snow, who began working in construction and home building in 1999 while he was in high school. After moving to California, he became the head of the Kitchen and Bath department at Home Depot in Los Angeles and stayed in that position for several years. This exposure and Snow's passion for construction spurred him to establish his own company; Snow Construction started out with a single crew member and performed mainly kitchen and bath remodels. The firm has since built its way to constructing and remodeling in Hollywood Hills, usually in the $5M to $7M range.
Snow Construction is regularly lauded for ensuring meticulous attention to detail and communications, precisely addressing client needs from start to finish.
---
Supreme Remodeling, Inc.
14545 Victory Blvd. Suite #401, Van Nuys, CA 91411
Supreme Remodeling proves to be a cut above the rest by being an expert in a variety of trades, particularly hillside construction, complete home remodeling, new construction, and room additions. The firm also offers interior and exterior painting, kitchen and bath remodeling, roofing, landscaping, windows and doors, concrete, pavers, and more. With over two decades of experience in general construction and remodeling, the family-run business has formed strong working relationships with the most professional, licensed craftspeople and contractors in the industry.
Supreme Remodeling's team is comprised of architects, designers, electricians, plumbers, project managers, and other specialists that have been working together for more than years. Each can expertly help clients navigate the ins and outs of building an income property on their lot. Whether a client has city-approved plans or is starting an ADU project from scratch, the firm provides a slew of ADU building services, including plumbing, electrical, drywall, architecture, blueprints, design, flooring, roofing, and more.
---
The Backyard Home Company
31411 Camino Capistrano Suite #300, San Juan Capistrano, CA 92675
Over the course of business, The Backyard Home Company (TBHC) has perfected a streamlined process for building detached ADUs in Southern California backyards. The firm's co-founder and principal, Gary Pomeroy, spent his early industry years investigating a system that speeds up the construction process for building ADUs. He has over 40 years of experience working on the design, development, production, and sale of conventional, modular, and manufactured housing throughout the U.S. Since 1983, he has helped supply and erect 3,000 modular and manufactured homes in California, Arizona, Utah, Maryland, Florida, and North Dakota. Pomeroy has also helped supply materials, technical support, and labor for homes in China, Japan, Grand Cayman Island, and Brazil.
TBHC offers homes in three distinct styles: farmhouse, craftsman, and modern. These plans are available in 600, 800, and 1,200 square feet. These building designs and plans were made by Pekarek Architects in conjunction with TBHC's management team and meet the requirements of the International Building Code. Additionally, each is constructed according to the Title 24 California Building Standards Code for energy conservation and green design. And since some cities and counties require that the exterior materials and roofing match the existing home, the firm is able to provide matching siding or stucco and roofing at a minimal additional cost.
---
Trig Builders, Inc.
6442 Coldwater Canyon Ave. Suite #111, North Hollywood, CA 91606
Despite being a young business, Trig Builders has significantly helped to revitalize Southern California homes with its comprehensive construction solutions. Touting years of cumulative experience, the firm is comprised of a world-class team of professionals capable of taking on contracting and home renovation projects of any scope. The company's numerous offerings include kitchen and bath remodeling, additions and renovations, HVAC services, home insulation, and energy efficiency solutions. 
Garage conversions are a particular specialty at Trig Builders. Whether a client needs the permits to turn their garage into a closed permanent dwelling or wants a new, swanky game room, the firm brings a wealth of construction knowledge and the commitment to raising the property's value in the process. The firm was founded on the tenets of trust and providing excellence in planning, permitting, preparation, and construction—these are the keys to the firm's success as a general contracting company. The firm believes that building relationships with clients is just as important as building their homes, and Trig Builders's high referral rate is the result.
---
Zen Builders
3151 Cahuenga Blvd., Los Angeles, CA 90068
More than 20 years worth of industry experience and expertise goes into every project handled by Zen Builders. The company specializes in a wide range of remodeling and new construction solutions, providing superior labor and materials at competitive prices. Whether a client desires a unique room addition or a complete kitchen or bath remodel, the Zen Builders team is qualified to handle various construction initiatives.
In addition to offering remodeling solutions, Zen Builders can help clients add value to their home by adding square footage and livable comfort through an ADU or garage conversion. The team provides architectural plans, structural engineering plans, and expedited permitting. The components of Zen Builders' ADUs include demolition, framing and drywall, insulation, a kitchen and a bath, electrical work, plumbing, HVAC, flooring, and finishes.
The firm regularly strives to "preserve the Zen within the core elements of nature," which is why it brings green solutions to every project. The company uses energy-efficient and green base materials, bringing together biophilic designs and a commitment to outstanding customer service through high-quality work.
---
About Our Rankings
This list takes a range of ranking criteria into consideration, including but not limited to: work history, customer satisfaction, awards and recognition, geographic area of work, cost, building permits, and clientele. We spent over 40 hours researching local contractors before calculating the final ranking for this post. If there is additional information about your business that could affect these rankings, please fill out this form and we will take it into consideration.
---
Get Bids For Your Build
If you are thinking about building an accessory dwelling unit, we recommend checking each builder's license with the local licensing board, speaking to past clients, and using our bidding system to get competitive quotes from at least 3 contractors. Getting multiple bids is the best way to ensure you get a fair price and that bids include the complete scope of work.