Beaches and mountains provide beautiful natural scenery to the city of San Diego, and the vibrant downtown includes historical establishments, parks, spas, and gaming venues. This diversity of scenery has led to a rich variety of residential designs: representing the homeowner's style and personality is key.
If you are in need of extra space or in need of a conversion, Accessory Dwelling Units (ADU) can offer both. The best ADU builders offer numerous designs to cater to their clients while complementing the surrounding areas. Our editorial team curated this list of the top eleven best ADU builders in San Diego. We came up with this list after carefully considering each company's experience, portfolio, and designs.
---
Jackson Design & Remodeling
4797 Mercury St, San Diego CA 92111
An award-winning firm, Jackson Design & Remodeling offers an array of services that includes new construction, whole home remodeling, ADUs, additions, and renovations. Under the leadership of Todd Jackson, the team continues to improve the methods and design parameters. San Diego Magazine, Dwell, and HGTV have all featured this top San Diego firm.
Since 1989, the Jackson team has completed various projects with numerous styles and designs. It has accumulated a portfolio of contemporary, Coastal, Tuscan, Spanish, and Colonial projects, including new constructions and renovations. Pictured below is one of the firm's best modern houses featuring a minimalist floor plan, monochromatic color palette, and ocean views. The client of this project was a retired couple, so an emphasis on having functional, comfortable spaces was a priority. The result is a modern home that meshes indoor and outdoor living with straightforward interior design.
---
Snap ADU
Yucca Rd. Oceanside, CA 92054
SnapADU is the largest design build contractor in Greater San Diego that specializes exclusively in accessory dwelling units. With a background in high-end custom homes and renovation, SnapADU was designed to offer competitively priced standard and semi-custom plans. The company handles design and permitting in-house, which offers a distinct advantage when it comes to accountability and predictability of the overall cost of the ADU project.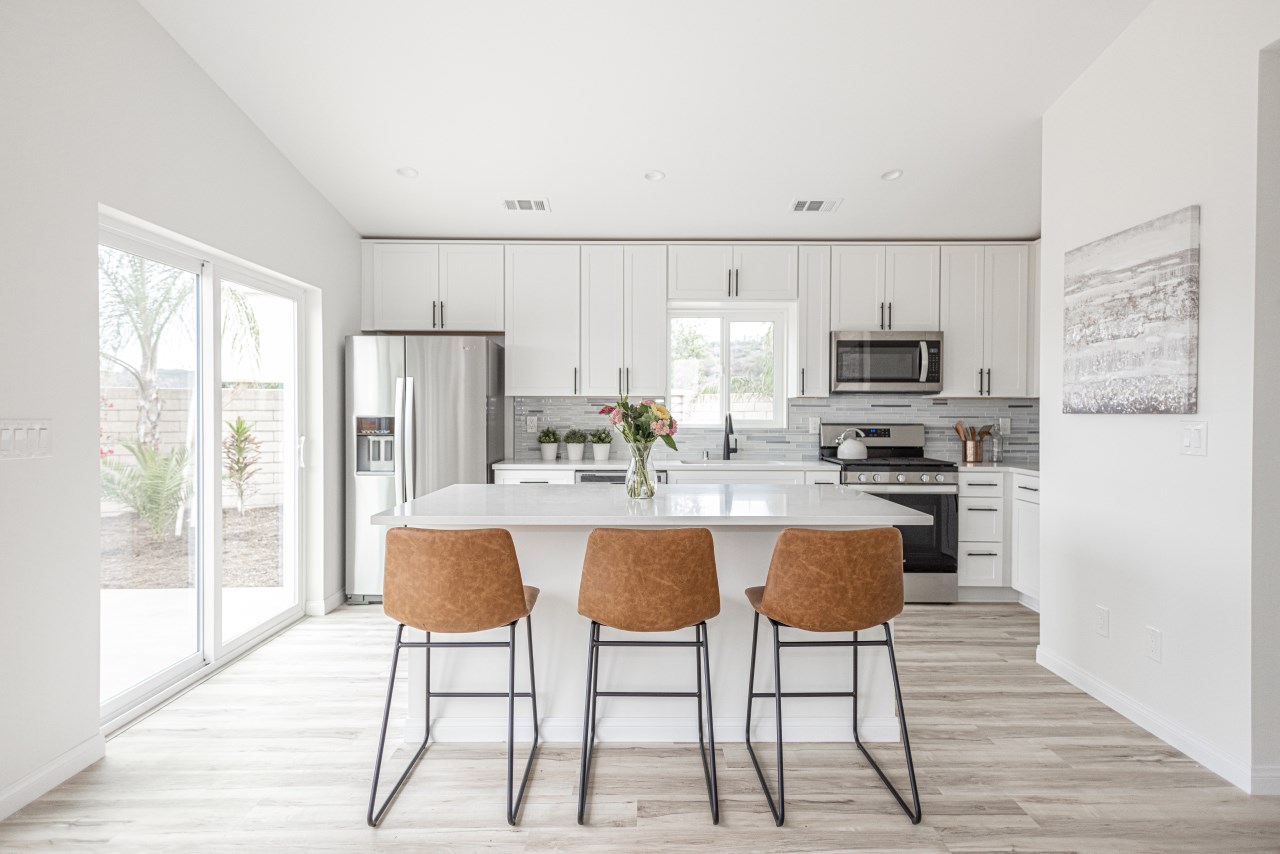 SnapADU has been recognized nationally for their industry-leading adoption of technology to ensure smoother and more efficient job processes. The Better Business Bureau (BBB) has accredited the firm, and SnapADU has also won awards for design from the ADU Coalition. Learn more about their work at www.snapadu.com.
---
Specialty Home Improvement
243 S. Escondido Blvd #308, Escondido, CA 92025
A family-owned firm established in 1993, owner Sheen Fischer implements a five-step process to generate a seamless, straightforward construction plan. Through personal service, the firm is able to provide the best results possible for any value, emphasizing comfort and convenience in each project. These projects include ADUs, contemporary new construction houses, Spanish home remodels, and traditional renovations. For this works, the National Association of the Remodeling Industry (NARI) has accredited the firm, along with features from The San Diego Union-Tribune and Fine Home Building Magazine. 
The featured project below is one of the firm's ADU projects, integrating indoor and outdoor spaces to create an efficient floor plan that also optimizes the outdoor space. With any ADU project, functionality and efficiency are crucial to ensure a livable space. The team at Specialty Home Improvement did just that, offering the client a deck area that is integrated into the interior.
---
Eco Minded Solutions
9530 Padgett St. Suite #109, San Diego, CA 92126
Centered around innovation, sustainability, and environmental practices, Eco Minded Solutions has a solid track record for its eco-friendly approach and partnerships with award-winning landscapers and home builders. Founders Josh Rosenthal, Barry Thau, and David Milton continue to lead the company with a team of more than 60 people. With this dedicated team, the firm has accumulated a portfolio of coastal, contemporary projects with ADUs and new home construction. The picture below is one of the firm's best ADU projects featuring a coastal theme with modern furnishings. This Solana Beach ADU is bigger than most ADU projects which allowed the team to include a swimming pool, an indoor-outdoor patio, and a yard. As for its interior, a simple white background and green color palette offer the client a lush, natural finish. The finished product is an ADU that incorporates minimalist concepts that accentuate its modern look.
---
Marrokal Design & Remodeling LLC
9474 Kearny Villa Road, #205 San Diego, CA 92126
With four decades in the business, Marrokal Design & Remodeling has built a portfolio of contemporary and vintage residences with refined finishes. Many of the firm's projects include Normandy-inspired houses, Tuscan-style residences, Spanish-style homes. Whatever style the client requests, the Marrokal team provides a sophisticated look, taking into account each aspect of the project from its location to the property size. The project below is a great example: this ADU project combines simplicity with modern interior furnishing. This beautiful space is a result of the team's detailed-oriented process. The Better Business Bureau (BBB) and the Environmental Protection Agency (EPA) would have both accredited the firm. 
---
Kaminskiy Design & Remodeling
12396 World Trade Drive #108, San Diego, CA 92128
For over 16 years, Kaminskiy Design & Remodeling has revamped numerous houses in the San Diego area using the latest technology and methods. Keeping up with the trends in the industry has allowed the team to keep up with the demand from clients and maintain a high standard of detail, budget, and scheduling. The Kaminskiy team later received recognition for its work, including the 2021 Best Kitchen & Bath Remodeler and was the Finalist for Local Building Contractor, and Local Construction Company in San Diego.
The poolside ADU project above is a Mediterranean-themed space with stacked stone walls and classic furniture. Situated by the pool, a laid-back atmosphere resonates within the ADU to complement the outdoor space while maintaining the main residence's style. A combination of Mediterranean and beach-style designs offers the homeowners a rustic ambiance through a classic floor plan.
---
Murray Lampert Design, Build, Remodel
2851 Camino Del Rio South, Suite 310, San Diego, CA 92108
This ADU conversion project below is the transformation of a 500 square foot parking garage into a completely remodeled home featuring a living room, kitchen, bedroom, bathroom, and laundry room. Behind the simple exterior, is a beautifully designed interior by the Murray Lampert team with luxury vinyl plank flooring, custom cabinetry, quartz countertops, and hand-crafted glazed tile backsplash. Projects like this are a result of four decades of experience from a well-known San Diego architectural, interior design and build team.
Since 1975, Murray Lampert has delivered thoughtfully designers spaces and high-quality work, with president and CEO Gregg Cantor leading the firm since 1990 and now the fourth generation, daughter Rachel as VP of Operations. Over time, the firm has fostered various partnerships with the City of San Diego and the best trade partners who have helped Murray Lampert Design, Build, Remodel deliver great projects which leads to consistent client satisfaction.
---
Tourmaline Builders
1010 Turquoise St, Suite 101, San Diego, CA 92109
Tourmaline Builders started in 2011, with president Ben Ryan leading the way. The firm invested in a meticulous project management system thanks to an easy-to-use software platform that allows the team to update, communicate, and relay information to the client. Despite being a young company, Tourmaline Builders is a five-time winner of the Icon Award for the top custom home in San Diego and was named the Building Industry Association's San Diego Custom Home Builder of the Year. 
Under Ryan's leadership, Tourmaline Builders have produced various projects with a wide range of styles. These include Cape Cod, modern Farmhouses, and classic Spanish residences. Pictured below is one of the firm's completed Spanish projects featuring traditional furniture with a contemporary setting. Wooden flooring, tiled roofing, and wooden furniture comprise most of the house, which is a classic combination for a Spanish home. Apart from these kinds of projects, the firm offers its clients ADU services for additional space. 
---
Stel Builders
7950 Dunbrook Road, San Diego, CA 92126
The North Park ADU project below is a vibrant modern residence featuring classic wooden furniture with colorful detailing. The ADU includes a full kitchen, laundry room, living room, bathroom, and bedroom. Each space is efficiently furnished with gray cabinetry and wooden tables which are thematically united through colorful paintings and rugs. These minor details add more life to the unit while maintaining a refined setting throughout the home. With president Seth Larson leading the team, the firm continues to provide services to the San Diego area. With its lineup of in-house designers, project managers, and architects, Stel Builders is capable of catering to every client's needs. 
---
CalHomeCo
4250 Morena Blvd Suite E, San Diego, CA 92117 
Partners  Blake Hedrick and Henish Pulickal established CalHomeCo in 2016; Hedrick was the Director of Construction and Pulickal was the CEO. Despite being such a young firm, the duo of Hedrick and Pulickal quickly garnered attention by providing high-quality construction and renovation services. Its portfolio consists of numerous modern residences with vibrant finishes. Currently, the firm is working on two ADU projects; the Grandview ADU featured below. The firm has already put together a contemporary exterior design and continues to work on the interior layout focusing on efficiently using the space to accommodate the furniture that can make the ADU as functional as possible. 
---
ADU Geeks
2828 University Avenue, Unit 105, San Diego, CA 92104
ADU Geeks is a full-service team dedicated to providing clients with personalized ADU spaces through comprehensive management. From financing, designing, and building, ADU Geeks offers a meticulous process from conceptualization to completion. Many of the firm's ADUs consist of modern designs using black walls and wooden beams paired with contemporary furniture. Pictured below is one of those projects: this luxury modern ADU features a refined finish. Apart from the sophisticated appeal, the firm was able to provide a small outdoor space that acts as a patio, effectively using the property of the home. The result is a functional house that makes use of each room with contemporary design.