Houston is a vibrant and culturally diverse metropolis with a population of over 2.3 million. According to recent statistics, the Greater Houston area is the nation's most ethnically-diverse metropolitan—and around 145 languages are spoken in the region. This wealth in diversity is evident in the varieties of styles, tastes, and characteristics of residential architectures such as the traditional Craftsman, Colonial Revival, Spanish, and the innovative Modern and Contemporary homes found along the main streets of the city.
This article ranks the best custom home builders in Houston—-firms responsible for beautiful, eclectic, and distinct homes gracing the city's finest neighborhoods. The ranking is based on the companies' awards, their principals' expertise, industry achievements, project features, and milestones that they have gained over the years. On the other hand, if you want to learn more about the cost of building a custom home in Houston, check out our other article.
If you are thinking about building a custom home, we recommend checking each builder's license with the local licensing board, speaking to past clients, and using our bidding system to get competitive quotes from at least 3 contractors. Getting multiple bids is the best way to ensure you get a fair price and that bids include the complete scope of work.
---
2901 W Sam Houston Pkwy. N Suite C255, Houston, TX 77043
Partners in Building, established in 1986, believes that every custom home is a genuine reflection of its homeowner's individuality and lifestyle—and this client-centered approach has helped the company earn its distinguished reputation in the industry.
The firm's  current president, Jim Lemming, has successfully elevated the company's status as a leading builder in the industry. For over ten years, the company has been a recipient of the Texas Association of Realtors's Star Awards, as well as the Houston's Best Prism Awards. Additionally, the firm has been featured by several publications including Houston Design Resources Magazine, Houston Chronicle, Houston Design Magazine, and Houston Business Journal.
Partners in Building completes an average of 200 homes every year, making it one of the largest contractors in major Texas cities such as Austin, Houston, and San Antonio. As a luxury custom home builder, the firm specializes in creating beautiful residential buildings inspired by French, Spanish, Modern, and Contemporary designs.
---
Houston, TX
Realex Homes is a full-service luxury custom home builder whose quality, attention to detail, and customer service set a high standard for Houston custom homes. The homes are a reflection of the individuality of the clients, as diverse as Houston itself, featuring transitional, contemporary, Acadian, Mediterranean, and traditional styles.
President Nick Peters established Realex Homes in 1987 and has since achieved the prestigious title of Graduate Master Builder. The quality of Realex Homes is evidenced by their numerous Greater Houston Builders Association (GHBA) Prism awards as well as recognition in The Houston Business Journal and Swoon Memorial Magazine.
The Memorial Estate is an 8,001-square-foot home with six bedrooms, six bathrooms, and two powder baths. The formal living room has a fireplace and a showcase blue onyx slab built into the wall, while the family room has a floor-to-ceiling stone-tiled fireplace. The master bath and spa has an engraved decorative limestone floor-to-ceiling tile wall behind the tub as well as a floor-to-ceiling marble fireplace and outdoor access to a stone sunning platform. There's also a sunken climatized wine cellar with granite detailing and custom built-in wine racks, an exercise and hobby room, a home theater with multi-level lighted flooring, a game room and sports bar with multiple TV locations, a large catering kitchen off of the main kitchen, an outdoor gazebo, an outdoor kitchen, a grand foyer with imported Italian marble tile, a grand stairway with custom iron paneling, and an elevator.
---
5210 Spruce St. Bellaire, TX 77401
Hann Builders is is a full-service residential custom home builder and remodeler specializing in Spanish, French, and Modern style-building. Principal Stephen Hann has been a major figure in the industry since establishing his firm in 1993. Hann is one of the founding members of the Custom Builders Council (CBC) and the National Association of Home Builders' (NAHB) Builder 20 Clubs. He has also been a frequent speaker at NAHB's Houston and Dallas conventions.
The company's projects have helped it obtain notable awards including America's Best Builder by the NAHB in 2002. Additionally, in 2010, the Greater Houston Builders Association (GHBA) recognized the firm as the Custom Builder of the Year.
---
5205 Spruce St. Bellaire, TX 77401
Cason Graye Homes takes a personal and intimate approach to its custom home building process. The firm's method includes understanding what inspires its clients and looking at ways to make homeowners feel safe and genuinely satisfied.
The firm's French, Modern, Spanish, and Contemporary-designed residences are strikingly impressive. This company is ideal particularly for first-time homeowners, thanks to its comprehensive coverage in providing its clients post-building services for overall customer satisfaction: it offers warranties covering structural services, mechanical delivery systems, and materials and workmanship warranty.
The firm's founder, Bryan Phillips, founded Cason Graye Homes in 2004. Over its years of operation, the firm has caught the attention of huge organizations like the GHBA, which chose the company as its Best PRISM Award winner for Custom Home Design. Additionally, its reputation as a client-focused company also helped it become Bellaire New Home Showcase Awards' "People's Choice" winner.
---
9525 Katy Freeway Suite #492, Houston, TX 77024
Corbel Construction serves its clients 24/7, answering questions and taking consultations day and night. The firm's principals, Mike and Nick Bregenzer, are dedicated craftsmen with talent and experience in building custom houses for Texas's high-end neighborhoods.
From planning and conceptualizing design ideas to efficient budget management, Corbel Construction stays with its clients on every step of the process. The firm is set apart from other builders by its focus on securing the ideal home sites based on its clients' lifestyles and preferred environment.
The firm specializes in transforming French, Colonial, and Spanish-inspired home concepts into reality. Many of these masterpieces can be found on the pages of home-building and design publications such as the Houston Lifestyle and Homes, Luxe, and Southern Living.
---
11200 Richmond Ave Ste 100 Houston, TX 77082
McVaugh Custom Homes has an impressive track record of over 300 completed home constructions since it was founded in 1989. Some of the several accolades that the firm has won over the years are the Texas Association of Builders' (TAB) Star Awards, the NAHB and Builder Magazine's America's Best Builder for the Small Volume category, and Custom Home Magazine's Top 3 Custom Builder in Texas.
The firm's principal, Jim McVaugh, oversees every phase of the building process. McVaugh's credentials as a builder are further solidified by his expertise in handmade details and his experience working with a wide range of materials such as marble, slate, granite, tile, and hardwoods. Because of McVaugh's unique emphasis on the importance of a practical and hands-on approach to building,  the company makes focuses on new methods in construction and developing its team's skill set through continuous training and education programs.
---
25317 IH-45 North, The Woodlands, TX 77380
Jauregui Architecture Interiors Construction has 30 years of luxury custom home building expertise. The firm's arsenal of in-house experts is its ultimate asset, managing the most complex demands of the designing and building process. From the beginning of the development phase, everyone in the team of designers, managers, and builders plays their role to create a highly-personalized experience for each client.
Luis Jauregui, the firm's founder, is a registered Interior Designer and a licensed Architect. He is also a distinguished member of the American Institute of Architects (AIA) —and his credentials and expertise have made the company become what it is today.
A quick look at the firm's portfolio reveals its design and building expertise in perfecting French, Spanish, Tudor, European, and other architectural styles. Unsurprisingly, the impressive custom home building accolades that the firm won from the industry's biggest local, national, and state organizations have made it a preferred company for even the most demanding clients.
---
5403 Bellaire Blvd. Suite #117 Bellaire, TX 77401
5403 Bellaire Blvd. Suite #117 Bellaire, TX 77401
Stone Acorn Builders' founders came from a long generation of traditional fine home builders. The firm has been a family-owned company since its establishment in 1999, operating and servicing neighborhoods within and around Houston. Today, the company has cemented its place as an award-winning figure in the industry, earning elite recognitions such as the 2015 Southern Living Custom Builder of the Year, and one of H Town Magazine's Houston's Top Custom Builders (2009).
Much of the firm's success can be attributed to Sarah Lavine-Kass and Benjamin Lavine, the brother-sister duo serving as its current principals. Both creative and innovative builders, their impressive approach to leadership has led their team to success and helped the firm win the Cornerstone Leadership Award in 2014, 2015, and 2016.
Many of the firm's projects draw inspiration from the Modern, Mid-century Modern, Traditional, and Southern architectures. Aside from its expertise in handling a wide range of projects styles, the firm's client-focused approach to construction is its biggest draw. A large part of its method includes educating prospective homeowners on the entire development process, as well as helping them make the most practical and informed decisions.
---
10810 Katy Freeway #205, Houston, TX 77043
Heavenly Homes offers an immersive process to residential construction. With this approach, Heavenly has its clients to be active members of the design/building process by educating them on different material and methods, before the architectural process is complete. This method empowers everyone involved to make informed decisions about beauty, functionality and cost.
Rory Caton founded Heavenly Homes in 2003 as a way to fulfill his dream of constructing works of art, via unique custom homes in Texas. His experience as a builder and a leader has helped him create a dynamic team that efficiently manages designing, planning, and construction methods to deliver high-quality results.
The Heavenly team believes that every custom home should embody the owner's unique experiences, style, personality, and taste. While staying true to the original vision of its clients, the firm also deploys its knowledge of the most prominent architectural influences from the French, Modern, Spanish, and Contemporary movements, to create a timeless residential structure.
---
2500 Summer St. Suite #3112, Houston, TX 77007
A dream team of architects, artists, and designers makes up StudioMET Architects. This impressive combination of talent and interactive collaboration among master craftsmen has helped the firm employ a more holistic approach to every building project. Currently, the firm offers both architecture and construction services for clients in a wide variety of styles.
Three AIA-certified architects head the firm: Yoonchul You, Stephen Andrews, and Shawn Gottschalk. With their combined experience of 45 years in design, planning, and building, they have secured their place in the industry as leading developers of Modern and Contemporary-styled homes.
The company's multidisciplinary approach to design and building has been recognized by several publications both in- and outside the industry. These include the Houston Business Journal, Houston Chronicle, Modern Luxury Texas Interiors, and Houston House & Home.
---
9720 Cypresswood Dr. Suite #420, Houston, TX 77070-3360
Drees Custom Homes is a family-owned and operated firm boasting over 90 years of industry experience. The firm specializes in building a variety of sophisticated custom homes, highlighting the timeless exteriors and interiors of Modern, Ranch, French, and Spanish styles.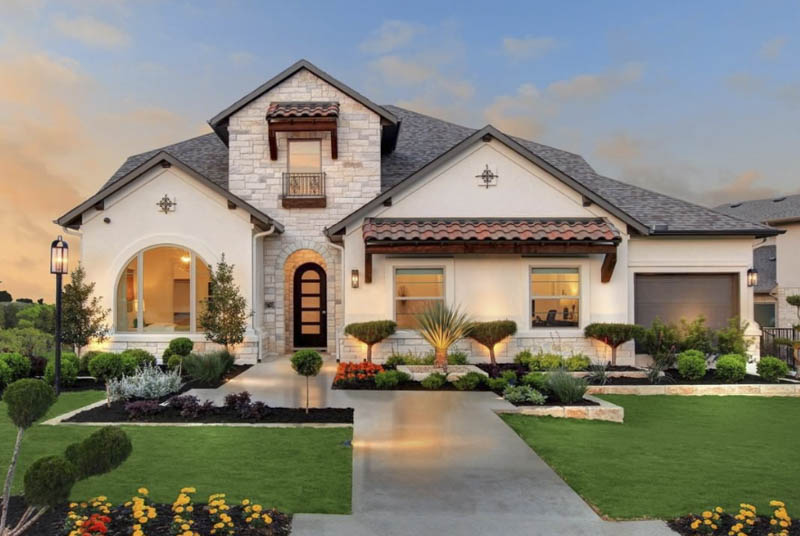 The company's founder, Theodore Drees, is a German immigrant who came to the U.S. to start a new life. He established a company that became a big name in the building and construction industry in Texas. Today, David Drees continues his grandfather's enduring legacy to create architecturally-stunning structures in the region.
Some of the company's most notable recognition came from Builder Magazine, who named it America's Best Builder twice.  Over the years, the firm has drawn accolades and features from the nation's top organizations.
---
1414 Woodvine, Houston, TX 77055
Thompson Custom Homes' timeliness, attention to detail, and service-minded approach to building Houston's finest luxury custom homes are just three of the many reasons why it is one of Houston's best custom home builders. Aside from the firm's expertise in crafting elegant homes with French, Spanish, and Tuscan designs, it is lead by Brian Thompson, one of the industry's most reputable builders.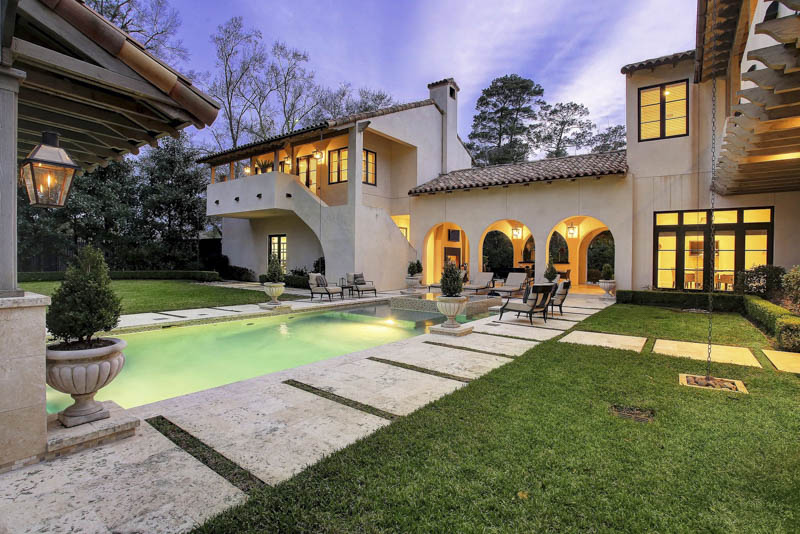 Thompson belongs to an influential family that has secured a solid professional network in the industry. Because of this background, he has acquired a deep familiarity with the demands of the home building industry's most sophisticated clients. His company's journey to success has been well-documented on the pages of several publications such as Traditional Home, Décor, Luxe, and Western Interiors, to name a few.
Thompson founded the firm in 1996, and his success has secured the company a place as one of the most recognized builders in Texas. The firm is an active member of different builders' organizations such as the GHBA, NAHB, CBC, and the Better Business Bureau (BBB).
---
2233 Yale St. Suite #170, Houston, TX 77008
The ultimate sense of fulfillment after completing a home project is what motivates Whitestone Builders' founder, David Gordon, to craft every home with the utmost attention to detail and creativity. Whitestone Builders achieves its goal by looking at four important aspects throughout its building process: exterior design, interior design, careful planning, and efficient automation. The company's development process has been proven effective, as evidenced by the list of awards and recognition that it has received from organizations such as the GHBA, TAB, and Home Builders Association (HBA).
Many of the firm's home-building and remodeling projects, ranging from Contemporary and Craftsman to Ranch and Colonial styles, have been praised in publications like Home Builders Digest, Houston House & Home, and The Metropolitan Builder.
---
3939 Essex Ln. Suite #100, Houston, TX 77027
On Point Custom Homes is one of Houston's most distinguished custom home builders, evidenced by its awards: it has won both the  Houston Custom Builder Grand Award and Texas Custom Builder of the Year award from the GHBA and the TAB, respectively.
A deep-rooted professional philosophy has guided the firm's founder, John Leggett, to pursue his father's mission and become one of Houston's leading custom home builders. He founded the firm in 2004 at age 26, and since then, has become a disruptor in the industry by introducing modern and innovative approaches to construction.
Most of the firm's works showcase inspiration from Modern and Contemporary influences. However, as a custom home builder, the firm makes sure that every home is designed according to the distinctive characteristics of its homeowner. For this reason, the firm's first step to every home building project is to get to know its clients. This approach transforms every project into a creative expression of the genuine individualities of its owners.
---
4665 Sweetwater Blvd. Suite #106 Sugar Land, TX 77479
Many of Sims Luxury Builders' works are undeniably unforgettable, thanks to its exceptional architectural designs, which celebrate traditional and modern influences from Tuscan, French, Spanish, and Contemporary styles.
Christopher Sims founded the firm in 1988, with a personal commitment to craft luxury custom homes of the highest caliber. Staying true to his vision for the company, he has since built timeless homes and award-winning residential structures around the Greater Houston Area. The firm's two-time win for Prism Awards' Custom Home of the Year, as well as multiple-category wins from Texas Star Awards, are just some of its many achievements. Sims Luxury Builders' team members consider themselves to be stewards of their clients' resources, staying faithful to the customer's budget and timeline. Aside from the firm's dedication to its clients, it has also managed to develop lasting connections with leading architects, builders, and designers.
These collaborations have helped the firm land pages in major publications like Luxe, Houston Lifestyle & Homes, and Houston Custom Home Builders.
---
8505 Technology Forest Pl. Suite #102, The Woodlands, TX 77381-1158
What sets Matt Powers Custom Homes apart from other firms in the industry is the company's advocacy for energy-efficient and eco-friendly home building. Over the years, the company has constructed LEED-certified residential homes and is a proud builder for ENERGY STAR® labeled houses within and around Houston. The company was established by a native Houstonian, Matt Powers, in 1992, with a vision to lead the state's Green revolution in the building and construction industry. From early design development to later stages in the construction process, Powers's team of seasoned architects and veteran builders has delivered high-value residential houses for many families in the area.
Whether it's a modern-styled residence or traditionally-inspired architecture, Matt Powers Custom Homes never fails to catch the attention of award-giving organizations, earning the firm recognitions such as the highly sought-after NARI Awards, the Houston's Best Prism Awards, Star Awards, Dream Home Awards, and the National Chrysalis award for the 2012 Best Green Remodeling Project of the Year. The firm's reputation as a recognized custom home builder for French, Spanish, Modern, and Contemporary green design has been well-documented in several publications like the Houston Business Journal, Houston Chronicle, NARI CotY Showcase Publication, and Houston Design Resources.
Always committed to meeting their clients' needs, Matt Powers Custom Homes added home renovations to their services. This allowed the company to cater to those that live in a house they want to stay in, but need help in making it a home. Carrying over all the same values and standards they established building homes, the team began meeting clients where they were at and making renovations a priority alongside custom builds. Noticing a gap in the process with clients moving homes, the company also decided to branch out into the real estate business. The Laura Powers Property group helps fulfills the needs that come with listing and buying a home
---
How can I find home builders near me?
Read our latest articles on the best custom home builders in or near Houston. If you don't see your city below, just let us know – we are happy to create a tailored recommendation list just for you.
Bathroom Remodeling Contractors in Houston
Kitchen Remodeling Contractors in Houston
General Contractors in Houston
---
About Our Rankings
This list takes a range of ranking criteria into consideration, including but not limited to: work history, customer satisfaction, awards and recognition, geographic area of work, cost, building permits, and clientele. We spent over 40 hours researching local contractors before calculating the final ranking for this post. If there is additional information about your business that could affect these rankings, please fill out this form and we will take it into consideration.
---
Get Bids For Your Build
If you are thinking about building a custom home, we recommend checking each builder's license with the local licensing board, speaking to past clients, and using our bidding system to get competitive quotes from at least 3 contractors. Getting multiple bids is the best way to ensure you get a fair price and that bids include the complete scope of work.