According to Forbes, San Antonio is the fastest growing city in the US in 2018. The city is enjoying a boom in its population, thanks to its growing business sector and lower cost of living. With people coming from all over the country, home styles aside from the classic French Provencal, Spanish Colonial, and Mediterranean homes have begun emerging. A quick look at the city's current architecture shows the rise of contemporary and modern homes amidst traditionally-styled homes. It is an interesting and busy time for custom home builders in the city as San Antonio continues to grow and develop.
For future homeowners in the city, looking for a great custom home builder can be a stressful exercise. We have examined all of the existing custom home builders in San Antonio and gathered the top 15 companies, which are capable of building homes that cater to their clients' tastes while also ensuring that the homes they build are filled with essential amenities.
We have evaluated these firms on their building experience, portfolios, and awards from building organizations on the local and national levels. Many of the firms are members of the National Association of Homebuilders (NAHB), and its local counterparts—the Texas Association of Builders (TAB) and Greater San Antonio Builders Association (GSABA).
14) Specia Builders Custom Homes & Remodeling
Website | 210-349-1491 | 5917 San Pedro Ave. Suite #3, San Antonio, TX 78212
Specia Builders Custom Homes & Remodeling, which is family-owned and run, has been in operation in San Antonio for over seven decades. The firm is now led by Richard Specia, who grew up alongside his family's business. Combining his lifetime experience in construction and his Business Administration degree from Texas Tech University, he has led the company to become one of the best custom home builders in San Antonio.
Over the years, the company has received multiple recognitions from the GSABA Summit Awards. Among its outstanding custom built homes is a project featuring imported materials from New Mexico. Redondo floor tiles, custom-made wooden doors, and wood trims achieve the Hill Country Ranch look and feel that the homeowners wanted.
---
13) Dale Sauer Homes
Website | 210-490-1061 | 20079 Stone Oak Parkway #1285, San Antonio, TX 78258
Dale Sauer established his custom homebuilding firm in 1999 after a six-year stint as Vice President of Construction at one of the biggest building firms in San Antonio. After working for a big company that produces over twenty homes in a year, he chose to do otherwise. Dale Sauer Homes builds fewer quality homes annually, some of which are award-winning.
Dale Sauer Homes, which has been in operation for almost two decades, has received several awards from the Parade of Homes, Texas Star for Parade of Homes over One Million Dollars and Summit Awards. The firm is a proud member of the NAHB, TAB, and GSABA, for which Sauer serves as a board member. The firm specializes in building Traditional, Timber Frame, Mediterranean, ICF, SIP and Contemporary. They build homes the way you want it.
---
12) CKC Custom Homes
Website | 210-408-7613 | 7902 Calle Rialto #200, San Antonio, TX 78257
CKC Custom Homes is a family-owned business run by husband and wife duo Charles and Kristal Powell. Established in 2002, the company specializes in building one-of-a-kind homes, restorations, and interior design.
Under the Powells' leadership, the company won the 2017 Summit Grand Award for a Custom Builder. The firm has built homes in a variety of architectural styles across San Antonio, one of which is the featured Mediterranean estate. It features a custom built pool, custom showers, and a unique entryway that makes coming home a pleasant experience for the owners. The firm used elegant finishes throughout the home, like rustic white tiles, rich wood floors, custom trusses, and ceiling work.
---
11) Adam Wilson Custom Homes
Website | 210-900-2924 | 19918 Bella Glade, San Antonio TX 78256
Adam Wilson is a second generation builder originally from Austin. At a very young age, he learned everything about the trade through his father's homebuilding business. After graduating with a business degree from Southern Methodist University, he worked with regional and national construction companies before finally opening Adam Wilson Custom Homes in 2008.
Today, the business operates as a full-service custom home builder, and is known for its interior design and swimming pool work. In its ten-year existence, the company has won several awards from the GSABA and the San Antonio Parade of Homes.
---
10) Mattern and FitzGerald
Website | 210-764-7373 | 1595 S Main St. #127, Boerne, TX 78006
Established in 2005, Mattern and FitzGerald is now among the largest residential builders by sales volume according to the San Antonio Business Journal. The firm has built custom homes in the San Antonio and Boerne AreaSan Antonio and Boerne Area under the direction of its owners, Kevin FitzGerald and Jason Mattern.
The company is known for building classic French Provencal, farmhouse, and Mediterranean-inspired homes with modern amenities across the city. Among the firm's work is a custom French Provencal house with six bedrooms and four and a half baths. The elegant home has a half-court for basketball, a bar, and a home theater.  It also has an outdoor entertainment area with a fireplace, making it the perfect spot for cozy evening conversations with the owner's guests.
---
9) Stadler Custom Homes
Website | 830-980-4198 | 32335 US Hwy #281 N, Bulverde, TX 78163
With over 24 years of industry experience, Stadler Custom Homes goes above and beyond industry standards to craft unique homes for its clients. Established by Ray Stadler, the company has been honored with several awards from the Parade of Homes and the GSABA over the years.
One of the firm's award-winning projects is a contemporary home that stands out for the company's use of sleek white lines, oversized windows, and an open layout design. It also has a pool and poolside bar, which makes the space perfect for parties and small get-togethers for the owners and their guests.
---
8) Robare Custom Homes
Website | 210-372-9880 | 14701 San Pedro Ave. Ste #220, San Antonio, TX 78232
Robare Custom Homes is a multi-awarded custom home builder specializing in residential and small commercial buildings in San Antonio and the surrounding areas. Established by Mike Robare in 1998,  the firm has gained the reputation of being one of the best rural builders in San Antonio, with over 50 Summit Awards and a Regional Star Award.
Among the firm's best works is a modern and contemporary home with an open deck and stunning views of the Texas landscape. It utilizes a monochromatic color palette, with steel, concrete, and marble finishings throughout the house to reinforce a sleek and clean look for the homeowners.
---
7) Image Homes Custom Builders
Website | 210-699-1773 | 16002 Via Shavano #101, San Antonio, TX 78249
Image Homes Custom Builders has served the North San Antonio area for over 30 years. The firm was founded by Roberto Kenigstein, who prefers to use materials local to San Antonio, such as limestone, fieldstone, and stucco. Kenigstein also aims to make his clients as comfortable as possible and takes steps throughout the building process to keep his clients informed and aware of all budget-related questions.
Under Kenigstein's leadership, the firm has received several Summit awards over the last decade for its custom home builds, landscape design, and rural projects. The firm is known for building luxury custom homes inspired by different styles: ranch, modern, Spanish Colonial, and French Colonial.
---
6) Mike Hollaway Custom Homes
Website | 210-490-0069 | 2511 N Loop 1604 W Suite #200, San Antonio, TX 78258
Mike Hollaway founded Mike Hollaway Custom Homes in 1992 to realize his passion for building, which started at the age of eleven when he worked for a local homebuilder. At eighteen, he started selling homes as a licensed real estate broker, which allowed him to build a vast knowledge of home styles and popularity. Today, his company is among the most respected home builders across San Antonio.
Hollaway's firm works in various design styles that satisfy its clientele's diverse needs. The company takes pride in its ability to blend traditional architectural styles and modern amenities in every home that the firm builds.
---
5) Creative Custom Builder
Website | 210-404-9700 | 16258 San Pedro, San Antonio, TX 78232
Creative Custom Builder, established by Guy Floyd in 2003,  is an award-winning custom home builder in San Antonio. It has been honored with recognition and accolades from various organizations, such as the Star Award from the TAB in 2017, and the Mayoral Proclamation Award from the City of San Antonio. It was also listed on San Antonio Business Journal's Top 25 Largest Residential Builders.
Among the firm's best work is a charming custom farmhouse that features five bedrooms, and four and a half baths.. The firm used elegant shiplap siding interior walls, which added to the farmhouse theme. Creative Custom Builder also used reclaimed trusses and beams to add character to the home.
---
4) Nic Abbey Luxury Homes by Lisa Nichols
Website | 210-798-2272 | 7718 Broadway Suite #200, San Antonio, TX 78209
Lisa Nichols founded Nic Abbey Luxury Homes by Lisa Nichols in 2002, after years of experience in the construction industry. Nichols was a junior development partner at Embrey Partners, where she learned everything about the apartment development business. She then transitioned to building homes after successfully remodeling a home for her own family. Today, her goal is to make Nic Abbey Luxury Homes into a "builder for generations to come." The firm specializes in the design/build process, making the building experience smoother for its clients. It works in the upscale areas of San Antonio, like The Dominion, Shavano Park, and Alamo Heights.
+The firm's work has been featured in several local publications, including San Antonio Magazine, San Antonio Woman, and the San Antonio Business Journal. The firm is known to excel in various aspects of the business, having received Summit Awards for both its website and its custom home builds.
---
3) Jauregui Architecture Interiors Construction
Website | 512-328-7706 | 3660 Stoneridge Rd. Bldg. A-102, Austin, TX 78746
Jauregui Architecture Interiors Construction is an architect-led design/build company catering primarily to clients in Austin, Dallas, and San Antonio. It was established by Luis Jauregui, who holds a Masters of Architecture from Texas A&M University. His expertise has been recognized across the industry, and he served as president of the Homebuilders Association of Austin and director of local, state, and national home builders associations.
Jauregui's firm has been in operation for almost four decades. Throughout its existence, it has garnered local and national recognition for its projects. In 2016, the firm received the Best in American Living award from the NAHB. In the same year, the firm was announced as the Texas Builder of the Year and the National Custom Builder of the Year.
Among the firm's award-winning projects is Vernon Wells III's mansion in Westlake, Texas. Architectural Digest calls it "the stuff athlete's dreams are made of" because of the Mediterranean-inspired home's many amenities. It has a chef's kitchen, a resort-style spa with a sauna, a home theater, and a gym with a batting cage for the New York Yankee. Currently, the home is listed on the market at a whopping $8.5 million.
---
2) Garner Homes
Website | 210-493-1686 | 17 Vaquero Pass, Boerne, TX 78006
Garner Homes have been building stunning homes in the premier neighborhoods of Texas Hill Country since 1998. Trey Garner established the company in Austin after graduating with a degree in Construction Science from Texas A&M University. In 2004, he moved his business to San Antonio, where he continued collaborating with his clients in building homes for the company's clients.
One of the company's notable projects was done in partnership with actress Cheryl Ladd. The former Charlie's Angel's star designs homes inspired by her overseas travels. Her company, Cheryl Ladd Signature Homes partnered with Garner Homes to build a 4,400 +/- square foot home in Cordillera Ranch in Boerne.

The company recently won awards from the 2018 San Antonio Parade of Homes for an American Transitional built in the Miralomas. The home is 3,200 square feet, with three bedrooms and baths. It has a well-lit open floor plan, with high ceilings in the shared space of the kitchen, dining, and living room. Garner Homes also left the deck uncovered to make the house perfect for entertaining guests, while the master bedroom has an expansive view of the canyons.
---
1) Burdick Custom Homes
Website | 210-497-2200 | 4710 Shavano Oak Suite #102, San Antonio, TX 78249
Burdick Custom Homes is the company behind many award-winning homes in the upscale neighborhoods of San Antonio. The firm has a reputation for stellar architectural design, marked by timeless elegance and meticulous attention to detail. Art Burdick, CEO, and founder of the company, is recognized in the industry for being nominated as Best Builder of the Year by the GSABA, of which he is also a lifetime board member and former president. Burdick's reputation as a high-quality builder has undoubtedly helped Burdick Custom Homes rise to the top as the best option for luxury home building in San Antonio.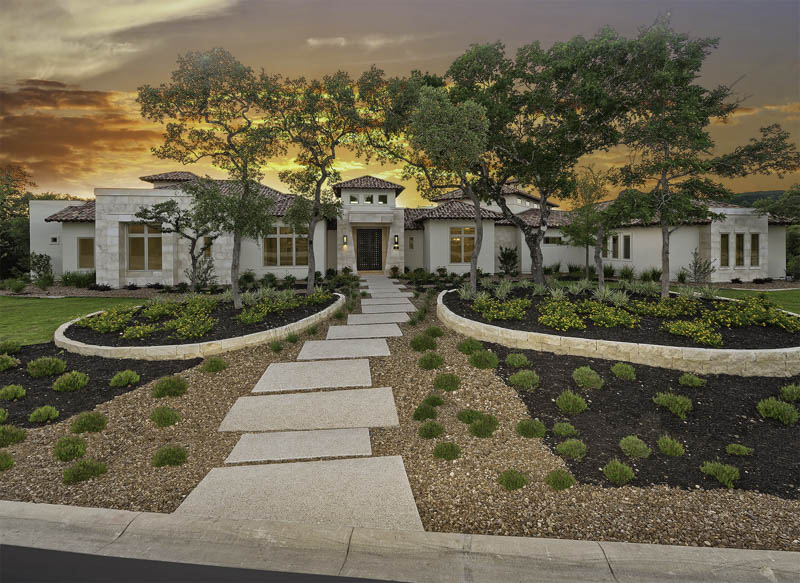 Under Burdick's leadership, the firm has received multiple Summit Awards for four consecutive years. It also received three of the most coveted awards from the Parade of Homes: the President's Award, People's Choice, and Realtor's Choice. The firm's work is done in a variety of classic homestyles—from ranch style homes to French and Spanish colonial styles.