Oakland is a large city in California known for its diversity. It offers improved infrastructure and affordable housing, attracting people to reside in the town. Oakland is surrounded by plenty of natural beauty, museums, and green spaces. The city is also quickly becoming a food haven, offering a variety of cuisine and international flavors. If you reside in the area and are looking to revamp your kitchen, check out the list below, which includes 11 of the best kitchen remodeling contractors to revolutionize your current space.
---
Custom Kitchen by John Wilkins Inc.
6624 Telegraph Ave., Oakland, CA 94609
Custom Kitchens is the one-stop-shop for clients' home construction and remodeling needs in Oakland and the East Bay Area. It was established in 1950 and has provided a comprehensive selection of services, including professional design and build, kitchen remodeling, bathroom remodeling, and interior remodeling. For 70 years in the business, the firm has created numerous projects, amassing several awards, such as the 2014 Gold Award for Residential Kitchen Over $150K from NARI Regional Award.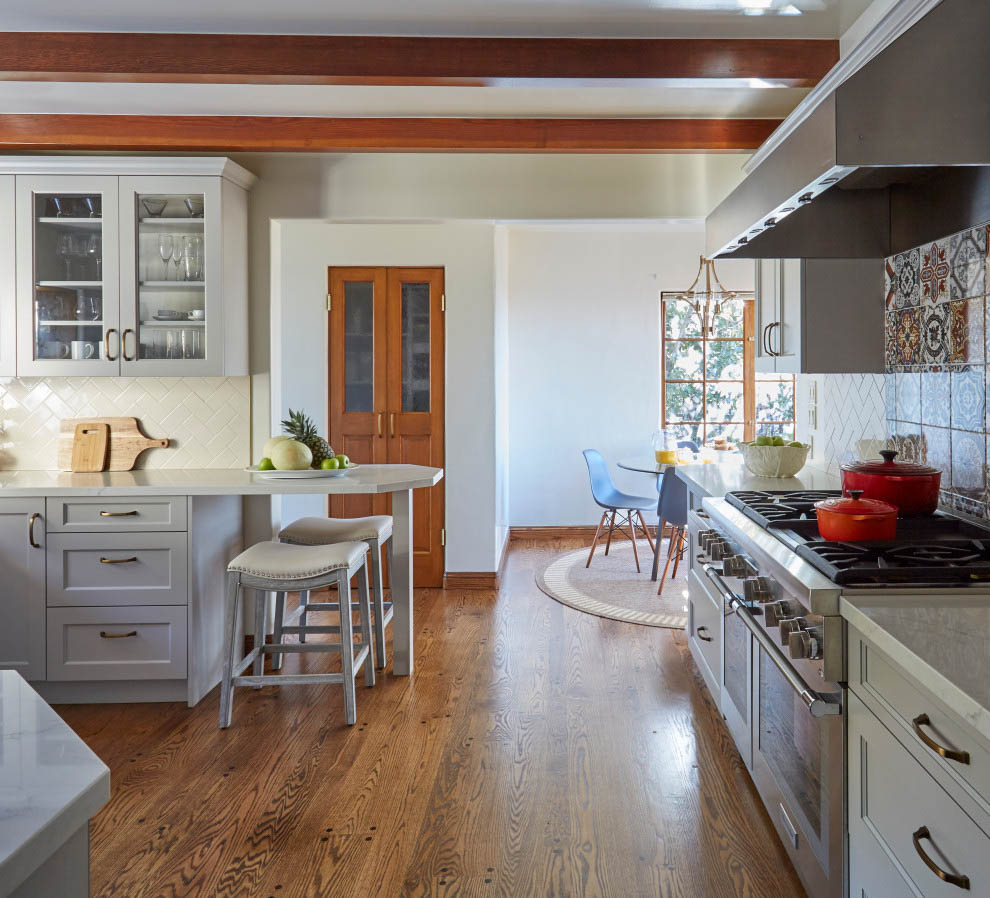 Custom Kitchens' commitment to excellence enabled it to establish a solid reputation and continues to strive to deliver projects that improve its clients' lives. Its high standards set it apart from the competition and make it a home remodeling leader. Jerry Wilkins leads the firm. He is a licensed general contractor and has over 40 years of experience in design, project management, and general contracting.

---
HDR Remodeling

1889 Alcatraz Ave. Berkeley, CA 94703
HDR Remodeling is an award-winning design-build contractor headquartered in Berkeley, California. It has 34 years of experience providing high-end kitchen and bathroom remodels, whole home remodels, garage and basement conversions, serving Berkeley, Alameda, El Cerrito, Kensington, Oakland, Piedmont, and the surrounding East Bay Area. The team has provided homeowners with quality design, optimizing their homes to provide maximum value. It also delivers projects on time and within budget regardless of constraints.
Chris Fellows is the owner and president of HDR Remodeling. He has been in the construction industry for 25 years and directs the firm's daily operations. He is a licensed general building contractor in California and a NARI Certified Remodeling Project Manager. Multiple press publications have featured HDR Remodeling, including Piedmont Post and U.S. News & World Report.
---
Building Lab
999 43rd St, Oakland, CA 94608
Building Lab is an award-winning design-build firm formed in 2001. It specializes in new construction, whole-house remodels, addition, kitchen and bath remodel, custom cabinetry, master planning, and landscape services, serving Oakland, San Francisco, Alameda, and Berkeley. The firm is passionate about modern architecture, quality construction, and implementing green building practices. By embracing a collaborative spirit, the team produces intelligent, practical, and sustainable solutions that support homeowners' goals.
Stephen Shoup directs the firm's operations. He completed his master's in architecture from the University of California, Berkeley. Since Building Lab's inception, it has collected multiple prestigious awards, including the 2013 – 1st Place, Residential Kitchen over 120k – REMMIES Awards. It is also associated with various organizations, such as North Bay NARI, NARI, Build It Green, and Marin Builders Association.
---
FMS Projects, Inc.
4200 Broadway A; Oakland Ca. 94611
FMS Projects, Inc. is an award-winning remodeling firm providing thoughtful and quality construction from foundation to finish. It opened its doors in 1987 and has offered whole house remodeling services emphasizing high-end kitchens and bathrooms. The firm also specializes in new foundations, replacement, upgrades, and seismic retrofits, serving the Bay Area. Since its establishment, FMS Projects, Inc. has been dedicated to cultivating lasting relationships with clients and ensuring their satisfaction in every project.
Frank Silver owns and leads the firm. He directs an experienced crew and works with the highest quality subcontractors to provide excellent workmanship. FMS Projects, Inc. is an active member and affiliated with the NARI San Francisco Bay Area, Association of Bay Area Governments, and EPA Certified Firm.
---
Mueller Nicholls Builders
2400 Union Street, Oakland, CA 94607
Mueller Nicholls Builders is an employee-owned full-service general contracting company providing high-end construction and building services for clients in the Bay Area. It was established in 1981 and has specialized in residential remodeling and new construction services. It also provides pre-construction services, commercial tenant improvement, design-build, and custom millwork. For four decades of operation, the firm has developed roughly 3,200 projects, transforming the bold visions of homeowners into well-designed environments that last lifetimes.
Rich Robb serves as the company's CEO and directs the firm. Before serving as president, he was a former general manager and project manager at Mueller Nicholls Builders. These previous positions helped him gain more understanding and essential experience before leading the company. The firm was featured in the gold list honoree of Luxe Interiors + Design.

---
Wolfe Inc.
655 65th Street, Oakland, CA 94609
Wolfe Inc. is an Oakland builder striving to create beautiful and functional spaces where people can live and work. It has operated since 2003 and has specialized in residential remodels and renovations, exterior living spaces, commercial renovation, new construction, design, and consulting services to Bay Area clients. The firm prioritizes fair working practices and invests in professional development to construct well-designed and crafted environments beyond homeowners' expectations.
For two decades, Wolfe Inc. has assembled a team of highly skilled and creative crew, supporting clients' needs and demands from conception to completion. Spencer Wolfe leads the team. His previous experiences include serving as a development manager, production manager, and general manager for Alward Construction, Inc. The firm is a member of the Better Business Bureau and is in the process of receiving a Green Business Certification.
---
Integrity Remodeling Inc
PO Box 3508, Oakland, CA 94609
Established in 2001, Integrity Remodeling Inc. is a premier builder that has earned a reputation for consistently delivering big or small projects within timelines and budgets. Headquartered in Oakland, California, it serves the Bay Area and provides new construction, additions, renovations, restorations, and custom kitchens and bathrooms services. For 21 years, the firm has openly collaborated with clients whenever challenges arise during their projects. This transparency enables the team to weigh options harmoniously and produce results that clients are satisfied with.
Eli Israel owns and leads Integrity Remodeling Inc. He grew up in the construction industry and has seen and experienced all facets of the industry. His passion for building and comprehensive background in construction led him to establish a company that blends the building process with innovative designs that meet clients' unique visions.
---
Cameron C. Habel Construction
3693 Lily St., Oakland, CA 94619
Cameron C. Habel Construction is a Green Building certified, award-winning company with 30 years of experience providing kitchens, additions, and sustainable projects throughout Oakland and surrounding areas. It is committed to building impressive solutions through a collaborative effort, effective communication, and proper execution. The firm also ensures that every project reflects its clients' character while providing value that stands the test of time.
Cameron C. Habel leads Cameron C. Habel Construction. His father was an interior designer, influencing him to become an artist and work on his imagination. Since 1993, the firm has maintained its success by practicing regular site meetings with its designers and clients. This ensures the efficiency of the firm's construction process and accurately tracks progress to meet deadlines promptly. 
---
DLR Custom Builders
2160 41st Avenue Oakland, CA 94601
DLR Custom Builders is a custom-build contractor and developer serving Berkeley, Oakland, Piedmont, and the East Bay Area for 39 years. It offers a wide range of services, including bathroom remodeling, custom homes, general contracting, home additions, kitchen remodeling, and new home construction. Since 1983, it has provided the most detailed and competitively priced services in the construction industry, allowing it to gain clients who want to give their spaces a revamp but are on a tight budget.
Daniel Ramirez is the founder and principal of DLR Custom Builders. He has been in the construction industry since the 1970s and continues his passion for building until today. He is personally involved in every project, supervising the team and providing estimates. DLR Custom Builders is affiliated with the NAHB, BIA, Oakland/Berkeley Splinter Group, and Trades Guild.
---
DC Construction
1068 44TH Avenue, Oakland, CA, 94601
DC Construction is an Oakland-based full-service construction company offering ground-up construction, historic renovations, in-house cabinetry, woodworking, and metal fabrication services to residential, commercial, historical, and public market sectors. It extends its services across Oakland, the City of Alameda, and East Bay Regional Parks, aiming to provide clients with exceptional project management service and the highest level of craftsmanship. Since its founding in 1986, DC Construction has approached every project with a fresh perspective, offering personalized solutions that fit clients' needs and expectations.
Donny Chu is a licensed general builder and leads the firm. He has over 30 years of experience in the construction industry and has overseen various projects, ranging from minor kitchen renovations to multi-million dollar historical commercial rehabilitations.
---
Rojas Construction and Remodeling
2072 Essenay Ave, Walnut Creek CA 94597
Founded in 2007, Rojas Construction and Remodeling is an experienced company that specializes in minor home renovations to full-scale home remodeling services. Its services include kitchen remodels, bathroom remodels, flooring, exterior remodels, installations, and repairs, and it serves Alameda, Oakland, Danville, and Walnut Creek areas. For 15 years, the firm has completed over 1,273 projects and worked with 1,153 satisfied customers. Its commitment to its craft and excellence has allowed the firm to work on multiple repeat clients and gain referrals.
Rojas Construction and Remodeling is led and owned by Tito Gutierrez. He has worked on every type of construction project and strives to build value to every property he designs and constructs. The team shares the same commitment to delivering quality projects on time and with unmatched professionalism.