The tropical islands of Hawaii are home to clifftop dwellings, beachside abodes, and palm-fringed villas. Over the decades, residential architecture in the state has evolved as varied styles from the rest of the world have influenced the once-isolated island. But one thing has remained consistent —  an emphasis on balancing nature and structure. Broad lānais, interior courtyards, fountains, and natural materials like wood and stone are prominent in the residences that embody Hawaiian culture and history.
Spearheading the continuing—and exciting—evolution of these works of art are leading architects in the Big Island. They design homes in Honolulu as well as in other islands in the state. We selected and included them for this article based on their awards, their principals' expertise, their industry achievements, their project features, and the milestones that they have achieved over the years.
This list includes both licensed architects and residential designers who can both design stunning homes but differ in other services offered. Architects are trained in design, engineering, and project management and have passed a licensing exam. Residential designers typically don't manage projects and plans will need to be approved by a structural engineer. Whether you choose to hire an architect or a residential designer will depend on your project needs and complexity. On the other hand, if you want to learn more about the cost of building a custom home in Honolulu, check out our cost guide article.
If you are thinking about building a custom home, we recommend checking each builder's license with the local licensing board, speaking to past clients, and using our bidding system to get competitive quotes from at least 3 contractors. Getting multiple bids is the best way to ensure you get a fair price and that bids include the complete scope of work.
---
Eiserloh Architects
820 W Hind Dr. #240139, Honolulu, HI 96821
When it comes to tropical resort-style architecture, Eiserloh Architects is on top of the game. The firm's projects on Oahu and the Big Island are carefully crafted oases making the most out of the ocean views of Hawaii. From traditional Craftsman and cottage to Mediterranean and contemporary, these beautiful residences are custom-tailored for their specific sites and specific locations. Additionally, it is the only firm in Hawaii who builds with concrete and steel as the primary system of its residential projects. 
The firm was started in 1991 by Kristan Eiserloh, a San Francisco-native and an alumnus of the College of Environmental Design at UC Berkeley. He takes on a  limited number of projects so that he can be personally involved in every design from start to finish. His use of concrete and steel is aimed at protecting structures from the most severe weather conditions, allowing them to endure for generations to come. His creations have been featured on the big and small screen as locations for the film The Big Bounce and the TV series Hawaii 5-0.
---
Fujita + Netski Architecture
1060 Noio St., Honolulu, HI 96816
Fujita + Netski Architecture is a small architectural firm that creates homes that have a deep connection to both the built and natural environment. Established in 2010, this young award-winning Honolulu company has an experienced team in founders Ryan Fujita and Chris Nestki. Fujita hails from Oahu and has spent several years working at a large firm in Charlotte, where he honed his craft and cultivated his passion for details. Pennsylvania-born Netski gained her experience at several small firms in New York. She is passionate about historic local architecture, making it central to her design approach. 
Hale Kilo I'a, House of the Fish Spotter, is a modern beach vacation home that takes its cues from traditional Hawaiian architecture. Fujita + Netski Architecture did the project in collaboration with H1 construction for a client who is a self-proclaimed architecture buff. Bold colors, patterns and forms, and an open layout make the two dynamic structures unique yet unified. The firm won three awards in 2016: the People's Choice Award from AIA Honolulu, the Editor's Choice Award from Hawaii Home and Remodeling, and a Grand Award – New Residential Project from the BIA of Hawaii. 
---
Geoffrey Lewis Architect, Inc.
3927 Old Pali Road, Honolulu, HI 96817
Born and raised in Honolulu, Geoffrey Lewis is a recognized leader of architecture in the Big Pineapple. A graduate of Southern California Institute of Architecture, Lewis went on to serve on the AIA Honolulu Board and was President of the Chapter in 2018. He has also taught design for several years at the University of Hawai'i at Mānoa School of Architecture. He established his firm in 1997. 
Over the years, Lewis has won design awards from AIA Honolulu and Grand Awards from the BIA of Hawaii for his interpretation of the distinct Hawaiian architecture. His marriage of function and form produces homes that evoke emotion and inspire positive relationships with the environment. His range in style is also broad: classic cottage to modernist revival. 
His firm's extensive design process includes concept development, schematic design, design development, construction documentation, and construction observation. 
---
Hawaii Island Architects
PO Box 390068, Keauhou, HI 96739
Hawaii Island Architects is a full-service residential design firm that fully understands island living and frequently incorporates it into its projects. Its relationships with local craftsmen and contractors not only provide a seamless process but also maintains authenticity in Hawaiiana materials. Being familiar with the unique geographical needs of each location also helps the firm complete high profile projects all over Hawaii. The firm also keeps its project management duties in-house, further proving its expert capability of handling the entirety of the home construction from the earliest concept and design phase to breaking ground and handing the keys to the client.
Hawaii Island Architects was established in 1977 by Roger Brasel, an Oklahoma-native who has over 40 years of architectural experience. After earning his architectural degree from Oklahoma State University and marrying his college sweetheart, he moved to Hawaii where he developed a deep appreciation for Hawaiian architecture. Since launching his firm, Brasel has devoted his time to designing custom homes in the Hawaiian style, including this beautiful estate in upscale Hokuli'a. The resort-like home uses natural materials like wood and stone to blend into its environment and create an indoor-outdoor living experience.
---
John Hara Associates, Inc.
1018 Kemole Ln., Honolulu, HI 96826
John M. Hara, FAIA is a distinguished architect in Hawaii known for excelling at a modern design style that makes a refined use of natural light and for his early and consistent advocacy for sustainable design. Hara is one of only eight Hawaiian architects that have received a Medal of Honor from the AIA Hawaii. The son of prolific Honolulu architect Ernest Hara and a graduate of the University of Pennsylvania, Hara studied with architectural masters including Louis Kahn, Romaldo Giurgola, and Robert Venturi. He worked in Switzerland and France before setting up shop in Honolulu as John Hara Associates in 1970.  
The 50-year-old firm has worked on residential and commercial projects all over Hawaii. It has contributed significantly in some of the most iconic structures in the state, such as the Honolulu Museum of Art, Maui Arts and Cultural Center in Kahului, University of Hawai'i, Punahou School, Mid‑Pacific Institute, and the Kamehameha Schools. In the residential scene, the continues to re-define the contemporary language of Hawaiian architectural traditions. Its custom homes, renovations, and historical restorations have earned design awards from the AIA Honolulu and Renaissance Awards from the BIA of Hawaii. Featured here is an award-winning modern home in East Honolulu, which showcases contemporary detailing of traditional materials like teak, stone, and plaster.
---
Lapis Design Partners
1188 Bishop St. Suite #1411, Honolulu, HI 96813
Lapis Design Partners is the result of a merger between two well-established firms with decades of experience. After years of success in his Massachusetts firm, Lapis Architecture, John August Black moved to Hawaii to establish his ideal residential design firm. He was joined by Susan Anne Ishikawa, a Hawaiian born architect who also started her own firm in Massachusetts: Studio 115. Together, the duo created Lapis Design Partners in 2002, a full-service residential design and architecture firm aimed at providing thoughtful, creative design to the Hawaiian Islands as well as beach communities in California.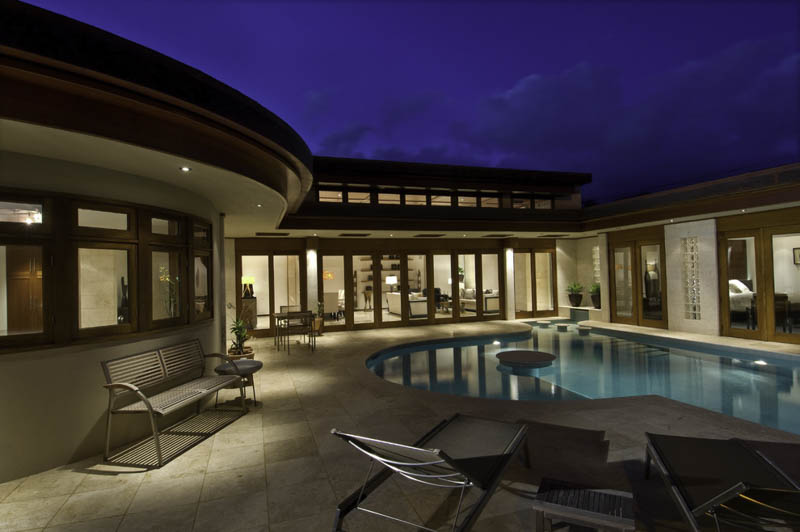 The boutique design firm works exclusively on residential and interior design. From modern contemporary to classic Craftsman, the firm's proactive and imaginative way of designing homes has been featured on HGTV and in Honolulu Magazine. The firm's projects include historical renovations and new custom homes. 
---
Mason Architects
119 Merchant St. Suite #501, Honolulu, HI 96813
Mason Architects, Inc. (MASON) is uniquely structured as an architecture firm that combines design, historic preservation and sustainability, which is at the core of MASON's work.  Founded as Spencer Limited by Spencer Leineweber, FAIA, it has grown into a thriving multi-disciplined firm with architectural specialties in historic preservation and green building. Today, the firm is led by Glenn Mason, FAIA, recognized for his leading role in the preservation of culturally important places in Hawai'i, Guam and across the Pacific West Region. The firm's team is rounded out by LEED Accredited Professionals, principal architects, associate designers, and architectural historians. MASON's two decades in the business have been marked by recognition and awards from the Historic Hawai'i Foundation, BIA of Hawai'i, and AIA Honolulu.
MASON has performed numerous preservation and restoration works on landmark properties across Hawai'i. These range from Craftsman and Hawaiiana residences on the State and National Register of Historic Places to the five-acre Shangri La complex of American heiress Doris Duke. The firm's meticulous attention to detail in historic renovation translates into its new custom homes. This 8,500-square-foot oceanfront home embodies an understated elegance. An exterior of plastered walls, a tile roof, and bronze doors and windows were constructed to withstand the corrosive beachfront environment. A large atrium, onyx countertop bar, and gold-leafed details shape the sophisticated interior.

---
Minatoishi Architects
1003 Bishop Street, Suite 1975 Honolulu HI 96813
Valuing culture and heritage through historic architecture preservation and conservation is one of the missions of Honolulu firm Minatoishi Architects. A leading name in the care, protection, and continuation of the tangible culture of the state, it integrates elements of Hawaii's diverse history in its work with homeowners, commercial entities, and state and federal government agencies.
The firm is led by president Lorraine Minatoishi, PH.D., AIA., LEED AP. She is part of an excellent team of Secretary of Interiors (SOI), qualified Preservation Architects, and talented designers with decades of experience preserving and restoring architectural gems across Hawaii. Minatoishi has served on the AIA Honolulu Board of Directors, the Historic Hawaii Foundation Board of Trustees, and she was vice-chair of the Hawai'i Historic Review Board. She was recently part of Pacific Edge Magazine's Leaders in Build Design and Construction
Although its primary work is building renovation and restoration, Minatoishi Architects also provides custom home designs. The firm specializes in Hawaiian, Japanese Traditional, and modern architecture.
---
Peter Vincent Architects
1021 Smith St., Penthouse, Honolulu, HI 96817
With its global portfolio of residences and commercial projects, Peter Vincent Architects is recognized as a premier architectural and interior design firm in Hawai'i. Known for innovative design solutions, PVA has received numerous awards
from entities such as the American Institute of Architects Honolulu (AIA) and the Building Industry Association of Hawaii (BIA). Additionally, PVA was named Best Luxury Architect on the2019 Modern Luxury Hawaii LUXE List.
PVA's visionary team of LEED-certified architects and collaborative designers is led by AIA Fellow, Peter Vincent. He is a former Building Official for the County of Kauai and a former president of AIA Honolulu. He launched the firm in 1992, and since then, PVA has amassed experience in a variety of residential, commercial, industrial and resort projects in the Pacific Rim, North America, Europe, and the Middle East. 
PVA's residential work includes oceanside estates and luxury renovations. Featured here is an award-winning Kahala home that recently appeared on the cover of Hawaii Home + Remodeling Magazine.  The design is a timeless Japanese contemporary residence that utilizes natural materials and incorporates an abundance of light. The house was sited at the back of the lot to take advantage of the intriguing corner lot configuration. An emphasis on proportion, symmetry, and
placement makes the new home a sight to behold. Water and fire features are the centerpieces of the space and put outdoor living at the heart of the home. Learn more about PVA's award-winning design and view projects here.
---
Walker Warner Architects
353 Folsom St., San Francisco, CA 94105
San Francisco-based firm Walker Warner Architects demonstrates exceptional design prowess in California and Hawaii. The firm takes its architecture cues from the influential architect Vladimir Ossipof who shaped a great deal of Honolulu's look through the 20th century. A deep appreciation for tradition and the natural environment is at the firm's core, enabling it to create sustainable residences that fuse modern technology and Hawaiian culture. 
Founded in 1989 by Brooks Walker and Greg Warner, the firm is led by Brooks and Greg in collaboration with principals Mike McCabe and Kathy Scott. The four have developed the firm into an award-winning practice with the help of an expert team of architecture and design professionals. Walker Warner Architects's tastefully designed homes and commercial space have become magazine favorites, featured in publications like Luxe, California Home + Design, Dwell, Elle Decor, Vogue, Coastal Living, and Architectural Digest, just to name a few. 
One project that embodies the firm's love for Ossipof's style and philosophy is Hale Ma'alahi. Situated between two micro-climates, the house is designed to be a naturally conditioned home, responsive to the ever-changing weather. The home includes the work of local artisans, native materials such as 'ohia' columns, wind screening, and carved koa slabs—all of which root the house firmly in Hawaiian tradition.
---
Wander x Wonder
47 N. Hotel St., Honolulu, HI 96817
Chinatown-based Wander x Wonder offers highly creative and detailed design work in the fields of architecture, interior, and graphic design. Its head architect and managing partner Hiroto Suzuki has extensive experience in Hawaii's architecture scene, designing everything from residences to restaurants and retail. For a young firm, it has already gained recognition as a sterling firm in the Honolulu architecture scene. It has earned five design awards for several commercial projects, including two awards from the AIA Honolulu and an award from the International Interior Design Association for a bar/lounge project in Waikiki. Along with its experience in Hawaii, the firm has also designed multiple national and international projects in New York, London, and the Middle East.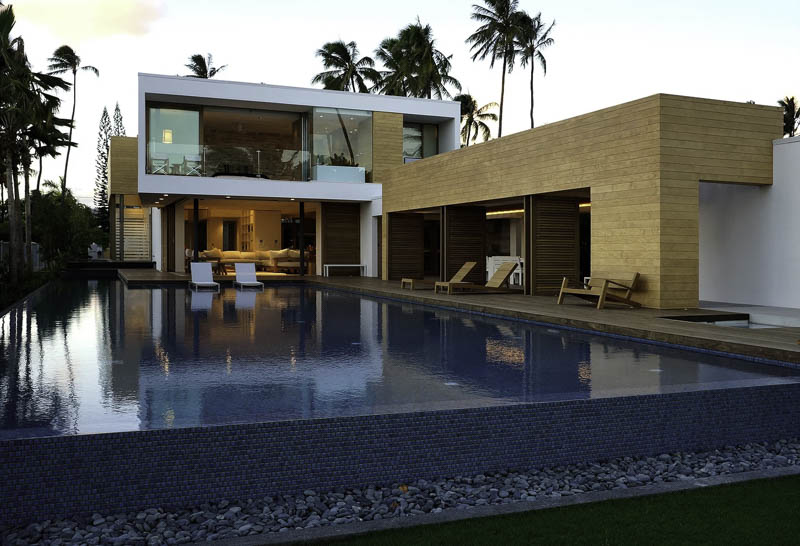 Wander x Wonder's outstanding custom home is the casual Malibu-style surf retreat of Japanese restaurateur Tomoyoshi Nishiyama. A Hawaii Home + Remodeling Editor's Choice Awardee at the 2019 AIA Honolulu Design Awards, the contemporary home in Kahala is an open abode that maximizes the challenging narrow and linear lot where it stands. Floor-to-ceiling windows, wood, and stone create a seamless transition between indoor and outdoor living.
---
Weile Architects
6312 Pohoiki Place, Honolulu, HI, 96825
Weile Architects produces culturally significant and sensitive architecture that blends into the natural environment effortlessly. With an exceptional team that includes a cultural consultant who holds a doctorate in architecture, the firm is able to deliver outstanding workmanship to commercial and residential property owners. The firm is headed by president Felix Lowell Weile, a licensed Hawaii architect, Allied Member ASID, and a general building contractor. In 2014, the firm became part of Weile Ltd., a design-build firm that brought turnkey services to its clients. 
This Manoa residence designed by Felix Weile himself boasts pronounced, upturned eaves that highlight the home's Asian influences. Aside from custom homes and estates, the firm also designs penthouses, renovations, and historic preservation projects. 
---
WCIT Architecture
725 Kapi'olani Blvd. 4th Floor, Honolulu, HI 96813
Founded in 2000, WCIT Architecture went from a small start-up into one of the biggest architecture firms of Hawaii in less than eight years. It is a leading design consultant specializing in luxury resorts, resort residential, commercial, educational, healthcare, and community-based design and development. Company president and co-founder Robert Iopa is one of Hawaii's top young leaders and small business owners. A native Hawaiian born and raised in Hilo, he led the restoration design of one of Hawaii's most iconic hotels, the Royal Hawaiian Hotel, as well as other projects abroad. He is part of a well-seasoned team of internationally trained architects and interior designers that use their global experience to create custom spaces that embody the island's heritage.
Its proven track record of successful residential projects include apartments, penthouses, estates, and custom homes. Storytelling is an integral part of its design approach. The firm takes inspiration from historical and cultural elements, landscapes and settings, and the client's own story. In this custom residence in upscale Portlock, Asian elements are prevalent in the resort-like setup. Wood, water, and stone shaped the exterior, while the interior layout complete's the home's connection to the outdoors. 
---
Welch and Weeks Architects
1 Aloha Tower Dr., Honolulu, HI 96813
Translating Hawaii's rich historic architectural past into the modern era is the goal of every Welch and Weeks project. This award-winning architectural firm operates from its home in the historic Aloha Tower and strives to design homes that fit into the fabric of island living. The firm uses rational and time-proven green architectural solutions and passive environmental systems to create one-of-a-kind homes that work with, not against, their locations. These low energy and environmentally friendly, comfortable homes boast traditional Hawaiiana elements unique to the region. 
Heading this distinct architectural firm are architects Darrell "Buck" Welch, Jr. architectural designer Victor Weeks. Their partnership has produced award-winning work throughout Hawaii. Custom homes and historic renovations have received recognition from the AIA, the BIA Hawaii, the State Foundation on Culture and the Arts, and numerous trade publications. One of these is a Waimanalo home that won a 2019 BIA Grand Award in the New Residential category. The firm's blending of old and new is evident in the classic Hawaii beach home. It incorporates modern techniques such as cross-ventilation and borrowed light, which helps keep the home cool throughout the year. 
---
WhiteSpace Architects
2051 Young St., Suite #200, Honolulu, HI 96826
Boasting a diverse portfolio of custom home and commercial space designs, Honolulu-based WhiteSpace Architects has earned a reputation as a flexible architectural studio dedicated to innovative and sustainable design. The firm has designed residences, commercial centers, hotels, educational facilities and public spaces on every major Hawaiian island. Established in 1983 by Philip White, the firm's team of established architects and designers work intimately and collaboratively with diverse organizations and individuals to produce architecture suited to the style and demands of each project. WhiteSpace's residential and commercial work has earned accolades from AIA Honolulu, BIA of Hawaii, and the Historic Hawaii Foundation. 
In Honolulu, WhiteSpace has designed homes in coveted neighborhoods and high-end communities such as Waialae – Kahala, Diamond Head, and Portlock. This Kailua Cliff Residence is an exquisite blend of modern simplicity and Hawaiian warmth. Standing against a 360-degree backdrop of the ocean, the firm designed the home to meld into its Hawaiian setting with wood and floor-to-ceiling windows.
---
How can I find a contractor near me?
Read our latest articles on the best contractors in and near (insert place here). If you don't see your project type below, just let us know – we are happy to create a tailored recommendation list just for you.
Custom home builders in Honolulu
Design build firms in Honolulu
Custom home builders in Hawaii
---
About Our Rankings
This list takes a range of ranking criteria into consideration, including but not limited to: work history, customer satisfaction, awards and recognition, geographic area of work, cost, building permits, and clientele. We spent over 40 hours researching local contractors before calculating the final ranking for this post. If there is additional information about your business that could affect these rankings, please fill out this form and we will take it into consideration.
---
Get Bids For Your Build
If you are thinking about building a custom home, we recommend checking each builder's license with the local licensing board, speaking to past clients, and using our bidding system to get competitive quotes from at least 3 contractors. Getting multiple bids is the best way to ensure you get a fair price and that bids include the complete scope of work.