Raleigh is a beautiful, historic example of the country's early planned cities and is a fast-growing area today Architecture here is diverse and is often a mix of the urban and suburban: Raleigh homes range from classical and traditional themes all the way to the latest minimalist, modern designs. 
This list compiles 15 of the best residential architects in Raleigh. They were selected from a long list of Raleigh firms after our editorial team took an extensive look at the work histories, affiliations, and previous projects. Several of these firms offer unique services and incorporate innovative solutions into their designs. A handful of the firms on this list are the architects behind some of the area's most recognizable, award-winning homes.
This list includes both licensed architects and residential designers who can both design stunning homes but differ in other services offered. Architects are trained in design, engineering, and project management and have passed a licensing exam. Residential designers typically don't manage projects and plans will need to be approved by a structural engineer. Whether you choose to hire an architect or a residential designer will depend on your project needs and complexity.
If you are thinking about building a custom home, we recommend checking each builder's license with the local licensing board, speaking to past clients, and using our bidding system to get competitive quotes from at least 3 contractors. Getting multiple bids is the best way to ensure you get a fair price and that bids include the complete scope of work. On the other hand, if you want to learn more about the cost of building a custom home in Raleigh, check out our cost guide article.
---
Cannon Architects
401 N West St., Raleigh, NC 27603
Cannon Architects offers a full range of architectural services and is known for a process that takes into consideration the context of each project. The firm is led by Roger Cannon and Susan Cole Cannon, both licensed architects with a combined experience of nearly six decades. Together, the two have completed numerous award-winning projects both nationally and regionally, and that work has been published in several noteworthy magazines. Further, their experience has enabled them to become experts in a variety of designs, thus influencing the firm's extensive range of designs best exhibited by its portfolio. The firm has been distinguished with several awards throughout its tenure in the industry. It is most notably a recipient of multiple awards from the American Institute of Architects (AIA) and were awarded the NCAIA Firm of the Year 2015.
The chosen project is a classic 1920s bungalow that the firm was contracted to renovate and enlarge. It features a new butterfly roofed living area, exposed structure ceilings, a new master suite, and several unique skylights. This project has won numerous honors, including AIA North Carolina – Merit Award, AIA Triangle – Tour Award, Remodeling Magazine – Award, and Home of the Month – News and Observer.
---
Carter Skinner Residential Design
2609 Atlantic Ave. Suite #205, Raleigh, NC 27604
Headquartered in Raleigh, Carter Skinner is one of the southeastern area's leading firms that best known for its custom homes and estates. It extends its services not only throughout North Carolina, but also to Virginia, Georgia, and a number of East Coast locales. The firm is led by founder and namesake Carter Skinner, an experienced architect best known for his historically-based designs. Prior to his establishment of the firm, he had the privilege of training under renowned architect Arthur McKimmon. Carter ensures that each project that the firm takes on receives the benefit of his experience; he takes charge of every facet of construction from conception all the way to finishing touches and material selection. 
The firm's work has been featured in publications like Southern Style and North Carolina Design. And Carter Skinner Residential Design's portfolio depicts an extensive gallery of traditional, craftsman, and Mediterranean designs. For the featured project, you can see where the firm opted for wooden exteriors, shingled roofs, and large trellised windows.
---
Ellen Cassilly Architects
600 Foster St., Durham, NC 27701
Ellen Cassilly Architects has been in the industry since 1999 and is led by its founder and namesake. Prior to her establishment of the firm, she first worked for four years in Paris with Pritzker Prize-winning architect Christian de Portzamparc. She eventually joined a nationally recognized firm in Raleigh, where she had the opportunity to work on several noteworthy residences in addition to the North Carolina Museum of Art Amphitheater and Gift Shop and the St. Matthews Parrish House. Her experience also includes multi-family homes and several other commercial projects, which in turn has influenced the firm's body of work. Her vision for the company focuses on vibrantly contributing to urban neighborhoods, all with the use of modern and sustainable designs.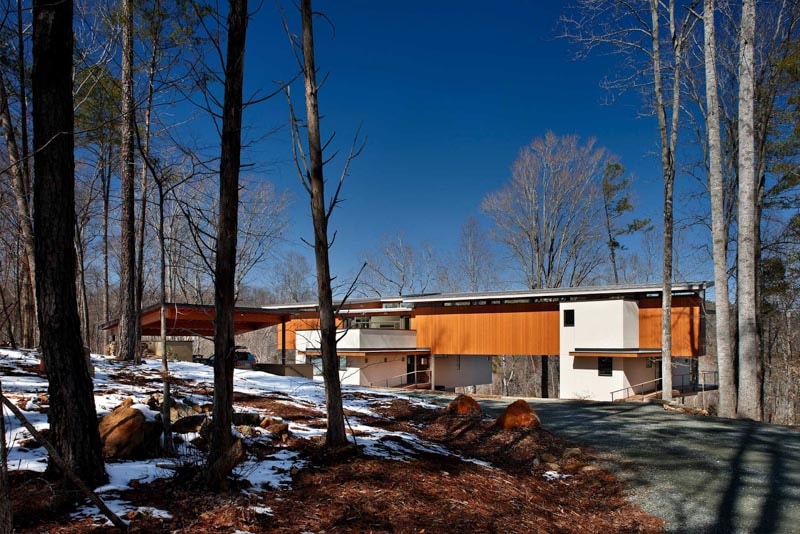 The firm has also been a proud recipient of several distinctions, including an award from the American Society of Landscape Architects. In the featured project below, Cassilly and her team made use of a minimalist theme coupled with wooden elements. They also opted for a recurring motif of straight, clean lines.  
---
Grant Bizios Architecture
1502 W NC 54 Suite #602, Durham, NC 27707
Grant Bizios Architect is best known for its excellent design services and a holistic process that emphasizes the importance of engaging and understanding each client's wants and needs. This value-focused process shapes even project site analysis and landscaping. The firm also handles every phase of a project and showcases expertise for a wide variety of designs, best seen in its diverse portfolio. In addition to its ground-up construction work, the firm also takes on home additions and large and small scale renovations. Its team is comprised of a group of experienced architects and noteworthy Fellows from the AIA, all of whom provide personal assistance clients throughout the entire process. 
Located in Hillsborough, the featured project is a 20-acre property surrounded by a forested north side. The home features a trellised pedestrian bridge that leads to the home's covered front porch and double doors, which in turn opens to the main living area. Inside, the firm's team opted for an open floor plan to accommodate large parties, a contemporary stone fireplace in its living area, a large kitchen good for two cooks, and several other entertainment spaces.
---
Hobgood Architects
409 Hillsborough St., Raleigh, NC 27603
Hobgood Architects offers a full range of architectural services and specializes in a variety of markets. Aside from its residential work, it also takes on commercial and cultural work: its portfolio is filled with museums, libraries, and institutional headquarters. The firm has been in the industry since 1992 and is led by Kenneth Hobgood, an experienced architect who has had the privilege of serving as chief architectural assistant to modernist master Le Corbusier. His experience is reflected in the firm's work, best seen through its excellent modern and contemporary projects. Further, its designs are often distinguished for its team's often use of glass elements, neutral palettes, and large floor-to-ceiling windows and entryways. 
The firm is also a proud recipient of numerous awards from the AIA and has had its work published in magazines like North Carolina Magazine, Architectural Digest, and Elevating Design. Depicted below is a particularly interesting example of the firm's best work. The firm made use of art deco elements in the unique shape coupled those motifs with a touch of minimalism. 
---
In Situ Studio
704 N Person St., Raleigh, NC 27604
In Situ Studio is a small firm that specializes in modern and sustainable designs and architecture. Its process is time-intensive and highly collaborative, which in turn results in timeless outcomes. It is led by award-winning architects Erin Sterling Lewis and Matthew Henning Griffith. Both of them showcase extensive experiences for which they have been awarded distinctions from organizations like the AIA. Both have experience in sustainable and urban designs and further incorporate all of these into each project. Several of the firm's designed residences have been distinguished with merit and honor awards from the AIA. The firm's work has also landed on the pages of publications like Home Design and Decor and Midtown Magazine.
The featured project was featured on the AIA's Triangle Tour of Residential Architecture and won the firm an AIA North Carolina Merit Award. It spans over 3,743 square feet is designed with its environment in mind. The firm made use of a compact L-shaped scheme to craft a courtyard between the home and the nearby hillside. The interior includes four bedrooms, an informal den space on its upper level, and several other wonderful entertainment areas. 
---
James S. Collins, Architect
1700 N Elm St., G4, Greensboro, NC 27408
With projects spread across North Carolina, Connecticut, Georgia, Maine, New York, Pennsylvania, and South Carolina, James S. Collis, Architect specializes in residential new home construction, interiors, remodeling, and additions. Its portfolio displays a gallery of classical and traditional architecture, with its work often distinguished by its exteriors, custom finishes, and millwork. To be more specific, the firm primarily designs in French Normal, Carolina Dutch Colonial, Georgian and Federal Revivals, Cotswold Cottage, Colonial Revival, Tudor Revival, and Shingle style themes. It is also known for its exceptional historic renovations and preservations, primarily due to its principal and founder's background with the craft. The firm also works with the latest construction and preservation techniques and has proven to be an expert with working on styles popular both in the United States and in Europe.
Focusing more on Collins' individual achievements, he apprenticed with the renowned Charles Peterson, has worked on several noteworthy historical projects, and currently serves as president of the Institute of Classical Architecture and Art, North Carolina Chapter. Under his leadership the firm has been featured in publications such as Period Homes, New Old House, Washington Life and Design Bureau Magazines. The featured project depicts one of its Georgian residences and showcases a symmetrically composed front elevation laid up in tumbled brick, a slate roof, custom cornice, and central wood paneled entry door with fanlight and side lights.
---
Louis Cherry Architecture
222 N Bloodworth St., Raleigh, NC 27601
Louis Cherry Architecture (LCA) is a full-service architecture, interior design, and planning firm. It offers a highly personalized process, a scale made possible by the firm's small size. Aside from its residential work, it also takes on commercial and community-based projects, all of which are designed and crafted with sustainable elements. The firm extends its services throughout the Triangle and North Carolina. Its designs are rooted in modernism and put an emphasis on functionality. LCA is led by Louis Cherry, a Fellow of the AIA and LEED design professional. He also serves as a member of the North Carolina Museum of Art and the Contemporary Art Museum of Raleigh. 
Under his supervision, the firm has been featured in publications like Walter Magazine and has had the privilege of being distinguished with the Anthemion Preservation Award. On top of all these distinctions, the firm also hosts monthly Art Pop-Ups where guest artists can sell their work. We're especially taken with this home, which makes use of both glass and wooden elements through a contemporary theme. 
---
Maurer Architecture
115 1/2 E Hargett St., Raleigh, NC 27601
Situated in downtown Raleigh, Maurer Architecture is an award-winning firm that services a variety of markets. At its helm is David Maureer, an experienced architect and LEED-accredited professional who has worked on numerous historic preservations and adaptive reuse projects throughout North Carolina. In addition to overseeing the firm, David also acts as principal to Maurer Architecture's sister company TightLines Designs. With the help of his guidance, the firm has become an expert in projects such as restaurants, healthcare, and recreational facilities. The firm has been recognized with multiple awards throughout its years in the industry. Several of these include Anthemion Awards for its preservation work, in addition to multiple Sir Walter Raleigh Awards for its projects' impact in the community. 
The chosen project is a 4,900 square foot home that features extravagant views of the nearby Damariscotta River. The team made use of several floor-to-ceiling windows and designed a wonderful second-floor balcony. Inside, it has two master suites and a guest house.
---
Miller Architecture
715 N Church St. Suite #140, Charlotte, NC 28202
Miller Architecture is a boutique firm that services the entirety of North and South Carolina, Georgia, Florida, Virginia, Maryland, and Ohio. It has been in business since 1995 and utilizes the latest industry technology such as BIM and 3D software. It also incorporates sustainable efforts into its designs and is also known for its multi-family, commercial, and restaurant projects. The firm provides its own custom millwork and has expertise when it comes to a wide variety of architectural interiors. The Miller portfolio displays a variety of several unique residential features, including staircase designs, outdoor rooms and kitchens, and wine cellars.
The firm emphasizes the importance of respecting a home's environment when working on its designs. It has had the privilege of being honored with over 15 National Architectural Design Awards since 2015. The firm is led by Tony Miller, an architect with a career spanning nearly four decades, and whose work may be seen from across the east coast to Massachusetts. 
---
Oxide Architecture
217 Dexter Place, Raleigh, NC 27605
Oxide Architecture uses a two-fold process that highlights both design and construction. Oxide methods are sensitive to societal and environmental considerations, often featuring careful placement of concrete, metal, wood, and glass in accordance with a contemporary theme. The firm employs and encourages the use of sustainable materials for its homes to better age with its environments. The firm is led by Charles Fulbright Holden, an architect with over two decades of experience in designing and crafting striking modern homes throughout North Carolina. This experience and background have shaped a great number of the firm's builds, as you can see in the project pictured below.
The work the firm had done for this home won them an AIA Honor Award for Design. It showcases some of its best mid-century modern art and architecture and features spaces filled with abundant light, views of surrounding nearby forest, and an enclosed courtyard. It also has its own rooftop perch and a set of distinct spiraling stairs on one of its exteriors leading to a lanai.  
---
The Raleigh Architecture Company
716 S Saunders St., Raleigh, NC 27603
The Raleigh Architecture Company works in collaboration with The Raleigh Construction Company, a separate firm but with the same goal of crafting and designing unique modern homes. Together, the two employ a design-build process that maximizes a client's budget and provides cost-effective solutions. The firm maintains both its office and workshop under one warehouse in downtown Raleigh to harmonize every aspect of a project from the very beginning. The firm is led by Robby Johnston and Craig Kerins, both of whom have a wide range of experience in the field. Johnston was involved in the design and construction of the first LEED-certified structure in North Carolina; doing so won him a 2012 North Carolina Design Honor Award and COTE Award. Kerins, on the other hand, is the proud recipient of the AIA Alpha Rho Chi Bronze Medal and has had his furniture designs featured in Raleigh's  Design Within Reach and the Fine Contemporary Craft Biennial.
The project our editorial team has chosen displays the LaFera-Wilson residence. Shaded under the canopy of several hardwoods, this home sits atop a steep slope and features two joined public and private wings as well as flat roofs and walnut casework. 
---
ThoughtCraft Architects
431 W Franklin St. Suite #213, Chapel Hill, NC 27516
Formerly known as Cube Design + Research, ThoughtCraft Architects works on residential single and multi-family projects as well as several other commercial endeavors. It is the proud recipient of numerous awards from the AIA throughout its years, and it has had its work published in magazines such as Dwell, Architectural Record, and Forbes. The firm offers potential clients free consultations and operates in two studios in Boston, Massachusetts and Chapel Hill, North Carolina. The firm has been in the industry since 2005 and is guided by Chris Johns and Jason Hart, MIT graduates with quite a bit of practical experience. The firm has also worked on several adaptive reuse projects for historic buildings. 
© Mark Herboth Photography
The firm's portfolio depicts a variety of contemporary and modern structures, most of which have one-of-a-kind finishes and distinct features designed by the firm. Its modern approach is often distinguished by clean lines, indoor-outdoor connections, and open floor plans, but they are especially good at balancing a home's design with its local climate, culture, and site.  
---
Vines Architecture
530 Hillsborough St., Raleigh, NC 27603
Vines Architecture prides itself on its full range of design and architectural services as well as having over 40 design awards from the AIA amassed in just 12 short years. The firm works closely with each of its clients throughout the entire process and emphasizes the importance of flexibility. In addition to a full range of design services, the firm also offers complete technical and management expertise. Since its inception, the firm has completed projects totaling over four million square feet worth over $800M. The firm is led by president and principal Victor Vines, an award-winning architect with over 25 years of experience who also infuses several green efforts into his work. He is a LEED-accredited professional who has worked on multiple AIA-distinguished projects.
The owners of the Aldridge house, pictured below, asked the firm to provide an addition and a renovation. The firm now features a well incorporated contemporary addition with several neo-traditional elements. 
---
Weinstein Friedlein Architects
302 E Pettigrew St. Suite #110, Durham, NC 27701
Founded in 1981, Weinstein Friedlein Architects is an award-winning and full-service architectural firm with specialties in a variety of markets. From religious institutions to residential additions and new homes, the firm's portfolio displays an excellent range of designs and project types. It is led by Ellen Weinstein who has been with the firm since 1992 and was most notably distinguished with the Kamphoefner Prize in 1999. This accolade is the highest design honor for architects in North Carolina. She is also an active member of the AIA and serves as president of her local chapter in 2008. Under her leadership, the firm was repeatedly recognized with a Triangle Section Honor Award from the AIA North Carolina. The firm was also named by the same organization as "Firm of the Year" in 2013.
The rural home depicted below sits on the edge of a pasture. It is L-shaped and features an entry court, covered walkways, and several open spaces. Its main walkway extends beyond like a wooden pier out into the nearby woods and provides wonderful views of a lovely stream. 
---
How can I find a contractor near me?
Read our latest articles on the best contractors in and near Raleigh. If you don't see your city below, just let us know – we are happy to create a tailored recommendation list just for you.
Best Custom Home Builder in Durham

Best Custom Home Builder in Norfolk
---
About Our Rankings
This list takes a range of ranking criteria into consideration, including but not limited to: work history, customer satisfaction, awards and recognition, geographic area of work, cost, building permits, and clientele. We spent over 40 hours researching local contractors before calculating the final ranking for this post. If there is additional information about your business that could affect these rankings, please fill out this form and we will take it into consideration.
---
Get Bids For Your Build
If you are thinking about building a custom home, we recommend checking each builder's license with the local licensing board, speaking to past clients, and using our bidding system to get competitive quotes from at least 3 contractors. Getting multiple bids is the best way to ensure you get a fair price and that bids include the complete scope of work.