Nestled on the shores of San Francisco Bay and San Pablo Bay, Richmond is a city in western Contra Costa County that provides its residents with the feel of a comfortable suburb. Most residents own their homes, and it is a highly popular area for growing families and young professionals.
This list showcases 15 of the area's best residential architects, the designers behind some of Richmond's most beautiful homes. They were chosen based on their rich experiences, expertise, and skill. Several of these architects have won numerous industry distinctions and maintain affiliations with vital industry organizations.
---
Swatt Miers Architects
5845 Doyle St. Suite #104, Emeryville, CA, 94608
Swatt Miers Architects is an award-winning firm in Emeryville that has completed projects across the West Coast and Canada. It has also completed projects in Hawaii, Colorado, Spain, and India. The firm primarily specializes in modern architectural themes and keeps up with the latest themes and techniques. It often employs open floor plans and is capable of crafting highly customized spaces tailored to fit clients' special needs. The firm also considers the home's site before it designs. Wonderfully and seamlessly incorporated indoor-outdoor spaces are the result.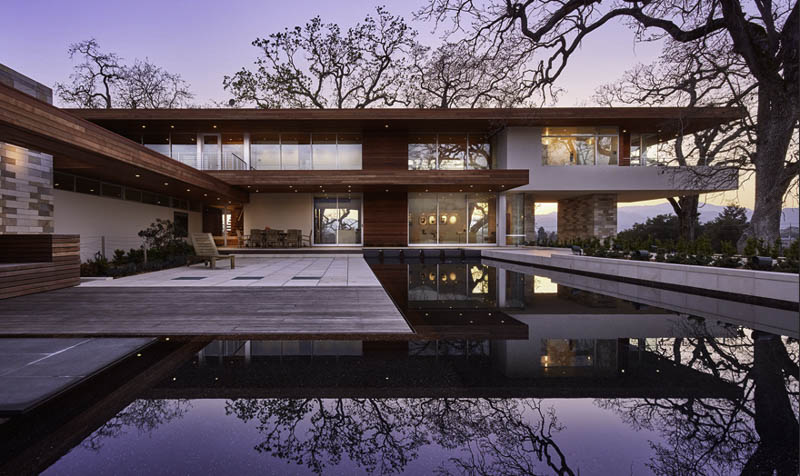 The project above is surrounded by 4.5 acres of cabernet sauvignon vineyards, complete with an oak-studded knoll. This is a beautiful new modern wine country home that features two wings: a north-south wing that showcases a two-story structure that houses the kitchen, dining, and living areas as well as a guest room, home offices, and a master suite. The home also has its own custom dramatic glass bridge that traverses the double-height great room below. 
---
Studio Bergtraun Architects
5500 Doyle St., Emeryville, CA 94608
Studio Bergtraun Architects showcases expertise for all facets and phases of architecture. It has been in business since 1988 and its portfolio is replete with varying projects ranging in theme and scale. The firm has worked on new home construction projects, extensive remodels, commercial, and institutional.The firm's work is noted for its excellent incorporation of interiors and outdoors, each highly tailored to the Californian climate and terrain. The firm also draws inspiration from the principals' extensive work experience and study in Italy and Denmark as well as traveling across Asia and the rest of Europe. Studio Bergtraun takes extra steps to ensure that its clients' needs, lifestyles, and visions are incorporated into their work through a highly hands-on and proactive process.
Further, the firm strives to design and craft environments responsive to the client's program and budget. The firm emphasizes the importance of sustainability techniques. The firm is mid-sized by choice to allow all of its members to attend to each project that the firm takes on. Throughout its years in business, the firm has been honored with countless awards and has been featured in Dwell and Architectural Record publications. 
---
Jerri Holan + Associates
1323 Solano Ave. Suite #204, Albany, CA  94706
Jerri Holan + Associates extends its services throughout the San Francisco Bay Area and has been in business since 1992. It is personally led by its founder and principal Jerri Holan, a Fellow of the AIA who emphasizes the importance of client collaboration in all of the firm's projects. In the early design phases, she consults with several associates and experts to ensure careful programming and meticulous planning. Further, economic and financial considerations are also taken into account. Doing so ensures that the team does not exceed the agreed-upon budget and adheres to a strict schedule. Holan is joined by talented and experienced professionals, including structural, mechanical, electrical engineers, landscape architects, and various surveyors. The firm has won numerous accolades over the years and has also had its work featured in multiple publications.
One of its best homes is featured in the photo below. Completed in Oakland, it spans 4,000-square-feet and replaced the owners' previous home lost in the 1991 Oakland firestorm. It showcases an old-world appeal, given that the firm drew heavy inspiration from classic Italian palazzos. The home features a grand staircase, numerous terraces, tile roofs with deep wooden eaves, thick stucco walls, stone balusters, corner quoins, custom windows, heavy timber, and Tuscan colors.
---
Lindy Small Architecture
95 Linden St. Suite #10, Oakland, CA 94607
Lindy Small has been living in the San Francisco Bay Area for the past three decades. She holds a Master's of Architecture degree from Berkeley and has had her work published in multiple venues. She has also won numerous industry awards. Under her leadership, the firm commits itself to excellent designs, comprehensive services, and various green building and design efforts. The firm is also the proud recipient of a multitude of AIA awards and has been featured in magazines like Diablo Magazine, Kitchen Trends, and Home + Garden. Focusing more on the firm's designs, the Lindy Small portfolio depicts a variety of contemporary and modern homes. Its projects are best distinguished by its use of neutral color palettes coupled with recurring themes of straight lines. 
The project above is its PLUShouse, which was included in the 2016 AIA House Tour. It spans 2,100-square-feet and is a hundred percent sustainable. Located in the San Francisco East Bay on a small lot with views of the nearby waters, the home is a single story with an exterior ramp that connects to a garage. As a result, the home complies with  PLUShouse program's "no stairs" requirement. The ramp divides the spaces from the inside. The home has been noted for its excellent acoustics and solar orientation.  
---
Amato Architecture
1396 Park Ave., Emeryville, CA 94608
Amato Architecture specializes in both commercial and residential spaces and offers a complete range of services. From custom home remodels, additions, and new home construction to restaurants, banks, breweries, and other commercial spaces, its spaces are clean, functional, and beautiful. The firm integrates both old and new methods and has been using sustainable designs and efforts since 2001. The firm assists throughout the entire process, including incorporating functional requirements, plan options, and providing on-site presence during construction. The firm has graced the pages of publications like Oakland Magazine and Luxe. As for its designs, the Amato portfolio depicts countless modern and Craftsman-inspired homes and interiors. 
The home above is the perfect embodiment of the firm's craftsmanship and expertise. Located on Arlington Avenue, this project challenged the firm with its master planning, multi-phase remodeling, deck, and kitchen remodel. It features a mid-century modern design with various anachronistic moldings and several other intricate modifications.
---
Bay Area Design Studio 
867 S 19th St., Richmond, CA 94804
Otherwise known as "BAD Studio," the Bay Area Design Studio operates out of its offices in Richmond and Truckee and provides its clients with a comprehensive range of architecture and design services. These include full-service architecture, furniture design, creative branding, property development, master planning, and schematic design. At the firm's helm is Joshua Horne, a highly sought-after designer who has been living in California since 2000. He finished his degree in architecture with honors at the University of California-Berkeley. Before establishing the firm, he gained experience working at various notable firms in the Bay Area, where he designed wineries, custom residences, and offices.
Under his supervision, the firm has developed an excellent eye for contemporary and modern designs. His best work, together with his team, can best be seen in the project we've featured here. Spanning 3,750 square feet, the Tahoe-Donner residence makes use of a modern theme and serves as a second home and base camp. It features clean lines and stark exterior forms, which are complemented by its breezy interiors.
---
Fox Design Group Architects
116 Washington Ave. Suite D, Point Richmond, CA 94801
Headquartered in Point Richmond, Fox Design Group Architects provides a complete and comprehensive range of architectural services. The firm specializes in institutional, commercial, and residential design and approaches each of its projects with a personalized method. The firm conducts thorough analyses of a home's environment to ensure that its site is taken into account during the design process. Excellent projects sensitive to their location are the result. The company also provides its clients with comprehensive design packages that integrate the functional, technical, and aesthetic aspects of space planning. That includes furniture layout and selection, electrical and communications layout, lighting design, and selection types. The Fox Design Group portfolio showcases expertise in a wide range of designs and reveals innovative site use and a knack for infusing a client's lifestyles and needs into the structure of the new home.
The project above is situated in Point Richmond. Situated out over the water, this home was designed to be built on concrete piles sunk into San Francisco Bay. It features a two-and-a-half-story atrium, an open floor plan, and beautiful views of the area. 
---
Dotter & Solfjeld Architecture + Design
4801 Park Blvd in Oakland, CA 94602
Regarded as one of the San Francisco Bay Area's leading firms, Dotter & Solfjeld Architecture + Design has secured an excellent name for itself for its work. It extends its services throughout California and has also taken on projects across the country and in several areas in Europe. The firm can work on any project, from large custom homes to cost-effective remodels and, on occasion, small commercial spaces. When it comes to design the firm does not limit itself. Its portfolio depicts an excellent range of varying homes and spaces rendered in the most contemporary and chic themes with timeless designs. The firm's team has become well-versed in various architectural vernaculars through extensive traveling and living abroad, and you can see that experience in all of the firm's projects.
The firm begins its process by listening closely to its clients' needs to help customize their homes according to their needs. The firm then proceeds to study the property: the team typically spends an entire day at the site, from sunrise to sunset, to note light patterns and explore its natural elements. 
---
Zumaooh
859 Walker Ave., Oakland, CA 94610
Zumaooh is the brainchild of architectural visionaries Michelle Wempe and Mark Szumowski. Wempe began her career by working with clients on commercial interiors projects ranging from small corporate headquarters to large law firms. She has curated an award-winning portfolio for herself and has had the privilege of serving as an international board member of the IIDA. She is also best known for her excellent living and working spaces. Szumowski, on the other hand, is a modernist who commits himself to the use of only the best materials and the latest techniques. Before Zumaooh, he gained experience working on residential and commercial interiors projects. He also often works on volunteer projects for organizations such as Habitat for Humanity. The two began collaborating during their days studying architecture and design at Kansas State University.
Their collective vision has resulted in an award-winning firm notable for its excellent architecture, interior design, and decorations. All of Zumaooh's projects are completed in collaboration with some of the area's best and leading contractors, suppliers, and installers. The firm also maintains affiliations with vital industry organizations and has been featured in various publications, including the San Francisco Chronicle, California Home + Design, and Perspective Magazine.
---
Oculus Architecture and Design
1501 Powell St, Emeryville, CA 94608
Founded in 1997, Oculus Architecture and Design is a small firm based in Emeryville that focuses on both commercial and residential projects. The Oculus portfolio depicts a variety of mixed-use commercial developments alongside its intricate and complex custom homes. Further, its processes take in a client's insights and visions, ensuring that their new homes come with their personal touch. The firm is best noted for its expertise in contemporary and modern themed space. The firm's work is often distinguished for its use of straight lines, clean finishes, and large glass windows. The project below, labeled the Hamilton Home, is an excellent example. Located in Los Altos, this project challenged the firm with a home addition and a large-scale remodel.
The result features a soft modern palette consisting of cement plaster, cedar planks, and ashlar limestone. Inside, a dramatic flight of stairs that connects the home's three levels was installed. The home's formerly dark and underused basement was also transformed. Today it's a study in light and open space.

---
Sogno Design Group
1496-C Solano Ave., Albany, CA 94706
Sogno Design Group transforms challenging and outdated spaces into modern, chic, and beautiful new rooms. The firm provides practical and innovative solutions infused with sustainable efforts. You can see these elements best seen in the firm's remodeling projects, where it views spaces and homes as a sort of "recycling" effort. That said, when it comes to these types of projects, its team adheres to a philosophy that the classic layout of an existing home plan—be it a Victorian or craftsman bungalow—should not limit the possibilities of design. In other words, Sogno's talented team is capable of revitalizing or adding to a traditionally themed home without compromising its original and overall design.  The firm is led by its principal architect Kathy Rogers, who first gained experience working as a senior designer for various design-build firms in the Bay Area. She established the firm in 1998 and, since then, she has greatly influenced the firm's penchant for historic preservations and high-end residential architecture.
The Beverly project above depicts the firm's previously stated excellence for modern work. It opted for clean wood panels, a neutral color palette, and an open floor plan for this home. Its interiors and exteriors also seamlessly blend into one another and make for a relaxing setting. 
---
Jensen/Ptaszynski Architects
1016 Ventura Ave., Albany CA 94706
Jensen/Ptaszynski Architects is an award-winning practice that extends its services throughout the San Francisco Bay Area. It provides its clients with a full and comprehensive range of services and draws inspiration from over three decades of experience. Aside from its custom residential work, the firm is also well-versed in commercial, retail, industrial, and multi-family housing projects. The Jensen/Ptaszynski team closely evaluates each project to tailor its services to any specific challenges that may arise throughout the process.
Andre Ptaszynski currently leads the firm. He received his architecture degree from Yale University and has worked in New York, London, Juneau, Burlington, and San Francisco. In all of these areas, he honed and mastered his skills before returning to the Bay Area and joining the firm, then led by Harley Jensen. He is now the company's sole proprietor. Ptaszynski is President of the East Bay Chapter of the AIA, Chair of the Oakland Museum of California, Council on Architecture, and a member of the Lafayette Design Review Commission and the  Board of Directors of the Kala Art Institute.
The project above sits on a steeply sloped lot and provides dramatic views of the nearby area. It is designed and built on multiple challenging levels, stepping up the slope, with the master bedroom and main living spaces located on the uppermost levels. The less active parts of the home, namely the main entrance, laundry room, and the exercise space, are situated on the north side of the residence. 
---
3R Studio
416 Evelyn Ave., Albany, CA 94706
3R Studio designs breathtaking modern and contemporary spaces characterized by their excellent material and timeless appeal. It takes into significant consideration a home's site and context and is highly meticulous when it comes to the small details. 3R designs are primarily noted for the team's excellent use of light, shadows, and breezes. Partners Le Pham and Mai Tran lead the firm. Pham received a Master of Architecture from the University of California at Berkeley and a Bachelor of Science in Architecture from the University of Maryland. Before establishing the firm, he first worked as a project architect for several prominent firms in Berkeley, New York, and Washington, DC. Tran, on the other hand, holds a Master of Architecture from the University of California at Los Angeles and first gained experience focusing on a  professional collaborative practice based in Vietnam in collaboration with several noteworthy firms. 
The project above was completed in Oakland together with Kahn Design Associates. Finished in 2004, the project was built on the concrete walls of what once had been a garage before the Oakland Hill fire. At the top of the garage sit the three main volumes connected by a glass stair tower.
---
Deborah Lane Architect
8 Eagle Hill Rd., Kensington, CA 94707
Deborah Lane founded her firm in 1983 and has since been bringing the entire San Francisco Bay area her meticulous, comprehensive services. She personally oversees all of the firm's projects and its day-to-day operations. Under her leadership, the firm has gained an excellent reputation for its residential and small community projects. She uses a highly client-centered approach and guides homeowners closely throughout the entire process, from inception to completion. If clients already have a contractor in mind, Lane and her team work collaboratively with them. If not, clients may choose from Lane's extensive selection of the experienced contractors she has worked with over the years. 
The firm's portfolio is a gallery of timeless, classic homes which range from coastal to Craftsman-inspired. The project above is a quaint and inviting cottage. Lane and her team opted for traditional shingles, a blue and white palette with hints of brown, and several custom finishes.