Santa Cruz is a decorated city with historic homes formed by 19th-century architecture. The historic, rich neighborhoods are enriched by the work of the town's many evolving architects. With a multitude of to choose from, clients often find it difficult to select the best architect for their project.
To make this process easier, we have compiled a list of the best residential architects in Santa Cruz. Our team noted each firm's recognitions, years of services, and design forte. For a home designed by the best architects in the city, take a look at our list below.
If you are thinking about building a custom home, we recommend checking each builder's license with the local licensing board, speaking to past clients, and using our bidding system to get competitive quotes from at least 3 contractors. Getting multiple bids is the best way to ensure you get a fair price and that bids include the complete scope of work.
---
Anderson Brulé Architects
325 S 1st. 4th Floor, San Jose, CA 95113 
Anderson Brulé Architects is an award-winning and well-recognized architectural firm in San Jose. Its world-class architectural practice has kept its sterling reputation since 1984. Pamela Anderson-Brulé, Fellow of the American Institute of Architects (FAIA) is at the helm of the firm's leadership. Her skills and vision for holistic architecture trickle down to her team of skilled architects. Together, the firm has designed many homes in and around San Jose.
The firm has had the opportunity to work with some of California's homes, educational facilities, wellness centers, and other commercial spaces. Taken from its residential projects is this stunning Spanish-inspired home. From its exterior to its interior finishes, everything is designed to complement each other. Anderson Brulé Architects worked closely with the client to come up with an eclectic home combining old-world craftsmanship and new-world style.
---
Boone Low Ratliff Architects
157 Van Ness Ave., Santa Cruz, CA 95060 
Boone Low Ratliff is a Santa Cruz-based architectural firm founded in 1992. The firm is under the leadership of  Jacquelyn Low, Monica Ratliff, and David Boone. Each architect brings a unique experience and expertise to the team. Boone Low Ratliff's team is composed of LEED Accredited Professionals and BD+C Architects who are well-versed in designing homes. Its designs have earned many recognitions from the US Green Building Council (USGBC) and Habitat for Humanity.
Boone Low Ratliff Architects' projects range from commercial and historic buildings to residential and accessory dwelling units. Take, for example, this Jackowski beautiful home remodel. The coastal home received a design makeover from the firm including vaulted ceilings, opened up interior spaces, and an additional home office and gym space. Its interior opens up to the exterior deck and yard where owners can enjoy the comforts of the indoor and outdoor.
---
Daniel Silvernail Architect 
501 Mission St. Suite #2, Santa Cruz, CA 95060 
Since its founding, Daniel Silvernail Architect has been focused on creating a more sustainable environment through its designs. Founder Daniel Silvernail is a skilled architect with a passion for green design. With an undergraduate degree in environmental biology, Silvernail came to understand the role environment and homes play in relation to each other. This concept is evident in the majority of the firm's designs. Besides its design services, it also offers clients site design and planning services.
One notable project in its collection of work is the Pelz Residence located in Santa Cruz. Pelz Construction sought the help of Daniel Silvernail Architect when transforming the tract house into a charming craftsman home. The firm began by adding a second story to the existing home making room for additional rooms, baths, and an overhaul of the first floor. Other key elements of this home include the hand-made entry door and exotic woodwork of the cabinetries.   
---
Fuse Architects
512 Capitola Ave., Capitola, CA 95010
The connection between the environment and architectural design inspired Dan Townsend and Dan Gomez to establish Fuse Architects. Both Townsend and Gomez share a deep passion for architecture. Together, they have gathered a team of goal-oriented professionals who have worked robustly and have thus catapulted the firm's reputation high up in the industry. Some of Fuse Architects' works have been featured in Dwell Magazine, Architectural Record, and Sunset Magazine.
Modern and contemporary homes dominate the firm's portfolio. An eye-catching project among its residential works is the Moana Residence situated in Santa Cruz. Fuse Architects' design clearly reflected the active and outdoor lifestyle the clients practiced. It features a large front deck and accessibility to the world-class surf break a few blocks away. The firm provided the design while the owners were the ones who acted as the general contractors for this stunning coastal home. A unique feature of this home is its non-symmetrical exterior that adds flair to the overall design.
---
Huyck Architects
9200 Soquel Dr., Aptos, CA 95003
Huyck Architects was established by father-daughter Richard Huyck and Nancy Huyck. Nancy's passion for architecture and construction came naturally as she was exposed to this trade at an early age. Prior to starting her firm in Aptos, she honed her skills working in Cambridge and Boston. Richard is an architect and structural engineer who founded Richard J. Huyck & Associates, and has worked with many large industrial clients.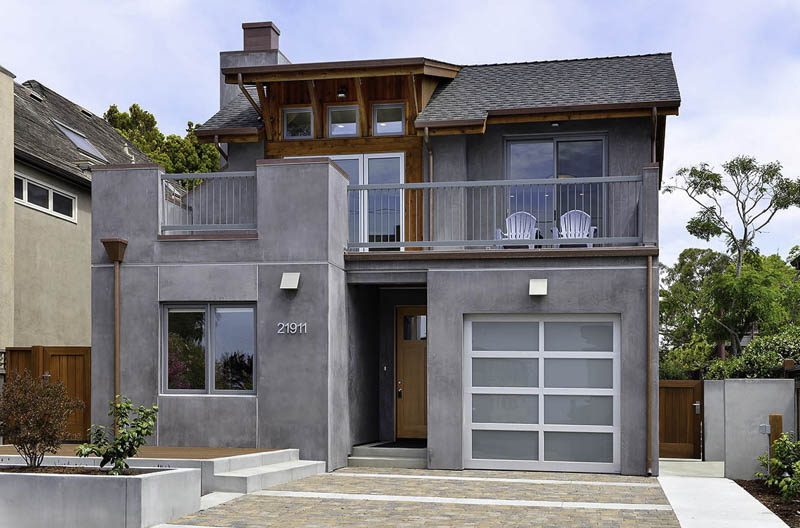 Huyck Architects aims to create simple designs with great efficiency, something evident in its large portfolio. Take, for example, this new home in Santa Cruz. Behind its industrial and plain facade is a warm and well-planned space. Every corner of the house is maximized with purpose. Other projects in its portfolio include residential homes, offices, and retail spaces.
To know more about their work, visit https://huyckarchitects.com/
---
Matson Britton Architects
728 N. Branciforte Dr., Santa Cruz, CA 95062 
Since 1988, Santa Cruz has trusted Matson Britton Architects to design some of its most dashing homes in the area. The firm is a joint practice established by Martha Matson and Cove Britton. Its team of well-versed architects craft designs that integrate eco-friendly materials. The firm specializes in designing homes ranging in style from traditional to coastal.
One of its striking projects is a green smart home featured on the cover of The New Solar Home Magazine. Matson Britton Architects incorporated a number of sustainability features including passive solar climate control, FSC certified materials, sustainable Brazilian cherry flooring, and a 9kw photovoltaic system. The firm's other works have also been featured in Home Style Magazine and Coastal Home & Garden Magazine.
---
Michael Helm & Associates
200 Seventh Ave. Suite #110, Santa Cruz, CA 95062 
Michael Helm is a well-recognized architect with extensive experience in architecture and construction. With over 24 years and 200 homes designed under his name, Helm is recognized among Santa Cruz's best architects. This has helped him build Michael Helm & Associates' reputable name among clients and peers in the industry. The firm's hands-on approach to projects has resulted in countless personal and uniquely designed residential spaces.
One notable project in its portfolio is this charming home by the lake. Its design features a cozy interior filled with large bay windows that allow owners to enjoy the beauty of nature while staying indoors. Its outdoor deck allows the homeowners to hold gatherings while marveling over the serene views of the lake. This dreamy home is just one of the many stunning and elegant projects found in Michael Helm & Associates' portfolio. 
---
Nielsen Studios
228-B Fern St., Santa Cruz, CA 95060
Nielsen Studios' works are defined by their forward-thinking designs developed over the years. Since 2007, it has completed many works for residential and commercial clients. It is composed of accomplished architects with over sixty years of combined experience. To come up with stunning home designs, the firm makes use of the latest in design technology. This process has brought the firm countless recognitions from clients and peers in the industry.  
Nielsen Studios specializes in a range of home styles from traditional to contemporary. A stunning example of its work is this tropical and traditional home. Nielsen Studios designed the home with attention to detail from its exterior amenities to its interior finishes. Its outdoor fireplace and living open to the home's garden and pool area. This home is a perfect staycation spot for the family and guests alike.
---
Peter Spellman Architecture
102 Green St., Santa Cruz, CA 95060 
Peter Spellman Architecture is an award-winning architectural firm with a passion for sustainability. Peter Spellman, a LEED Accredited Professional and licensed Architect head the firm's operations. Spellman built his career from working with local to internationally-acclaimed firms. He gathered a team of adept and goal-oriented professionals upon establishing the firm. Its team developed a design process concentrated on California's local design approval processes. In addition, the firm makes use of a 3D modeling software where clients can see the design on their own devices. 
For the past ten years, the firm has gained over 20 Green Building Awards. This is a program patterned after the USGBC's LEED certification processes. Besides this recognition, the firm is also one of the signatories for the 2030 Challenge, which aims to produce carbon-neutral buildings and developments by 2030. One notable project in the firm's portfolio is the Woodrow new home. This solar-powered home features a clean modern look with an open concept. Aside from its spacious interior, the home is designed to have multiple large windows. This allows natural light to flood the rooms as well as have a clear view of nature outdoors.
---
About Our Rankings
This list takes a range of ranking criteria into consideration, including but not limited to: work history, customer satisfaction, awards and recognition, geographic area of work, cost, building permits, and clientele. We spent over 40 hours researching local contractors before calculating the final ranking for this post. If there is additional information about your business that could affect these rankings, please fill out this form and we will take it into consideration.
---
Get Bids For Your Build
If you are thinking about building a custom home, we recommend checking each builder's license with the local licensing board, speaking to past clients, and using our bidding system to get competitive quotes from at least 3 contractors. Getting multiple bids is the best way to ensure you get a fair price and that bids include the complete scope of work.