Santa Rosa is famous for its wineries and picturesque environment, perfect for residents who adore the Northern California way of life. Because of the scenery, homes in the area include a broad range of styles, from Cabin to Contemporary. Homeowners love to maximize the environmental advantages of Santa Rosa into their homes, often employing indoor-outdoor design elements and large windows. The Architectural scene in the city is filled with award-winning architects that understand the lifestyle in the city and how homes must respond to these surprising, beautiful conditions. Some have won awards from the local AIA chapter; others were featured in international publications.
To come up with this list, we compiled dozens of local Architecture firms and assessed each based on a set of criteria that considers the awards and accolades, press features, work history, and the overall work quality of each firm.
If you are thinking about building a custom home, we recommend checking each builder's license with the local licensing board, speaking to past clients, and using our bidding system to get competitive quotes from at least 3 contractors. Getting multiple bids is the best way to ensure you get a fair price and that bids include the complete scope of work.
---
Amy A. Alper, Architect
1101 Loma Court, Sonoma, CA 95476
Amy A. Alper is an established Architect serving the North San Francisco Bay Region. Alper is among this list's most decorated firms with awards like the 2016 and 2018 People's Choice Award from the Redwood Empire Chapter of the AIA. The firm has also been featured in leading design publications such as Dwell Magazine, Residential Design Magazine, Interiors Magazine, Sonoma Magazine, Elle Décor and Portuguese magazine, Mobiliário Em Notícia. Her work has also appeared in numerous books included 150 Best Cabins by Loft Publications.
In practice since 2005, Amy Alper is an icon in the local Architectural scene. Amy Alper acquired her Masters in Architecture from the University of California, Los Angeles and started her career working on high profile projects such as the Getty Center and the Carneros Inn. She is also a founding member of Custom Residential Architects' Network of the AIARE, and Board Member Emeritus of The Forum for Architecture and Urban Design and the Sonoma League for Historic Preservation.
Amy crafts projects to suit the opportunities and constraints of each site in harmony with the very specific needs, desires and budgets of her clients. Her homes invite residents to take full advantage of the Northern California lifestyle and environment. The portfolio has a wide range of styles. Regardless of the style, design excellence, personal service, value, integrity and collaboration are the hallmarks of Amy's practice. Learn more about their work at www.alperarchitect.com.
---
Crome Architecture
905 4th St., San Rafael, CA 94901
Marin County-based Crome Architecture is an architectural, branding, and interior design firm serving the North and East Bay. Crome is revered locally by Marin, as seen on the firm's multiple Marin Design Awards, and features in Marin-based publications such as Marin Magazine, Pacific Sun, and Marin Independent Journal. The firm's owner, Max Crome, is an alumnus of the University of Pennsylvania Architecture and was a principal at San Francisco design and multimedia firm FINE where he nurtured his skills in Architecture and branding.
Crome's design mantra lies in the goal of creating a community of artists, designers, and creative thinkers to engage in dialogues that will push the design and construction industry forward. Projects like the Joyner Residence display this design philosophy. This three-story residence was built in the 1970s and needed an update. Crome overhauled the residence to make room for a more open and flowing setup. The firm also cantilevered a new deck that serves as a top floor living area with tree-top views and outdoor lounging space.
---
Farrell Faber & Associates
416 B St., Suite C Santa Rosa, CA 95401
Since 1989, Farrell · Faber & Associates has been designing homes with a strong focus on sustainability and cutting edge technology. After earning a degree in Architecture degree from Cal Poly and studying abroad in Denmark, Kevin Farrell founded the firm with the late Shaun Faber. Cofounders Kevin Farrell and Shaun Faber led the team, serving Sonoma County with award-winning approaches and methods. Farrell · Faber earned the Housing & Community Development – Innovation in Housing Technology distinction from the State of California and the Green Home Award from the City of Santa Rosa, among other design awards. Farrell · Faber's latest addition to their technology arsenal has been the introduction of Virtual Reality tours, which gives clients the ability to "walk through" their homes while still on the drawing board.
Today the Farrell Faber portfolio packs a combination of Contemporary, Rustic, and Traditional projects. Regardless of style or size, all of their homes demonstrate their attention to detail and the ability to incorporate the homes in to their natural setting, while still showcasing the latest in amenities and features. Farrell · Faber treats each of its clients as new friends and always remains committed to its core principals of Care, Integrity, Quality, and Teamwork.
---
Glass Architects
200 E St, Santa Rosa, CA 9540
Glass Architects has made a name for itself due to the well-designed projects it has built across Santa Rosa and Nevada City. The firm is the recipient of two Western Council of Construction Consumers Project Excellence Awards in 2016. In its over 40 years of operations, Glass Architects has built institutions and establishments that are vital to the city. Glass's expertise in residential projects is also robust with projects such as the Burnside Road Residence at their disposal. The house has an unmistakable wood panel textured finish, unconventional silhouette, and a split-level layout. Glass took inspiration from Modernist structures and maximized natural lighting and integration with the environment. Glass did not shy away from incorporating vivid design elements such as circular windows and an encaved porch.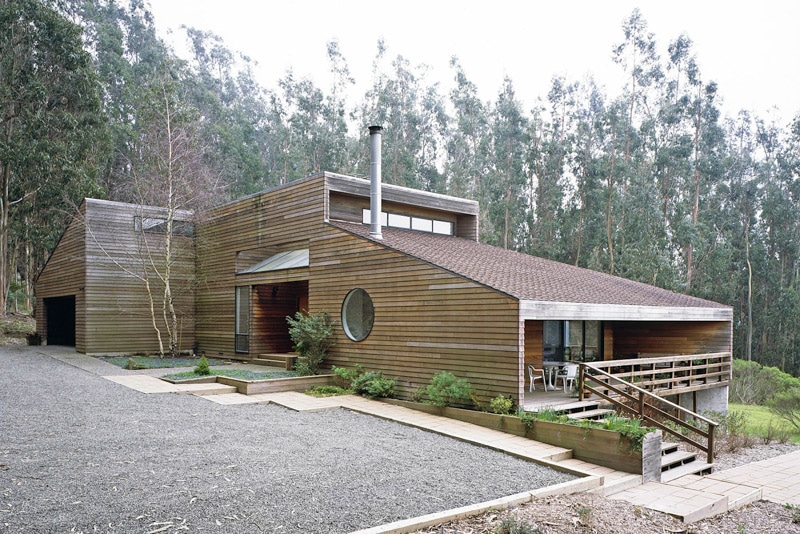 Eric Glass acquired the full ownership of the firm in 1994. His leadership is built upon his training from Cal Poly and his tenure as the President of the AIA Redwood Empire Chapter. He also served on the AIA California Council Board of Directors for five years and is a member of a number of AIACC Committees for several additional years. Glass is also a founding member of the City of Sebastopol's Design Review Board.
---
Gustave Carlson Design
2718 Ninth St., Suite #2, Berkeley, CA 94710
After a decade of working in New York, Los Angeles, and San Francisco, Gustave Carlson decided to start his own design firm in 1999. Carlson holds a Master's Degree at the University of Pennsylvania Graduate School of Design. He is also a member of National Trust for Historic Preservation, a member of Build It Green, and participates in the National Association of Remodeler's Industry. Carlson is joined by Massachusetts Institute of Technology alumnus Joan Kiang and experienced architect Dan Tiraschi.
Gustave Carlson Design specializes in custom home renovation, new house construction, and sustainable design. The firm has established a strong portfolio through its design philosophy of tailor-fitting the work to its clients by closely observing their lifestyle and aesthetic choices. Carlson-made projects have hit the pages of publications such as Luxe Magazine, Kitchen Trends, Flair Magazine, and SF Chronicle.
The Canyon House, one of Carlson's most stunning projects, is a residence set on a forest setting on a meandering creek. Carlson took inspiration from the creekside and cedars and decided to reflect its natural palette. Zooming in on the details, the firm used modern interiors and juxtaposed it with religious imagery.
---
Harrison Woodfield Architects
431 Humboldt St., Santa Rosa, CA 95404
A resident of Sonoma county for more than 28 years, Sara Harrison Woodfield understands the cultural and communal way of life in the area. Since 1991 she has been designing custom home estates in Northern California and Hawaii, most recently specializing in fire-resistant homes. She studied Environmental Biology at Arizona State University and possesses a Master's in Architecture from the University of California, Los Angeles. Woodfield was the first-ever woman President of the Board of the American Institute of Architects, Redwood Empire Chapter, and a founding member of CRAN the Custom Residential Architects Network. She was also, for 18 years, the architectural member of the Architectural Design Review Board of the premium custom estate development in Sonoma County. She is also Past Chairman of the Board of Directors of the Santa Rosa Symphony.
Homes designed by Harrison Woodfield have grabbed the attention of several publications, including The Press Democrat and The San Francisco Chronicle, Business Week, Architectural Leaders Today, and No Ka 'Oi Magazine, Maui, HI. She is also published in Dream Homes of Northern California, by Panache Publishing. In 2019 she won the Ludowici Residential Project of the Year for 2018 for a major project in Maui. Her practice has a wide range of architectural styles, including Victorian, Tuscan, Contemporary Mexican, Hawaiian, and Farm House, among others. This beautiful home fits perfectly in the lush Sonoma environment, with floor to ceiling windows built for maximum visibility, a library with fireplace and a formal dining room. The home's rich, attractive cream palette is the icing on the cake.
---
House + House Architects
1499 Washington St., San Francisco, CA 94109
In 1989, Architecture Magazine named House + House Architects as an emerging talent to keep an eye on—they weren't wrong. The duo-led firm focused on designing creative, sustainable, and modern homes throughout the Bay Area, which has enabled it to rise to the top of the city's architectural scene. House + House Architects has won over 50 design awards and its work has been featured in many national and international publications. Steven and Cathi are also the authors of four books documenting their work.
The principals and founders, Cathi and Steven House, cite their vast travel experiences as inspiration for their work, having spent extensive time in Europe, Asia, Africa, and Latin America. As a result, they have a keen ability to incorporate traditional elements into nuanced, contemporary designs. They are also known for designing homes with a strong connection to nature and the outdoors; both principals are committed to sustainability and incorporate green design elements throughout each home and landscape. Outside of their practice, Cathi and Steven are dedicated to educating and contributing to the development of architectural theory and practice. They have lectured across the United States and Mexico and both served on the Dean's Advisory Board for College of Architecture & Urban Studies at Virginia Tech. They also established The Center for Architecture, Sustainability + Art (CASA), a study abroad program in the UNESCO World Heritage Site of San Miguel de Allende, Mexico.
Mastering both Modern and Traditional styles, House + House Architects design site-specific and well-choreographed homes. As an example, this 2,200 square-foot home sits perfectly on its gently sloping triangular lot in a suburban community and is defined by the two intersecting wings. The plan is simple, open and united around a sculptural stairway. Spaces flow both horizontally and vertically, around the central stairway, physically in function, and visually in contemplation from several vantage points. The dominant lines of the living area flow through the adjacent, angled volume to create a dynamic interaction with the private spaces above. Limestone flooring is soft and cool in the warm climate. Cherry and maple are bound with steel and stone in the cabinetry and steps. The angled roof lines reflect the slope of the land, the struts mirror the branches in the trees, the shadows and orientation aligned with the sun…all organic ties springing directly from this particular piece of land. This residence represents House + House's cultural and ecological pursuits in Architecture, proving that good design places culture and the environment at its core.
---
James McCalligan Architect
115 4th St., Suite A Santa Rosa, CA 95404
Since 1986, James McCalligan has committed to a mission of producing unique and thoughtful designs that respond to client needs. McCalligan, an alumnus of the University of Oregon, is a 30-year veteran in the Architectural business. His direction has enabled the firm to garner awards including the AIA Merit Award and the League for Preservation of Historic Buildings- Award of Excellence from the City of Sonoma.
The firm's portfolio has earned attention from the Press Democrat, Custom Homes Magazine, Trends Home & Architecture, This Old House Magazine, and Better Homes and Gardens. Contemporary and Traditional homes designed by James McCalligan are evidence of the passion that motivates the firm. The modern Penngrove estate in the photo has a strategic L-shaped layout that frames the greenery that surrounds the home. Multiple textures and finishings complete the home. McCalligan masterfully integrated multi-colored wooden panels together, a nice touch against the scenic California background.
---
ODS Architecture
5895 Doyle St., Emeryville, CA 94608
San Francisco Bay Area-based ODS Architecture has been designing picture-perfect Modern and Contemporary homes and commercial establishments since 1985. In those years, ODS has amassed awards such as the Contractor of the Year Award in 2016 and the National Landscape Design Award. Along with these accolades come a long list of magazines and media outlets that took notice of ODS and its work. ODS has been featured in San Francisco Architects, Dwell, Residential Design Magazine, Marin Home Magazine, and Modern Luxury Silicon Valley. Alan Ohashi, ODS principal, earned his Masters of Architecture degree from UC Berkeley and a Master of Fine Arts in Cinematography and a Bachelor of Fine Arts in painting, sculpture, and photography from UCLA.
ODS homes have a premium feel. Take Monterey Terrance, a 5,000 square-foot, two-story, three-bedroom home, as an example. The home has minimal detailings throughout, with simplistic lines and solid colors defining the aesthetic of the home. The multi-level layout creates a unique coziness. The Earth tones throughout the home's exterior frame the Northern California landscape outside beautifully.
---
Wade Design Architects
29 Magnolia Ave., San Anselmo, CA 94960
Life and business partners Ani and Luke Wade established Wade Design Architects in 2007 after working with major California Architecture firms. Ani grew up in Costa Rica and went to the US to pursue her studies. Ani and Texas native Luke Wade both attended the University of Texas in Austin and worked together at Backen & Gillam Architects.
Ani and Luke view architecture as a collaborative art. The two ensure clients are involved in the entirety of the process in order to make the projects more personally meaningful. The Wade portfolio has a rich variety of Cabin, Craftsman, Contemporary, and Modern home styles. The Cabin home below has a cozy atmosphere anchored in gravitas. Set in Napa County, the home is set in the middle of one of the vast plantations the county is known for. Unlike the conventional Cabin home, this home has a flatter roof and a wider silhouette, contextualizing design elements from the Contemporary style. The close-to-ground elevation and generous use of alfresco space add to the environmentally-conscious theme of the home.
---
About Our Rankings
This list takes a range of ranking criteria into consideration, including but not limited to: work history, customer satisfaction, awards and recognition, geographic area of work, cost, building permits, and clientele. We spent over 40 hours researching local contractors before calculating the final ranking for this post. If there is additional information about your business that could affect these rankings, please fill out this form and we will take it into consideration.
---
Get Bids For Your Build
If you are thinking about building a custom home, we recommend checking each builder's license with the local licensing board, speaking to past clients, and using our bidding system to get competitive quotes from at least 3 contractors. Getting multiple bids is the best way to ensure you get a fair price and that bids include the complete scope of work.