Last Updated on
South San Francisco is a dazzling hub of culture. It offers beautiful weather all year, unparalleled access to San Francisco, and all the natural beauty, including Redwoods state parks, that can be found south of the city. In addition to the many parks, marinas, and local attractions, the city also offers stunning panoramic views of the wider Bay Area. All this makes South San Francisco an ideal location to live in, and the area boasts some amazing architectural firms ready to help create the perfect South San Francisco home.
Firms in this list have been chosen for their experience, features in publications like SF Luxe, The New York Times, and Architectural Digest, industry awards, as well as by their specific projects that testify to the high quality of their functional and aesthetically pleasing designs.
---
Da Meza + Architecture
60 Santa Marina Street, San Francisco, CA 94110
Known for designing some of the world's most prestigious projects, Da Meza + Architecture has worked with clients from the Bay Area, New York, Hawaii, and other locales. Its international renown has garnered it features in SF Luxe, Gentry Design, Casa Sugar, and Home & Garden. Its reputation is well deserved, as the firm regularly designs beautiful and eye-catching projects in any number of different styles.
Among these beautiful projects, one of its most notable is the Meadowsweet House. At an impressive 2,500 square feet, this home is designed in a clean modernist style with playful accents. The home's interior has elegant lines accentuated by an open floor plan. The cool grey and beiges perfectly complement the design, making this house a brilliant example of the firm's high quality work. 
These projects are guided by head designer Gregg Da Meza, whose talents range from designing high-end residences and yachts to hotels, office towers, and retail facilities. For the past few decades, Da Meza has successfully worked on some of the world's most prestigious projects—the result of his early success at other prestigious firms HOK, Whistler Patri, and ELS. 
---
Geddes Ulinskas Architects
771 Clementina St., San Francisco, CA 94103
Since its establishment in 2005, Geddes Ulinskas Architects has worked as a lead collaborator with some of the region's premier contractors, construction managers, and design consultants, helping them to design some truly impressive projects. Their creative work has been featured in Curbed San Francisco, Architectural Digest, Forbes, and Spaces. Through its many years of experience, the firm has demonstrated its mastery of modern, contemporary, and more traditional Victorian design styles. 
One example of the firm's exceptional work is its modern vineyard country estate in Sonoma. The exterior is a blend of light wood and rustic stone, which lends the house an earthy tone in harmony with its surrounding natural environment. The interior of the house makes full use of this proximity to nature, with wide sliding doors in the back leading to a beautiful patio overlooking the verdant hills. The interior is a more minimalist, contemporary design, with an open floor plan linking the dining room and kitchen together, both looking out over the outdoor patio and adjacent hills.
Geddes Ulinskas serves as the firm's lead architect, bringing over 20 years of architectural experience and skill to each new project. Prior to leading his own firm, Ulinskas honed his skills with the equally reputable architects Ricardo Legoretta and Fumihiko Maki. 
---
HC Design | Build
436 Rozzi Place, South San Francisco, CA 94080
Based in South San Francisco, HC Design | Build offers architectural design and engineering services to local and international building projects. In recent years the firm has gained acclaim for its chic, modern designs.
Among the firm's most interesting works is the modern Frontera Way. Designed with sharp, simple geometric lines, the residence stands out for its minimalist exterior. The home's location is put to maximum use, as the interior is designed to give maximum play to the gorgeous view of the hills and valleys that open up below it. The open floor plan and large windows allow natural light to spread through the rooms at all times of the day, and lend the house a light, airy atmosphere. The veranda is the best place to enjoy the panoramic view. This house is a brilliant display of the firm's experience and design skill.
---
House + House Architects
427 Chestnut Street #3, San Francisco, CA 94133
Steven and Cathi House are architects who craft unique, magical and harmonious environments. Deeply sensitive to elements of form, color, natural light, and movement, House + House Architects creates a tangible spirit within each home they design, molded to the process of living. They have produced a diverse body of work reflecting their passion for site-specific, well-choreographed buildings.
A good example of their work is the Overmyer residence. Comprising two intersecting wings, the home is perched on a west-facing hillside with spectacular views of Mount Tamalpias. It also has a connecting tower with an inverted butterfly roof that frames the mountain. To take advantage of the site's limited flat area, the L-shaped home was pushed to the edge of the slope to wrap around a level garden courtyard where relaxation, play, and entertaining are the main activities. Thickened red stucco walls also frame doorways, making portals between the home and the lush courtyard glow from either the sun or from sparkles of light at night.
Over the years, the firm's work has been built in California, Florida, Hawaii, and even Mexico and the Caribbean. House + House Architects has also received over 50 design awards with features from many national and international publications including two monographs.
---
John Lum Architecture, Inc.
3246 Seventeenth St., San Francisco, CA 94110
For more than 25 years, John Lum Architecture, Inc. has been designing and renovating homes in the Bay Area. During these years, it has completed over 800 projects. Known for combining artistry and practical design, their projects have been featured in magazines like California Home + Design, Dwell, Modern Luxury, San Francisco Chronicle, and The Wall Street Journal.
A great example of the firm's work is 19th street. With its charming, cottage-style front facade, and a cool, new, multi-level modern rear configuration, this home is a modernist take on cottage design. Designed to preserve the architectural integrity, the front was retained but reinterpreted. And with the intention of maximizing views, the rear addition boasts floor-to-ceiling windows and exposed steel beams, creating an unusual, high-rise sensibility.
---
Knorr Architecture
1120 Palm Ave., San Mateo, CA 94401
A veteran firm established by Don Knorr in 1951, Knorr Architecture is a small boutique firm that provides full architectural services from schematic designs through final construction. The firm only focuses on a few projects each year, a testament to their meticulous, client-centered approach. Their rigorous work and attention to each project has helped garner the firm prestigious awards over the years, including the Golden Nugget and Sunset awards, as well as the AIA San Mateo County 20-Year Firm Award. Over the years, the firm has crafted homes in Spanish, Mediterranean, French, traditional, Italian, modern, and ranch-revival styles. The family firm is currently run by Torin Knorr, who has over 20 years of architectural and design experience.
Among the firm's projects is this Hollywood estate. The house is built in the classic Mission Revival style, with spacious, comfortable rooms and a large pool and barbeque area. This beautiful home is located atop a hill, with the front of the house, on the first and second floors, offering incredible views out across the adjacent hills. 
---
Mark Dziewulski Architect
2740 Greenwich Street, unit 519, San Francisco, CA 94123
Established by Mark Dziewulski in 1990, Mark Dziewulski Architect has designed and built many culturally and institutionally important buildings across the U.S., Europe, and Asia. The firm specializes in creative, environmentally sustainable contemporary designs. Owner Mark Dziewulski is aided in each project by a highly skilled team of designers and architects, and together their work has received widespread international acclaim, including at the Venice International Architecture Biennale, where the firm's work was displayed to over a quarter million visitors. 
Among their notable projects is the "River House," which has been featured in several national and international publications including Taburet Magazine, The Business Journal,  and Trends Magazine. Built on a hill overlooking a nearby river, and adjacent to a beautiful State park, this modern home is a perfect place to spend a weekend away from the city. The house makes full use of its surrounding natural beauty with its wide windows, and gorgeous outdoor dining area. At the same time, the master bedroom and reading room are set further inside the home, ensuring residents a comfortable and cozy place to retreat to at the end of the day after enjoying the sunlit living and dining rooms.
---
Michael Connell Architect
One Arkansas St., Suite D2, San Francisco, CA 94107
Michael Connell Architect is a veteran firm with 30 years of experience in the industry. During this time, the firm has become known for designing environmentally friendly and sustainable homes in Mediterranean, ranch, and Victorian styles.  The firm's work, led by Michael Connell, has been featured in Sunset Magazine, Renovation Style, Elle Decor, the San Francisco Chronicle, and Sierra Club Magazine. 
Among the many projects in their portfolio is this notable renovation of a Victorian style home in Bernal Heights. The main floor showcases a beautifully designed open floor plan with the kitchen, family room, and dining room linked closely together. All of these rooms are amply lit during the day by various skylights placed throughout the house. The beautiful original wood supports were kept in the renovation, helping to maintain the home's original Victorian charm.
---
Michael Tauber Architecture
2325 Third Street, Suite #322, San Francisco, CA 94107
Michael Tauber Architecture was established in 2014 and has quickly gained widespread acclaim for its innovative designs. The firm works on a wide variety of projects, including on single-family homes, apartments, and a number of civic buildings. Their projects have been featured in CA Modern, Kitchen Trends, and California Home + Design.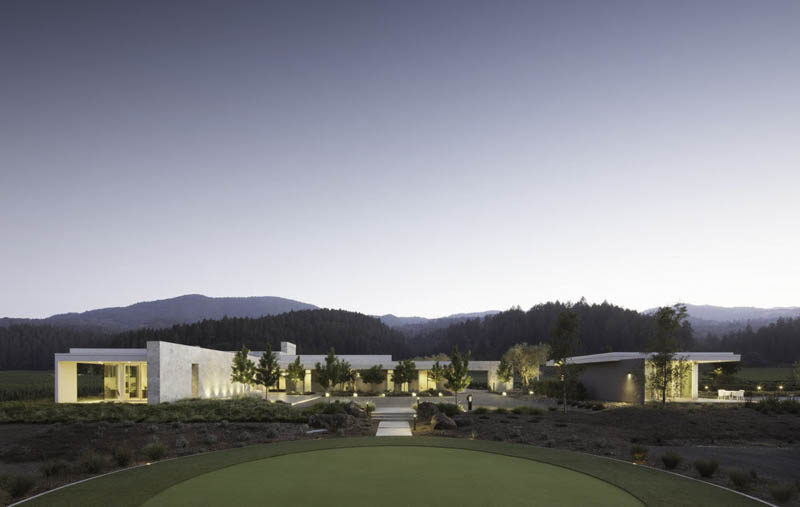 Among the firm's best projects, is this Napa Valley home. The exterior is built with marble and white slate, and the home curves inwards towards a central outdoor patio and looks out onto the attached vineyard, designed in this way to maximize the occupants' privacy. Among the residence's notable features are its stunning, eight-foot-wide by ten-foot-high mahogany doors, as well as a custom-made steel fireplace in the main living room. This house masterfully combines modern and traditional elements, ensuring that the house feels elegant, warm, and inviting at all times.
---
Skurman Architects
3654 Sacramento St., San Francisco, CA 94118
Managed by lead architect Andrew Skurman(Who served on the ICAA National Trustee Board from 2013 to 2018), Skurman Architects has gained an impressive reputation for its stunning French, Georgian, and Greco-Roman designs. The firm's projects have ranged from grand country estates to intimate city houses, showcasing the breadth of skill and experience on the Skurman Architects team. The firm's work has been featured in Architectural Digest, Period Homes, House & Garden, The New York Times, and This Old House. Along with these features, it has also won an impressive five Julia Morgan Awards from the Northern California Chapter of the ICAA and the prestigious 2020 ICAA Arthur Ross in Architecture.
This country estate is a wonderful example of the firm's work. The house is designed in a classic Sicilian Villa style. The gorgeous central pool area is a perfect place to spend one's time on sunny days, and the two story home, with a large atrium and expansive reading room, is an equally perfect place to retreat to in the colder weather. The house's placement overlooking the surrounding hills and redwood forest makes for a stunning view from the second floor veranda. This luxurious villa is an impressive example of Skurman Architects' stellar design and architectural work.
---
Taylor Lombardo Architects
40 Hotaling Place, San Francisco, CA 94111
An award-winning firm, Taylor Lombardo Architects has designed projects for clients throughout the U.S. and China. Their impressive California projects have been featured in Gateway magazine, California Home + Design, Luxe, and California Homes. The firm specializes in high-end contemporary designs. Aside from their stunning custom homes, Taylor Lombardo Architects has also designed over 30 wineries across California, including for Silver Oak Cellars, Nickel and Nickel Winery, and Kelly Fleming Wines. Their work has garnered them many recent awards, including the 2019 Gentry Home single-family residence Platinum Award and the 2018 Gentry Home single-family residence Gold and Silver Awards.
This modern residence is a fine example of their high quality work. The exterior is completed in warm woods and grey slate, with numerous patches of beautiful greenery surrounding the home. The interior is a mix of contemporary and art deco styles, and the first floor includes an impressive traditional style mahogany library and reading room.  The fine attention to detail and intelligent use of space mark this project as a masterful piece of architecture, and are a testament to the impressive work done by this firm.