Known for its expansive views of the Bay and the San Francisco skyline, the beautiful coastal town of Tiburon serves as one of the most attractive and laid back places in California to live in. Custom builders in Tiburon are experienced in constructing luxury homes that work with the town's rolling landscape and maximize the panoramic vistas. 
 Our team has curated a list of the best custom home builders in Tiburon and the surrounding area, selected based on their accreditations, certifications, professional affiliations, and the recognition each firm has received in the form of industry awards, client reviews, and features in the press. We have also laid out the range of services the firms offer, their specializations, and the length of time they have been in the industry. 
---
Kasten Builders
3419 Regatta Blvd, Richmond, CA, 94804
For over 40 years, Kasten Builders has specialized in modern and contemporary home remodeling and new construction, building homes throughout the Bay Area including San Francisco, Marin County, and the North Bay. It employs smart building practices on all projects to minimize the effects construction has on the environment. Denny Kasten formed the firm after relocating to Marin in 1972.  As a student, Denny worked with general contractors, learning to build from the ground up, understanding what it means to be on-time, cost-effective, and skilled in the trades. With over 40 years' worth of knowledge, experience, and passion, he has made a name of himself among the industry's elite.
The firm is recognized by the National Association of the Remodeling Industry (NARI) and the American Institute for Architects (AIA), from which it has received a Merit Award for its exemplary houses. An excellent representative of its portfolio of projects is the Fema House. This project involved the demolition of an old 1500 square foot home and all new construction of three detached structures: a garage and guest quarters, a living and bedroom wing, and a raised kitchen and dining space. The raised kitchen and dining area create a great place for entertaining with views of the ocean.
---
Plath & Company
1575 Francisco Blvd East, San Rafael, CA 94901
Plath & Company has been constructing Bay Area homes and commercial buildings of distinction since 1976. It focuses on residential remodeling, historic restoration and renovation, pre-construction, and specialty commercial services. Plath & Company is a Leadership in Energy & Environmental Design (LEED) Platinum Builder and is accredited by the Better Business Bureau (BBB) as well as the San Rafael Chamber of Commerce. It pursues a balanced approach to each project through sustainable building practices, thoughtful innovation, and technical know-how. The firm's experienced Certified Green Building Professionals look for real-world solutions to sustainable design proposals and stay current with green products and technologies, having built one of California's first LEED residences.
With years of experience in high-end residential construction, JB Ferrarone joined the company as a project manager in 2006, and five years later he became a partner. In 2014, he took on the role of President, and under his dynamic leadership, the company produced beautiful contemporary, new classical, and modern homes including the Tiburon Home. Challenging structural techniques allow the house to be wrapped in glass, maximizing the panoramic and dramatic views of the San Francisco Bay. Utilizing environmentally-friendly features, this home includes low VOC paint, formaldehyde-free cabinets in the kitchen and closets, and low-emissivity glass windows.
---
Kerr Construction, Inc.
15 Woodland Avenue, Suite F, San Rafael, CA 94901
Established in 1983 by Jeffrey Kerr, Kerr Construction offers full home remodeling, custom homes, and design-build services. The firm has developed a deep appreciation of the relationship between design, materials, and craftsmanship. Referrals have fueled the company's success and accomplishments, many of which have been featured in leading industry publications such as The Journal of Light Construction, American Bungalow, Architectural Record, Better Homes & Gardens, San Francisco Magazine, and the San Francisco Chronicle Magazine.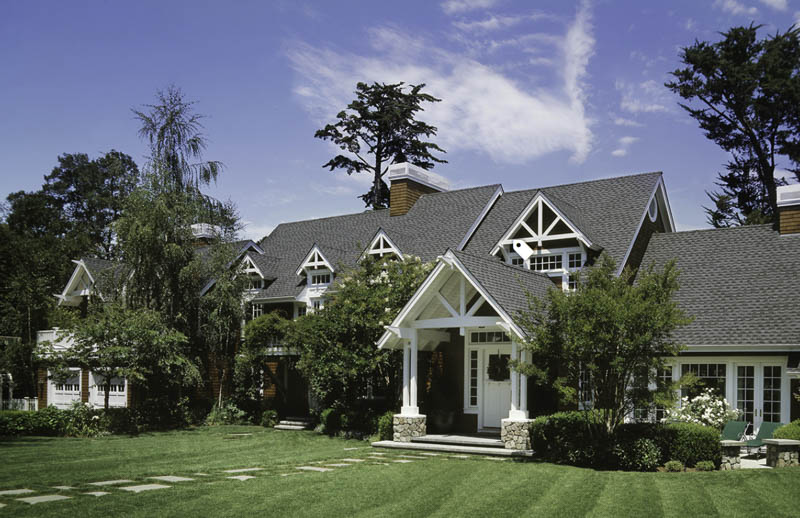 Kerr Construction has received a platinum level award from the US Green Building Council as a Build It Green Certified practice, with Jeff running the firm as a Certified Green Building Professional. He was a member before he became Co-Chairperson for two years at Nicasio Design Review Board, which is responsible for review and design comments as an advisory board to the Marin County Planning Department. Jeff's efforts, along with that of his team of professionals, have resulted in modern, craftsman, and Mediterranean style custom homes such as the Ross Residence. The arts and crafts home is characterized by wood siding for its exterior. The living room features a fireplace that creates a clear focal point for the living room and centers the space. The home adheres to a simple color palette consisting of grays, whites, and earthy tones such as greens and beiges.
---
Singlepoint Design-Build
200 Gate 5 Road, Suite 109, Sausalito, California 94965
With more than a decade in business, SinglePoint Design Build Inc. has grown into one of Marin County's premier Home Builders as a member of the Marin Builders Association. It specializes in full home remodels and ground-up projects. A key component of its methodology is the team of passionate carpenters and hard-working laborers that allow it to self-perform the majority of the work on its projects. The firm's 11 years of experience have also helped it build an extensive list of pre-qualified subcontractors to perform work like plumbing, electrical, HVAC, and roofing.
The firm's founder, Brant Hill, worked for a large commercial general contractor as a project manager for 6 years and was involved with building over $100,000,000 in construction projects. During his time spent as a project manager, he learned the skills to estimate complex projects, develop and manage a schedule, navigate City and County red tape, and deliver quality products. 
Each project is overseen by Brant and a curated team of Project Managers and Office Personnel. The Modern Farmhouse, a ground-up build that includes all the site work and dock, is only one of many of its projects that the firm has planned, budgeted, and scheduled to a tee before a shovel even hit the ground. 
---
Salamandra Associates
39 Aquinas Drive, San Rafael, CA 94901
When Salamandra Associates was founded in 1988, the company's initial focus began with commercial projects for United Airlines, Cambridge Sound Works, and other East Bay companies. During the past 20 years, the business has been concentrated on general contracting and new home residential construction and development in Marin, with an emphasis on waterfront development. Its services begin before construction and continue after completion to ensure that each client's experience is positive and seamless, starting with early budgeting and estimating, neighborhood and site assessment, preliminary construction schedule, and permitting assistance. The process itself involves frequent client meetings, subcontractor bidding and selection, communication and record-keeping, and assistance with material selection and budget control. 
Steve Salamandra, the firm's principal, has an extensive background in business and finance, as well as construction management and real estate. The firm's contemporary and traditional homes are finely crafted, durable, and architecturally notable. A testament to the firm's quality workmanship is this Westshore Residence — a waterfront home with a dock on the Richardson Bay. Bifold exterior doors envelop a deck situated over Richardson Bay with panoramic views of Sausalito and the golden gate bridge. A new boat dock and hoist allow full access to life along the bay.
---
Fontana Construction, Inc.
1945 E Francisco Blvd – Suite N, San Rafael CA 94901
Fontana Construction, Inc. builds luxury homes of exceptional value specializing in custom home development, remodeling, renovations, and general construction. Based in central San Rafael, the BBB-certified firm has over 30 years of building and transforming homes, from the Peninsula to Sonoma County, holding membership with the Marin Builders Association.
Michael and Bonnie Fontana established Fontana Construction Inc. and have built it to become one of the most respected construction companies in Marin County that it is today. Prior to founding Fontana Construction, Mike worked as a carpenter, field foreman, and estimator for a local construction company, while Bonnie worked as a senior partner in a business service company in Marin. Grounded in construction-based engineering and business management, Stevan Fontana has worked in senior-level positions at Fontana since 2003 and is now its current President. Their shared respect and care for the client inspired Fontana's customer-focused approach committed to professionalism and integrity. The firm applies these principles in all its projects, including the Sonoma Residence.
Originally a cabin built in the 1930s this home was transformed into a beautiful home with wrap-around porches, a gourmet kitchen, and modern bathrooms. The twenty-foot high ceilings of the great room are at the heart of the home and connect the home's main living area, and the kitchen and family area. 
---
Floyd Construction Inc.
714 C Street #207, San Rafael, CA 94901
With over 42 years in business, Floyd Construction has since evolved to medium size providing a range of building services from small remodels and repairs to high-end new homes throughout Marin and the greater Bay Area. In addition to residential construction, the construction firm has completed many commercial and landscaping projects. It has built solid trust among its customers as a member of the Marin Builders Association, with approximately two-thirds of the business being attributed to repeat clients, and the other third from client referrals.
Floyd Construction was founded by Joe Floyd in 1978. Floyd worked for a Soils Engineering firm in Santa Barbara for 15 months, putting himself through college by working in construction. Right after college, he received a state contractor's license. During his time at the Soils Engineering firm, Joe realized he missed construction, and decided to focus on construction, knowing that his engineering background would be helpful. Despite economic setbacks in 1979, Floyd has managed to build a very successful construction company.
Joe's years of expertise, along with his team of professional builders and subcontractors, have produced built dynamic homes including the Transitional Residence in Tiburon, which features an open floor plan with medium tone wooden flooring, a stone fireplace,  and beige and white walls.
---
Hadley Construction
85 Beach Rd Belvedere, CA 94920
Hadley Construction has built over 300 remodels and custom homes over the last 70 years, fine-tuning its process along the way to produce the highest-quality work possible. Today, the Hadley team consists of roughly 50 employees, consisting of experienced estimators, project managers, foremen, highly skilled carpenters, laborers, and accounting staff. Over the decades, the firm has built strong relationships with highly qualified and loyal subcontractors and suppliers that understand and adhere to the Hadley Standard of Excellence.
Throughout the 1970s and 1980s, Bob Hadley and his son, Larry began to build a reputation for being the best custom home contractors in the area. Beginning his senior year of high school, Larry began working for the company and began to work his way up from laborer to foreman just as his father did. Eventually, Bob retired and Larry took over the responsibility of quality home building and continued to cement its reputation as the premier custom home contractor in Marin by completing many complex, multi-million dollar projects. Larry was honored as Tiburon's Chamber of Commerce Citizen of the year for his involvement with the community, and in 2019 Hadley Construction was named Business of the Month by Tiburon's Chamber of Commerce. To date, the company has completed thousands of projects, with the Belvedere Modern Craftsman Home as one of its most notable works.
---
Jamba Construction
1550 Tiburon Blvd, Belvedere Tiburon, CA 94920
Inspired by fine craft, service, and expertise, founder Mark Swanson has brought together a diverse team of highly skilled individuals to form Jamba Construction. Since 2009, the general building and engineering contractor has respected great architectural design, provided community support, and has been fully committed to responsible business practices in executing its commercial, custom residential, and heavy infrastructure projects. Jamba Construction also has the specialized equipment, expertise, and resources required for all types of foundation drilling and concrete pumping projects, including those with difficult access and complex soil conditions. Mark Swanson carries extensive experience in the field of construction project management, alternative dispute resolution, and expert witness work. Jamba Construction's team also specializes in glass railings, glass stair systems, and other types of fixed glazing systems.
Its modern and contemporary style homes have hit the pages of several major media publications such as the San Francisco Chronicle, Marin Independent Journal, Marin Magazine, and California Home & Design. Apart from this, the firm has been awarded the Builders Choice Award by Builder Magazine for its complete renovation and new construction of a mid-century modern home in Tiburon, California, which graced the cover of Trends Magazine as well. The home is located atop a hill with a full view of the bay and Golden Gate Bridge, emphasized by its floor-to-ceiling glass windows. Learn about their new foundation drilling company at jambadrilling.com
---
G Family Inc.
615 B St. Unit 1B, San Rafael, CA 94901
G Family Inc. is a full-service design and build firm specializing in all types of residential and light commercial "foundation-through-finish" projects in Northern California. The firm consists of four companies working together to provide design, construction, landscape, and electric services. The BBB-accredited firm undertakes everything from complete custom new builds and remodels to minor repairs with integrity and superior craftsmanship. It aims to anticipate and understand its client's needs and deliver a project that will surpass their expectations by teaming the newest technology of both materials and tools in the industry, with the most basic philosophy of hard work. 
G Family Construction/Grabham Family Construction was founded over 30 years ago by James Grabham. After he passed away, his sons, David and Jon Grabham, spent the following years working for high-end construction companies, refining their carpentry skills, and gaining the experience to run the family business. In 2001, David and Jon created G Family, Inc., ready to demonstrate the knowledge and ability that they had mastered in their many years in the field. Jon and David oversee each project from start to finish, enabling them to find ways to make projects more cost-effective, and assure quality and safety control as can be observed by its roster of modern farmhouse and craftsman homes that include this modern farmhouse home in Larkspur. 
---
TMK Builders, Inc.
P.O. Box 790, Penngrove, California 94951
TMK Builders, Inc. specializes in custom remodels and outdoor living spaces in San Francisco and Marin Counties. It also designs and builds custom cabinets, woodwork, decks, and siding. The BBB-accredited company excels at all phases from design to planning and permitting. The firm makes design, architectural drawings, sketches, and prototyping available as well. With each project, it provides full project management and a single point of contact. 
Since age 19, Tom Kline has been involved in all aspects of construction. He worked in the construction industry for the past 15 years, starting at the bottom as a laborer, and worked his way up to starting TMK Builders, Inc. in 2010. He brings an eye for detail and a commitment to excellence to every project. Tom also believes exceptional quality and workmanship, integrity, and honesty to be the backbone of TMK Builders, Inc. Over the years, Tom's keen attention to project specifics and exceptional artisanship have allowed him to serve the needs of discerning clients in Marin and San Francisco Counties. 
The company has been recognized by the Marin Builders Association for its contemporary, modern, and traditional homes such as the Kent Woodlands Classic Home. It features a Wynne Taylor Ford-designed home and kitchen, and custom-designed and crafted bookshelves, and a fireplace mantel.
---
Sausalito Construction, Inc.
75 Pelican Way, San Rafael, CA, 94901
Sausalito Construction, Inc. has been a home builder and remodeler with projects throughout the Bay Area and Southern Marin County since 2001. It specializes in luxurious unique homes and high-end commercial projects, with a yearly average of $10,000,000 in construction projects. The company has approximately 45 full-time employees with offices and warehouse facilities in San Rafael. Sausalito Construction has much of its own equipment, including skid steer loaders, dump trucks, excavators, and scaffolding, to help produce more cost-effective projects. The company is fully bonded and carries $7,000,000 in general liability insurance and workers' compensation insurance.  It also guarantees the owners insurance on the general liability policy.
Sausalito Construction is managed by two partners, Gale Greisen and Don Scheiner. The two have been working together for 20 years, Greisen with over 40 years and Scheiner with over 35 years of experience. Gale has been a contractor in the remodeling industry for over 40 years, having obtained his contractor's license in 1978. The pair has led the company in building a portfolio of traditional, coastal, and modern homes that includes the Tiburon Coastal Home that has a connecting bridge and an expansive view of the bay. It is distinguished by its play in levels, following the rolling landscape of the site.
---
Burns Builders
PO Box 150788, San Rafael, CA 94915
Burns Builders specializes in high-end residential construction and home remodeling. The firm serves San Francisco and Marin County, and has built its reputation on providing custom, quality work with attention to detail. The firm takes a great deal of pride in its craft. The residential remodeling services encompass kitchen and bathroom remodeling, from custom builds from the ground up to home remodeling, consulting and everything in between. The company operates on the belief that home remodeling is a personal and collective process between client, architect and contractor. Ongoing communication and transparency beginning with pre-construction all the way through to project completion allow the firm to create an enjoyable construction experience. As a member of the Marin Builders Exchange, it works hard to exceed its clients' expectations and applies a four-phased approach to its projects: insight, planning, execution, and maintenance.
Jonathan Burns, the firm's owner, has led the company throughout the years in solidifying meaningful working relationships with prominent professionals in the fields of architecture, interior design, and engineering as well as with multiple sub-contractors across all trades, which allows it to obtain competitive pricing and carry out up-to-date building practices on its projects such as this modern contemporary home. The bungalow house uses wooden textures to compliment the home's neutral color palette with pops of blue.
---
O'Neill Construction
19 Leona Dr, San Rafael, CA 94903, United States
O'Neill Construction is a full-service construction company that offers residential remodeling and new construction services. Its team of in-house architects, designers, engineers, carpenters, electricians, plumbers, crane operators, landscape architects, and painters ensures that all work gets done in accordance with the highest of standards. O'Neill Construction adheres to the time-honored tradition of craftsmanship whereby one serves as an apprentice first, in time becomes a journeyman, and then demonstrates the body of knowledge and work to be recognized as a master. Through this process, its crews develop not only skills but a passion for building.
The principal, Patrick O'Neill, earned his expertise in Victorian and Edwardian architecture as an apprentice in London's West End, the birthplace of Victorian architecture. When he moved to San Francisco, he brought that knowledge to bear while remodeling many of the city's historic homes. His expertise inspired the firm's specialty of recreating the historical facade and details of a home while reconfiguring the space to suit contemporary needs. The project management and construction skills to accomplish those ends have also enabled O'Neill Construction to successfully build all kinds of architecture to specification, including a variety of unique and challenging projects such as the Tiburon Cottage. For this project, the firm's team took a 1970s home and converted it into a cottage in the style of the English Cotswolds.