A beautiful bathroom remodel project can be a work of art. From the smallest details to the large soaking tub, the right choices can make even the tiniest bathroom feel like a retreat. It is, after all, one of the few rooms in the house where we can lock the door behind us and get away. Some bathrooms, however, go that extra mile to being personal sanctuaries, and in a city like Seattle, which loves all things technologically advanced, the perfect bathroom takes on new meaning.
From digital temperature controls you can set on your smartphone, smart shower heads with light features and sound systems, to self-cleaning toilets and mirrors that double as TVs, there are a whole new set of ways the simple act of getting ready in the morning can become a luxurious experience. And tech-savvy Seattle knows just how. Our list of Seattle's fifteen best bathroom remodeling contractors are experts ranked for their many years of service in Seattle, their professional recognitions, and their ability to turn these seemingly forgotten rooms into beautiful, brainy retreats that can take the "restroom" experience to whole new heights.
If you are thinking about remodeling your bathroom, we recommend checking each builder's license with the local licensing board, speaking to past clients, and using our bidding system to get competitive quotes from at least 3 contractors. Getting multiple bids is the best way to ensure you get a fair price and that bids include the complete scope of work.
---
15) Built Square
4601 Shilshole Avenue NW #5, Seattle, WA 98107
Built Square is a general contracting firm serving the Seattle metro area, including Bellevue, Laurelhurst, Mercer Island, and Bainbridge Island. The Discovery Channel's Head Rush: Cool Jobs In Science profiled Built Square cofounder Divven Browne on green construction. Browne was born and raised in Ballard. He received a business degree from the University of Washington and a certificate from the UW Entrepreneurship and Innovation Program. He founded the company along with his friend Nathan Werner, a native of the Pacific Northwest who grew up on the Olympic Peninsula and graduated from the Forestry Engineering Department at the University of Washington. Together, the duo makes sure every home improvement project they enter is a win-win, and they perform the highest quality work using environmentally friendly building methods and practices. Built Square is where they "believe in teamwork, honest communication, and leaving each place better than [they] found it." But most of all, they believe in home.
One of their master bathroom designs came together perfectly as they converted an awkward closet and office space into a gorgeous master retreat. They were able to knock down unnecessary walls and create a stunning space with vaulted ceilings, dark wood beam accents, well-placed storage niches, and a large frameless glass shower, giving the room an open and comfortable feel.

---
14
)
Kirk Remodel and Design
215 NW 41st Street, Seattle, WA 98107
Kirk Remodel and Design is a family-owned bathroom remodeling contractor founded by Kirk Jolley over 32 years ago. Jolley opened the company in the same Fremont neighborhood of Seattle where he still lives today. He studied design at Cornish College of the Arts; art at the University of Washington; and construction management, real estate, appraisal, and commercial investing at North Seattle Community College.
Jolley brings years of experience and expertise to his firm as a hands-on contractor who loves to work directly with his clients. He also loves being surrounded by his family, not only for special occasions, but also professionally. He employs his son for fine carpentry, his daughter — a university-trained expert in kitchen and bath design, and his nephew for framing and handyman work. Together with his team, and other contractors and craftsmen, he has been successfully remodeling Seattle for over three decades.
---
13) Divine Bath
6734 Beach Drive SW, Seattle, WA 98136
Divine Bath sees bathrooms with an artistic eye: "Just because a bathroom is small, doesn't mean it can't also be beautiful." They've converted bathrooms of all sizes into gorgeous sanctuaries. They have two locations serving both Seattle, Washington, and Portland, Oregon. Divine Bath builds bathrooms that are attractive, functional, and built with the highest quality materials that homeowners will be able to enjoy for many years to come.
In one of their tiny master bathroom designs, they converted an outdated space into a luxurious retreat, adding modern design elements to help the room feel more spacious and open. They included a beautiful marble shower with a woven black and white patterned floor accent, and a shaker-style dark vanity with a contrasting light countertop. The space also benefits from its beautiful grey wood-patterned flooring that was installed to intentionally direct the eye across the room and elongate the space.
---
12) RW Anderson Homes
5033 17th Avenue NE, Seattle, WA 98105
RW Anderson Homes has been building custom homes and doing luxury home renovation projects in the Seattle area for nearly two decades. Led by the company owner, Ryan Anderson, they have gained their clients' and fellow home builders' praise for their outstanding work. Anderson believes that great design is balanced by functionality and aesthetics, which is not an easy task. But when the whole team has a passion for it, the end result always benefits.
Their "Bellevue Bathroom Chic" is a Pinterest-perfect bathroom design, complete with a large white tub against a wall of brilliant, charcoal grey glass subway tile. The glossy tile shines under the light from every angle and works perfectly with the floating vanity with built-in, under-cabinet lighting and a Carrera marble top. These elements come together precisely right to give the space an elegant and eye-catching design.
---
11) Community Builders
7210 123rd Avenue SE, Newcastle, WA 98056
Led by the husband-and-wife team David and Valerie Minor, Community Builders has been performing bathroom renovations across the greater Seattle area, including Bellevue, Bothell, Seattle, West Seattle, Renton, and Queen Anne. Whether you are looking for a relaxing master bathroom, a simple and sophisticated guest bath, a children's bath, or a small powder room, they have the answers you need to turn your outdated space into an exciting place to get ready for the day.
One of their bathroom designs has it all. It includes 12 shower heads, massage jets, a rain head, heated floors, and a jetted soaker tub. It is so relaxing you'd never want to leave. In another remodel with a mid-century modern aesthetic, they used blue subway tile along the vanity, heated floors, frameless glass shower doors, and a muted grey ceramic tile shower. Together the design elements feel understated but beautiful.

---
10) J&M Remodel
4701 SW Admiral Way, Suite 215, Seattle, WA 98116
Under the leadership of Justin Schuder, owner and operator, the firm was founded in 2008 and has continued growing over the years. The Better Business Bureau A+-rated firm has come to be known as a company you can rely on for all of your bathroom remodeling ideas. They are Leadership in Energy and Environmental Design (LEED) Certified and a member of the Master Builders Association. J&M Remodel was featured on Animal Planet's popular TV show Doggie Cribs, where they converted a laundry room into a fully operational doggie spa for a well deserving celebrity dog.
For another remodel project, they removed a partition wall and an adjacent closet to add much-needed square footage to a bathroom design. The result is a spacious and unique space with a marble tile shower and chameleon tile heat registers. The firm also included a glass tile accent strip in the shower that serves as the perfect creative match with its marble pattern. To finish off the look, they incorporated double rain shower heads that give the space a feel of luxury and relaxation.
---
9) Creative Kitchens & Baths Seattle
10745 Phinney Avenue N, Seattle, WA 98133
Creative Kitchens & Baths Seattle is a full-service remodeling firm serving Seattle, Washington, and the surrounding areas of Bellevue, Mercer Island and Newcastle. The company was founded by Beau Pictor in 2006, although his roots in the business began 18 years ago in Las Vegas, Nevada, before he moved to Seattle in 2004. They offer full home design services with project managers available for questions, and 3D images to help clients visualize their space and sign off on bathroom ideas with confidence. Rated A+ with the Better Business Bureau, they were recipients of the 2015 Seattle Design Award for the Best Bath Design presented by DList.
Pictor heads the company with a passion for the arts and a strong creative background. In recent years the company has grown with a reputation for innovative designs coupled with excellent service. Their many bathroom designs shine with perfection, but one stands out for being a truly spectacular work. The beautiful boathouse bathroom has the look and feel of a luxury space, with sparkling sea blue tile walls, marble floors, and a large all-glass shower. The boathouse theme is evident in the curved windows that fill the space with light.

---
8) CRD Design Build
3929 Stone Way N, Seattle, WA 98103
Denny Conner, founder and owner of CRD Design Build, has been remodeling homes in the Seattle area since 1980. In-floor radiant heat, "wet" bathrooms, curbless showers, custom vanity cabinet and countertop designs, and soaking tubs are just some of the bathroom amenities that CRD Design Build offers. Conner has years of knowledge and much to say regarding these amenities and the dos and don'ts of remodeling a bathroom. He was featured in the Seattle Times with a Q&A on the steps to a great remodel while keeping the home investment and bathroom remodeling costs down. The company was also featured in The Money Hour with Tina Mitchell, the Master Builders Association of King and Snohomish Counties, Professional Remodeler, and Seattle Greenlaker.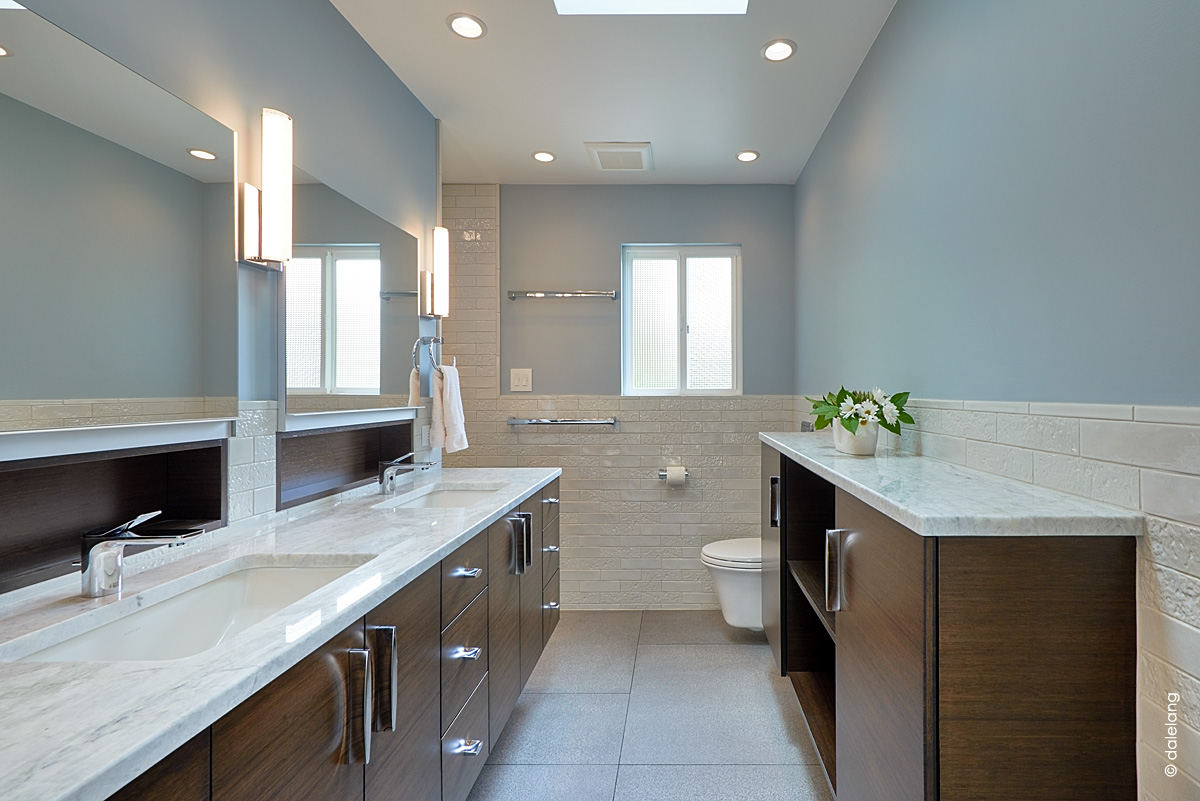 This major bathroom remodel was part of an extensive renovation and addition. A gorgeous new curb-less shower now stretches out into what was once the entire footprint of the old bathroom. The bathroom gleams with a particularly high level of fit and finish. Every surface was carefully chosen to give a feeling of luxury while remaining functional and practical for everyday use. White crackle tile from Walker Zanger adds subtle texture to the space and sets the stage for the Lunada Bay tiled shower walls, set in an undulating pattern. Recessed shower niches feature soft LED lighting. A wall-mounted Toto toilet helps show off the large-format 36" x 36" Royal Mosa floor tile. "Princess white" marble countertops are a lovely contrast to the custom recessed and grain-matched cabinets in ribbon stripe sapele. Slide-up Robern vanities hide well-organized storage, lighting, and power outlets behind their sleek surfaces.
---
7) Vertical Construction Group
922 NW Leary Way, Seattle, WA 98107
In Park City, Utah, Vertical Construction Group owner Stephen Creer began his career as a carpenter building timber lodge-style homes. After many moves and time in the Navy, he created the VCG Team in 2009, aiming to build a General Contracting company that delivers the highest quality products for clients who become partners in the game. The A+-rated Better Business Bureau members are also members of the National Kitchen and Bath Association (NKBA), and they consistently deliver high-quality craftsmanship and beautiful home remodels.
Vertical Construction Group is responsible for an NKBA award-winning master bathroom with a black and white color scheme that transcends time and space so well it could have existed in a French chateau. It creatively uses every inch of space, including a secret storage area to hide toilet paper. Chrome accents add the wow factor to this already spectacular bathroom that boasts a soaking tub, where the lucky owners are sure to love relaxing.
---
6) Tenhulzen Residential, LLC
13208 NE 20th Street, Suite 300, Bellevue, WA 98005
Tenhulzen Residential creates beautiful bathrooms with state-of-the-art designs, intricate quartz and granite countertops, and beautifully crafted one-of-a-kind cabinetry. They are a fully insured, certified, and licensed general contractor serving the Bellevue and the greater eastside. They guarantee their clients' complete satisfaction with an estimate and back the quality and craftsmanship of their work.
Tenhulzen Residential has received four Chrysalis Awards, one of the most prominent in the industry, since 2010. Professional Remodeler Magazine interviewed owner, Michael Tenhulzen, about one of the firm's award-winning projects in 2013.
In one of their beautiful bathroom remodel projects, they used a dark brown vanity with matching brown tile that wraps around the spacious tub. Above the vanity they hung a brown-framed mirror that adds a classic elegance to the otherwise modern space. The creatively designed bathroom also includes a glass-enclosed shower, a simple and sophisticated light fixture and an accent strip that adds hints of color and playfulness to the modern bathroom design.

---
5) Potter Construction
5606 California Avenue SW, Seattle, WA 98136
Potter Construction is one of Seattle's award-winning bathroom remodeling contractors, led by owner Gary Potter, who began the company in 1979 after serving in the Marine Corps. The company received the 2014 Chrysalis Award for Best Kitchen Remodel, Best Bathroom Remodel in 2015, and Best Whole House Remodel in 2016. They are also recipients of the Rex Award for Bathroom Excellence and Major Remodel Excellence in 2014, as well as Whole House Remodel in 2015, Whole Home Remodel in 2016, and Kitchen and Partial Home Remodel in 2017. They have ranked first place in the NKBA (National Kitchen and Bath Association) Design Competition Small-Medium Kitchens, as well as being the Professional Remodeler Market Leader in the 2010, 2011, 2012, and 2013. Potter Construction was also named one of the Big 50—Top 50 Remodelers in the US by Remodeling Magazine.
Potter Construction revamped an outdated bathroom for a family who wanted an updated bathroom that stayed true to the style of the house, but also wanted some clean, streamlined fixtures. Relocating the toilet from an adjacent hallway closet and turning it into a true water closet helped improve the layout, and provided some privacy when sharing the only bathroom on that floor. Setting and renovating the existing large mirrored cabinet allowed for additional storage space, double vanities, an expanded shower and a large soaking tub. Details such as heavy molding and millwork help tie it all together. The remodel received the 2015 Chrysalis Bathroom Award.

---
4) Ambrose Construction
1423 S Hinds Street, Seattle, WA 98144-6619
Ambrose Construction, led by President Brad Wageman, is a license general contractor in the Seattle metro area. The company has been creating beautiful homes and bathrooms and successfully completing home renovation projects since its founding in 2007. They have a Better Business Bureau A+ rating, and they work very hard to make sure no detail goes unnoticed. The bathroom remodel contractors also use modern building and design techniques to perfect their designs. Their beautiful bathroom remodel projects stand out for their simplicity, grace, and elegance. They have been featured in PNW Magazine, Seattle Magazine, and Dezeen.
A project called "Leschi Master Suite" used warm wood accents throughout the design to make the space feel modern and stylish. They incorporated wood doors, a wood bench, bare white walls, and massive skylights flooding the master bath with light. They also introduced a unique ultra-modern tile in a dotted grey pattern, a sleek stainless steel faucet, a stylish floating vanity, and floor-to-ceiling mirrored walls. The effect is a dramatic and clean home haven.
---
3) Neil Kelly Corporation
5959 Corson Avenue S, Suite B, Seattle, WA 98108
Thousands of happy clients and 70 years later, Neil Kelly Corporation is still a force to be reckoned with in the Seattle home renovation industry. Owned by Tom Kelly, they are a nationally recognized firm known for "award winning designs, unparalleled craftsmanship and uncommon service." They have a keen eye for creative design, color, contrast, and functionality. The company was awarded the National Kitchen and Bath Association's top award for Universal Design in 2017, and they received regional awards in five categories in NARI's 2016 Contractor Of the Year Design Competition. Several Neil Kelly projects were featured in the Fall 2016 issue of Cascade Magazine in an article titled, "Makeovers Made Easy," among many other accolades and awards.
Neil Kelly Corporation designed a delicate and tasteful, soft beige bathroom with two black vanities and a tub situated in the corner under two large windows. They included simple and elegant bathroom fixtures, and a mosaic accent on the floor that is surrounded by a sea of marble. In another exquisite design, they used a mustard yellow painted vanity with a black countertop and an undermount ornate sink with a detailed, leafy design. The classic beauty of the sink is complemented by an equally exquisite mirror with an antique-like round frame.
---
2) Model Remodel
1111 W Nickerson Street, Seattle, WA 98119
Model Remodel is a Seattle-based general contracting firm with an eye for perfect designs. For their outstanding work, they have been awarded the 2017 Building Industry Association of Washington Honorable Mention for a bath $40,000 $75,000; the 2016 Built Green Hammer Award – Judges Choice – for their Columbia City Backyard Cottage; the 2016 Rex Award for a Major Remodel Excellence in a Kitchen of $50,000 to $90,000 for their Adorable Green Lake Adu; and the 2016 Green Building Slam Award.
One of their exquisite bathrooms, the Bitter Lake Bungalow Master Suite, which was the home's former attic, was remodeled to perfection. The result is a beautiful minimalist design the reminds us that less is more. A stylish wood vanity is paired perfectly with a white countertop and a soft grey backsplash. There are two round mirrors hanging side by side adding symmetry to the space. Between the mirrors hang two tasteful light pendants made of clear glass and stainless steel.

---
1) Ventana Construction
5958 California Avenue SW, Seattle, WA 98136
Ventana is an award-winning general contractor that has served the Seattle area for the past 14 years. They won the Remodeling Magazine's Big 50 for 2015; and were named Westside Business of the Year in 2013, were REX Award winners for 2009, 2010, 2012, and 2013; and took home the 2012 Professional Remodeler Design Award. In 2010 they won the Chrysalis Award and were voted a Top 500 Remodeler in 2009. They are also a Certified Graduate Remodeler and a Certified Aging-in-Place specialist. The Seattle Times, the West Seattle Herald, and Seattle Homes and Lifestyles, among other publications, have featured the company for their outstanding work.
Among their bathroom remodels is one that especially stands out. The custom tile bathroom is full of bright colors, with dotted walls of green and yellow that give the space a fun and whimsical quality. The playful nature of the design and the bright accent colors complement the dark cabinetry in this upbeat bathroom remodel.
---
How can I find a home builder near me?
Read our latest articles on the best custom home builders near Seattle. If you don't see your city below, just let us know – we are happy to create a tailored recommendation list just for you.
The Best Custom Home Builders in Seattle
The Best Kitchen Remodeling Contractors in Seattle
---
About Our Rankings
This list takes a range of ranking criteria into consideration, including but not limited to: work history, customer satisfaction, awards and recognition, geographic area of work, cost, building permits, and clientele. We spent over 40 hours researching local contractors before calculating the final ranking for this post. If there is additional information about your business that could affect these rankings, please fill out this form and we will take it into consideration.
---
Get Bids For Your Build
If you are thinking about remodeling your bathroom, we recommend checking each builder's license with the local licensing board, speaking to past clients, and using our bidding system to get competitive quotes from at least 3 contractors. Getting multiple bids is the best way to ensure you get a fair price and that bids include the complete scope of work.