Huntington Beach is known throughout the U.S. for its perfect ocean waves, waves that earned it its reputation as "Surf City USA." While tourists flock to the area for the surf beaches, residents stay for the prime real estate and the year-round Mediterranean weather. From modern California craftsman to contemporary coastal homes, Huntington Beach is filled with some of the state's most valuable and gorgeous properties. 
Building a home in Surf City is exciting, but also comes with challenges. Finding the right custom home builder for your project is key to a seamless, worry-free building experience. To help you decide who to hire, our team gathered eleven of the best custom home builders in Huntington Beach. These firms were evaluated based on their work history in the city, their presence in the media, and the overall quality of their portfolio.
If you are thinking about building a custom home, we recommend checking each builder's license with the local licensing board, speaking to past clients, and using our bidding system to get competitive quotes from at least 3 contractors. Getting multiple bids is the best way to ensure you get a fair price and that bids include the complete scope of work.
---
SOCO Builders
3111 W Central Ave., Santa Ana, CA 92704
SOCO Builders is an up-and-coming boutique custom home builder. Founded in 2013 by Rodney Lee Robbins and Kyle Robbins, the firm is capable of building homes in any style. It often partners with AMK Studio, an architecture practice in California. Together, the two firms have built and remodeled for many clients in Southern California. 
Among the company's best work is this minimalist home in an upscale neighborhood in Huntington Beach. The home's exterior is unassuming and sleek, with unpolished concrete finishes and black trim accents. Inside, SOCO Builders used a mix of wood, concrete, and gray tile finishes to achieve a contemporary aesthetic. The residence features a modern fireplace, bespoke cabinetry, and a rooftop lounge with views of the city.
---
Drake Construction
7422 Mountjoy Dr., Huntington Beach, CA, 92648
Founded in 2004, Drake Construction is a commercial and general contracting firm that serves clients in Corona Del Mar, Newport Beach, and Huntington Beach. Its business is anchored in high-end residential projects in these areas, but it has also expanded to offer commercial tenant improvements and buildouts. 
The company's residential portfolio showcases its expertise in building custom California craftsman homes and bungalows. In Huntington Beach, the firm built a bungalow that is reminiscent of the arts and crafts style. The home is simple and follows an open floorplan to provide more space for the homeowners. Drake Construction created a modern farmhouse feel in the interiors by installing glass-paneled cabinets, white and gray backsplash tiles, and industrial-style pendant lights in the common spaces. 
---
California Custom Creations
20031 Colgate Cir., Huntington Beach, CA 92646
Eddie Stokes founded California Custom Creations in 1998 to exercise his passion for designing and building custom and estate homes in California. As the company's CEO, he directs the company with the belief that a good home blends the homeowner's personality with style and quality. This client-centric approach has earned the company the respect and trust of its clients, who frequently leave stellar reviews for the company online. 
Among its best work in Huntington Beach is a modern craftsman home with plenty of space for outdoor living. The home's cool blue siding complements the white balcony, doors, and windows. California Custom Creations also added stone wall accents to add character to the exterior. The home features a custom basketball court and an outdoor lounge area with a fire pit as well. 
---
Nico Designs
2312 Park Ave. Suite #122, Tustin, CA 92782
Nico Designs has nearly two decades of experience in building custom homes in Los Angeles and Orange County. It has built homes that span between 2,000 to 20,000 square feet. Its portfolio is rich in classic French and Tuscan style homes, but it also builds modern and contemporary homes. The firm has also begun exploring the construction of net zero and passive homes, which is perfect for clients who are looking toward sustainable living.
The highlighted home combines textured wall finishes, weathered wood, and stone finishes to successfully replicate the elegant Tuscan style. Nico Designs also installed wrought-iron light fixtures, arched doorways, and marble fireplaces to bring the theme indoors. Glass-paneled French doors open to an outdoor patio and backyard, while a balcony on the second floor offers an unobstructed view of the city.
---
James David Custom Builders
15375 Barranca Pkwy. Suite G-102, Irvine, CA 92618
Based in Irvine, James David Custom Homes is a general contracting firm that specializes in building high-end homes in the upscale neighborhoods of Orange County. Its founder, James David Lepak, founded the firm after years of custom home building experience, which he began accumulating in his early teens. Today, his firm is regarded as one of the best, and he maintains strong relationships with home construction experts and the design community. 
The firm is known for its construction of contemporary and traditionally styled homes, constructed with opulent materials including marble and wrought iron. The featured craftsman home is no exception since it features high-end designer details: classic chandeliers, marble countertops, and elegant woodwork in white. 
---
Graystone Custom Builders
3419 Via Lido Suite #455, Newport Beach, CA 92663
Led by design-build duo Michael and Betty Terry, Graystone Custom Builders is among Southern California's best builders of homes for the beach lifestyle. The firm is also known for its emphasis on timeless design and its use of reclaimed wood for its signature cabinetry. The firm collaborates with Californian interior designers to create bright, airy living environments, with some making it to the pages of Better Homes & Gardens and Newport Beach Magazine.
Graystone Custom Builders' portfolio shows its penchant for building craftsman, farmhouse, and beach cottage inspired homes. The Snug Harbor property reflects this perfectly. The firm implemented an open floor plan in much of the home, with the living areas, dining space, and kitchen flowing seamlessly together. The home also features white shaker cabinets, modern LED lighting, and wide French doors that open to the pool area.
---
Roeland Construction
315 3rd St. B, Huntington Beach, CA 92648
Roeland Construction is a general contractor that specializes in custom residential and commercial construction in the coastal regions of Orange County. Founded in Huntington Beach by Bruce Roeland, the firm has become one of the area's experts in coastal home construction. The firm has won SoCal Awards from the Building Industry Association of Southern California and has also been featured in Luxe Interiors + Design. 
The featured beach-front home showcases Roeland Construction's expert understanding of coastal home design. The house unites indoor and outdoor living spaces with grand windows and bi-folding doors. It is dominated by warm brown tones and stone, complemented by the neutral cream and black hues. Roeland Construction avoided the predictable whites and seashell motifs, opting for beautiful terrazzo tiles and wooden panel ceilings instead. 
---
Rellion Homes
16560 Harbor Blvd. Suite I, Fountain Valley, CA 92708
Founded in 2008 by Lin He, Rellion Homes is a premier design-build contractor, developer, and real estate investor in Southern California. The firm offers complete services to aspiring homeowners—from architectural design to new home construction. Under Lin's leadership, the firm's work has appeared on CNN and in The Los Angeles Times, The Orange County Register, and Think Realty. 
Rellion Homes' work is defined by its expertise in various design styles. With a team of architects and interior designers onboard, the firm is able to build coastal chic, farmhouse style, modern craftsman, and soft contemporary homes in Orange County. It works closely with clients to achieve their desired aesthetic according to an agreed-upon budget and schedule. 
---
La Placa Construction
2120 Main St. Suite #230, Huntington Beach, CA 92648
Gaetano La Placa founded La Placa Construction in 1984 with just a paintbrush and hammer. He mastered all the necessary building skills by accepting small jobs and later managed to secure ground-up construction projects for new homes in Los Angeles, Orange County, and San Diego County. Three decades later, the firm is among the best custom home builders in its service areas. La Placa's work has appeared in California Home Magazine, Daily Breeze, and Patch.com.
The featured custom craftsman style home is a great representation of the company's quality of work. Completed in 2018, the home is faithful to the craftsman theme without sacrificing its modern look. While its exterior sticks to the simple natural materials commonly seen in craftsman homes, its interior exudes luxury with contemporary finishes: wall paneling with round mirror accents, modern chandeliers, and a combination of white tiles and hardwood flooring. It also features wine storage, a theater,  and a swimming pool.
---
Gonterman Construction
2043 Westcliff Dr. Suite #213, Newport Beach, CA 92660
Jason Gonterman founded Gonterman Construction in 1996 to cater to residential clients in the coastal areas of Orange County and Los Angeles. Since then, his firm has built a strong reputation for its luxury home construction, having built in the high-end neighborhoods of its service areas. Its project history highlights its ability to build in a variety of home styles, from vintage farmhouse style to contemporary beach style homes. Its best work has appeared in the glossy pages of Modern Luxury and Kitchen Remodeling Magazine. 
The firm is behind the construction of a beach style home in the upscale Seacliff on the Greens neighborhood of Huntington Beach. It features a transitional kitchen with luxe finishes, including sleek backsplash tiles, white shaker cabinetry, and glass pendant lights. The theme continues in the grand room, where the homeowners can rest by the marble-clad fireplace with herringbone accents. 
---
Built Custom Homes
7950 Yorktown Ave., Huntington Beach, CA 92648
Built Custom Home was founded by Jasmine Roth, a multi-hyphenate construction professional who also hosts her own HGTV show, "Hidden Potential." Her style is very evident in the firm's portfolio, which showcases modern takes on craftsman-style homes, casitas, and beach cottages. Her reputation in the industry has helped the company earn the chance to work on the restoration of the iconic Brady Bunch House for HGTV in 2018. Its design-build work has also appeared in publications like House Beautiful, Coast Magazine, and The Los Angeles Times.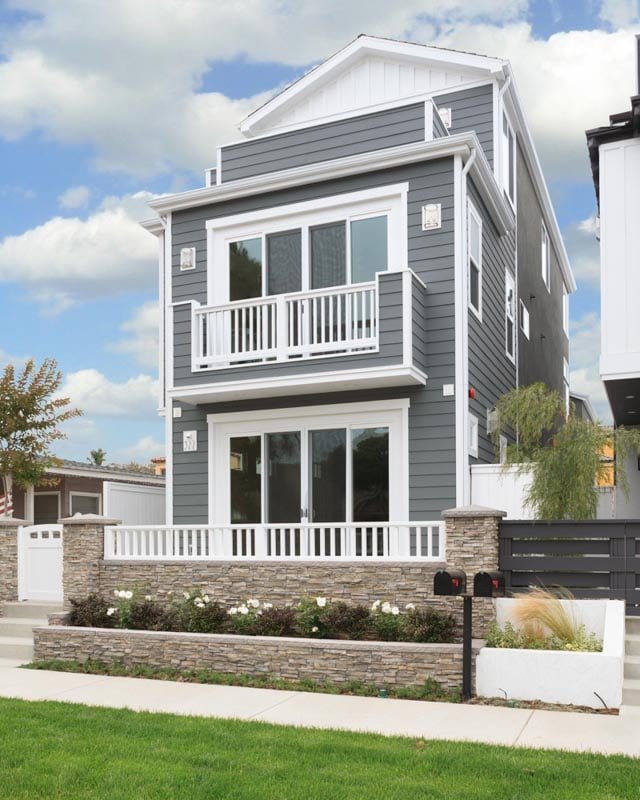 Among Built Custom Home's best work is this three-level California craftsman home in Huntington Beach. The house stands out in the neighborhood for its contemporary look—gray sidings, white trims, and glass sliding doors. The stone fence and white gate adds to the property's curb appeal, and its interior is equally contemporary-looking, with shaker cabinets, barn doors, marble countertops, and hardwood flooring. 
---
How can I find a home builder near me?
Read our latest articles on the best custom home builders near Huntington Beach. If you don't see your city below, just let us know – we are happy to create a tailored recommendation list just for you.
Custom Home Builders in Los Angeles
Custom Home Builders in Long Beach
Custom Home Builders in Santa Ana
---
About Our Rankings
This list takes a range of ranking criteria into consideration, including but not limited to: work history, customer satisfaction, awards and recognition, geographic area of work, cost, building permits, and clientele. We spent over 40 hours researching local contractors before calculating the final ranking for this post. If there is additional information about your business that could affect these rankings, please fill out this form and we will take it into consideration
---
Get Bids For Your Build
If you are thinking about building a custom home, we recommend checking each builder's license with the local licensing board, speaking to past clients, and using our bidding system to get competitive quotes from at least 3 contractors. Getting multiple bids is the best way to ensure you get a fair price and that bids include the complete scope of work.