For years, the Bay Area has been at the top of the list of the most expensive cities in the US. The lack of substantial new housing developments in San Francisco coupled with strong in-migrant flows has created a shortage of housing that continues to drive up property prices and rent. Yet just across the bay in Oakland, homes are more affordable; Zillow lists Oakland's median property value at $750k, in comparison to nearly $1.4 million in San Francisco.
Similar to San Francisco, the older homes in Oakland can have Edwardian and Victorian influences with intricate details and embellishments. During the development boom of the late 19th and early 20th centuries, many new homes were built in simpler styles, including Shingled Cottages, Neoclassical Row Houses, and the Classic Box. Today, may new homes incorporate elements of historical styles with a modern and functional twist.
Based on years of experience, recognition through awards and features, and the quality of the homes they produce, we've put together a list of who we think are the best 13 custom home builders in the greater Oakland area.
If you are thinking about building a custom home, we recommend checking each builder's license with the local licensing board, speaking to past clients, and using our bidding system to get competitive quotes from at least 3 contractors. Getting multiple bids is the best way to ensure you get a fair price and that bids include the complete scope of work. On the other hand, if you want to learn more about the cost of building a custom home in Oakland, check out our cost guide article.
---
13) Bayview Builders, Inc.
2063 Mountain Blv #6, Oakland, CA 94611
For more than 30 years, Bayview Builders has provided custom home construction, design-build remodeling, and new construction services throughout northern California. The company has built numerous homes and multi-family units throughout Oakland, Orinda, Lafayette, Davis, Walnut Creek, Concord, Hayward, Livermore, Woodland, Sacramento, and Richmond. As developers, construction managers, and general contractors, Bayview also performs restoration of single-family homes.
Bayview uses sustainable materials and green building practices in every project to maximize energy efficiency. Projects typically range from $150k to $10M.
---
12) V.A. Tragni, Inc.
1928 Via Di Salerno, Pleasanton, CA 94566
With over two decades of experience in the custom home construction industry, V.A. Tragni has been a recognized custom home builder serving the Bay Area. Owner Vito Tragnihas built numerous homes throughout the area's most desirable neighborhoods. Among the services offered are custom home construction, multi-residential construction, tenant improvements, and home remodeling.
V.A. Tragni serves clients throughout the East and South Bay as well as the Peninsula and Tri-Valley areas. Whether it is new construction or rebuild, V.A. Tragni ensures that every project is built with the highest quality and luxury in mind.
---
11) Lorick & Martinez Design Build, Inc
5052 Woodminster Lane, Oakland, CA 94602
Lorick & Martinez Design Build, Inc is a design-build firm specializing in new construction and residential remodeling services, they are also FEMA trained for seismic retrofits.  After 12 years as a Scenic Designer and Art Director for studios including Paramount, Disney, Universal, Lions Gate, Sony, and MGM, owner Gigi Lorick decided she wanted to build beautiful structures and since then has been providing top-notch design and construction work in the Oakland area. Gigi has been in the industry for 26 years now and was chosen as woman of the year in her field in 2011 and 2012 consecutively. Alongside Gigi, Mike Martinez is in charge of construction management responsibilities and has been with the company for 14 years.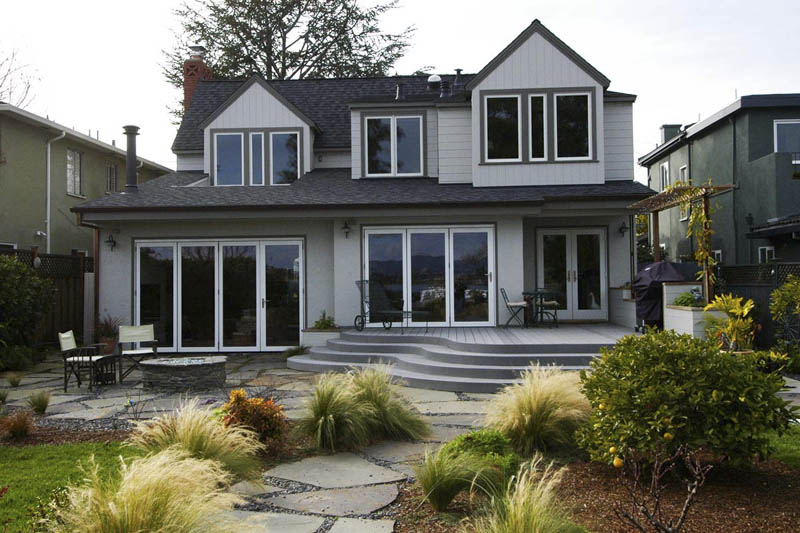 Lorick offers full-design civil engineering and complete design-build services. They see no project as too small or too large, they design single bathrooms as well as new homes. The company emphasizes green building practices and is a member of numerous organizations including the U.S. Green Building Council and the Environmental Protection Agency. Budget range is from 10,000.00 to 5 Million.
---
10) TradeMark Homes
11 Orchard Court Suite A, Alamo, CA 94507
Since 1979, TradeMark Homes has constructed exquisite properties throughout the Bay Area. Their homes feature a unique blend of quality, innovative style, and functionality while exuding elegance and great craftsmanship. The company's mission is to deliver unparalleled workmanship that showcases architectural creativity. They use the latest home-building technology to produce gorgeous executive-style properties that are all rich in detail.
Based in Alamo, the firm has built luxurious, turn-key properties throughout Oakland, East Bay, Orinda, Alamo, Danville, Lafayette, and Moraga.
---
9) Wheeler Design Build
651 Santa Ray Ave., Oakland, CA 94610
Family-owned and operated Wheeler Design Build offers the best modern designs and green features for all new home construction and remodeling services. Serving clients throughout Oakland and the Bay Area, the firm is among the most trusted contractors specializing in design-build services. Owner Ezra Wheeler is a licensed general contractor with over two decades of experience.
Wheeler offers modern and contemporary designs for custom homes and remodels. With the company's strong green building ethic, each project is a perfect blend of modern features carefully integrated with green solutions.
---
8) DLR Custom Builders
2160 41st Ave., Oakland, CA 94601
DLR Custom Builders is a custom build contractor-developer that has been serving Oakland, Berkeley, Piedmont, and the East Bay area since 1983. The company specializes in residential construction and offers in-house design, cost planning, construction installation, consultation, supervision, and related services. DLR takes pride in their use of quality pricing software to generate competitive fees.
With over 40 years experience, owner Daniel Ramirez personally estimates and supervises each of the company's projects, taking on a limited number of projects each year to give each client the best possible service. The company also specializes in new home design services ranging from contemporary designs to established architectural styles. Projects typically range from $30k to $2M.
---
7) Conscious Construction
3421 Hollis St. Suite G Oakland, CA 94608
Conscious Construction is an Oakland-based green-certified build established in 2006. This locally-owned and operated company puts an emphasis on producing environmentally friendly homes and properties. As a Certified Green Professional, the company supports sustainable building practices in both their residential and commercial projects. The company is a member of the American Institute of Architects (AIA) East Bay and is also an EPA Certified Lead Renovator.
Jeff Sochet, a San Francisco Bay Area native, started the company with the goal of making a positive mark on the building industry and the green building movement. He's now been in the building industry for 25 years. Over the years, the company has been involved in numerous community projects around the area including the DreamCatcher Shelter Renovation and Rebuilding Together Oakland. Their projects range from $300k to $10M.
---
6) DC Construction
1068 44th Ave., Oakland, CA 94601
DC Construction was founded in 1986 by Donny Chu, a licensed general building, electrical, and plumbing contractor experienced in residential and commercial work. The full-service construction firm offers ground-up building construction, building renovation, historical restoration, and seismic upgrading services to clients in Oakland.  
For over three decades, the firm has designed and built many beautiful homes, for which they have received several awards including the "Best of the Bay Area" from the Alameda Times-Star and the Oakland Tribune. In 2007, DC won the Architectural Preservation Award for Outstanding Renovation from the Alameda Architectural Preservation Society.
The company is also known for creating historical trims, molding, casings, doors, and windows using their own fabrication shop. One of their projects features a $4M state-of-the-art green home with passive solar and geothermal energy sources.
---
5) Aspire Builders
50 Oak Court Suite #230, Danville, CA 94526
For over a decade, full-service home builder and remodeling contractor Aspire Builders have provided clients in the Bay Area with high-end, one-of-a-kind, custom homes. Aspire co-founder Ted Heathorn graduated from Purdue University with a degree in Construction Engineering and Management. After working for one of the top construction firms in the country, Heathorn now uses his experience in commercial projects to construct beautiful luxury homes for residential clients.
As design-builders Aspire also specializes in installing home automation features and remodeling kitchens, bathrooms, media rooms, and exterior living spaces. Typically, their projects range from $100k to $10M.
---
4) Integrity Remodeling
5245 College Ave Suite. #828, Oakland, CA 94618
In business since 2001, Integrity Remodeling has consistently constructed impeccable custom homes inspired by New England colonial architecture and design. As a full-service general contracting company, the firm specializes in new home construction as well as addition, renovation, restoration, and custom kitchens and bathrooms. Company owner Eli Israel is a graduate of the University of Rhode Island with degrees in Landscape Architecture with an emphasis in Community Planning. Originally from Boston, Eli moved to the Bay Area because of its rich architectural heritage.
In June 2010, the company was featured in Sunset Magazine and was showcased as the premiere kitchen in the Rockridge Kitchen Tour in 2011 and 2013. Integrity also won an award for the Best Remodeling Project in Piedmont in 2012.
---
3) Alward Construction
1035 Carleton St., Berkeley, CA 94710
Berkeley-based Alward Construction is an award-winning general contractor specializing in home construction and remodeling services in the Bay Area since 1979. The company has been a member of the National Association of the Remodeling Industry (NARI) since 1995 and has won 22 awards in the Bay Area including 12 Contractor of the Year (CoTY) awards in the Southwest Region, eight national CoTY awards, seven Chrysalis awards, two professional remodeler awards, and a qualified remodeler award.  Alward has been named one of the top 50 remodeling contractors in the country by Remodeling Magazine and was listed as one of the top 500 remodeling contractors nationally by Qualified Remodeler magazine.
In 2015, founder Keith Alward was featured in the San Francisco Business Times' Entrepreneur Profile. The company's projects range from single bathroom remodels to complete ground-up construction of new homes. Typically, their projects range from  $100k to $3.5M.
---
2) Kasten Builders
3419 Regatta Blvd., Richmond, CA 94804
Founded in 1972, Kasten Builders has been one of the premier residential and commercial contracting firms serving Marin, Sonoma, San Francisco, and Alameda counties. With over 40 years of experience, the firm specializes in building luxurious custom homes using smart building practices that aim to minimize the impacts of construction on the environment. Owner Denny Kasten's passion is constructing modern and sophisticated homes for the firm's clients. One of the firm's projects, The EDDIE House, was featured in the San Francisco Chronicle as a preview to the 2012 AIA San Francisco Living: Home Tours. The EDDIE House is a newly renovated and expanded Edwardian era home that features eco-friendly finishes and sustainable, energy-efficient features.
Over the years, the firm has worked for local companies including Birkenstock, County of Marin, Tam Bank, Wolfe Coffee, Piazza Trading Company, Urban Forest Home, and Nautilus of Marin. The company also carries out home remodeling services in addition to their new home construction services, with projects ranging from $250k to $10M.
---
1) McCutcheon Construction, Inc.
1280 Sixth St., Berkeley, CA 94710
McCutcheon Construction, Inc. has over three decades of experience in an extensive array of construction projects throughout the Bay Area. The company specializes in custom home construction, historical renovation for both residential and commercial properties, and residential remodeling services. McCutcheon prides themselves on integrating green building practices into each project in order to protect and preserve the environment. As green builders, the firm incorporates sustainable features to suit clients' needs.
The firm has received numerous awards including winning the Entire House Over $1M from the Bay Area Remodeling Awards in 2018. It also placed first in NARI's REMMIES Award for Whole House Over $1M and has been named The Best of Oakland and the Best Building Contractor by Oakland Magazine in 2015. The firm has also been featured in Luxe Magazine in December 2014, an online HGTV article, and other publications.
The company is a member of the American Society of Interior Designers, NARI, AIA East Bay, and GreenPoint Rated. Their projects range from $100k to $5M.
---
How can I find a home builder near me?
Read our latest articles on the best custom home builders near Oakland. If you don't see your city below, just let us know – we are happy to create a tailored recommendation list just for you.
Custom home builders in Marin County
Custom home builders in San Jose
Custom home builders in Fresno
Custom home builders in California
---
About Our Rankings
This list takes a range of ranking criteria into consideration, including but not limited to: work history, customer satisfaction, awards and recognition, geographic area of work, cost, building permits, and clientele. We spent over 40 hours researching local contractors before calculating the final ranking for this post. If there is additional information about your business that could affect these rankings, please fill out this form and we will take it into consideration
---
Get Bids For Your Build
If you are thinking about building a custom home, we recommend checking each builder's license with the local licensing board, speaking to past clients, and using our bidding system to get competitive quotes from at least 3 contractors. Getting multiple bids is the best way to ensure you get a fair price and that bids include the complete scope of work.
---