St. Louis is a major American port that sits ideally along the western part of the Mississippi River. French fur traders founded the city in 1764 and named it after Louis IX of France. It was only in 1803 when the United States finally acquired the territory, but the influences of the people who and culture that established it remains visible even until today.
It is no wonder why many of the city's old and new residences are prevalently inspired by French architecture. Most are dominantly characterized by massive chimneys, gabled roofs, and brick wall tapestries on many of the homes' exteriors. Some of the city's top firms were established at the end of the first world war, with soldiers-turned-builders coming home and bringing with them the timeless charms of old world architectures.
Below is a list of the best custom home builders in St. Louis. The ranking is based on the firms' industry affiliations, awards, publication features, project scope, and most importantly, quality of work.
If you are thinking about building a custom home, we recommend checking each builder's license with the local licensing board, speaking to past clients, and using our bidding system to get competitive quotes from at least 3 contractors. Getting multiple bids is the best way to ensure you get a fair price and that bids include the complete scope of work. On the other hand, if you want to learn more about the cost of building a custom home in St. Louis, check out our cost guide article.
---
12) Lorrien Homes
4 Ridgecreek Rd., Town and Country, MO  63141
Lorrien Homes is a fourth generation builder and remodeler that makes use of an efficient design-build delivery system. This approach ensures low-risk building and faster completion, by overlapping the design and construction stages of its development process.
The firm has built a reputation of excellent customer service and on-time product delivery, helping it land memberships in different organizations such as the National Association of Home Builders (NAHB) and the Home Builders Association (HBA). Additionally, the firm's impressive remodeling portfolio got the attention of Remodeling Magazine, securing its spot for the publication's Big 50 ranking.
For Lorrien Homes, details define a home, so it makes sure that every element it adds to its homes is true to the vision of its clients. From the very first lines of each project's architectural design to the selection of materials, and the final stages of the development, its teams of builders and designers stay with the client every step of the way. Many of the firm's remodeling and home building projects highlight both the elegance of classic and traditional details and the clean, minimalist elements of the contemporary.
---
11) Hardesty Homes
232 Chesterfield Industrial Blvd., Chesterfield, MO 63005
Hardesty Homes has been in business for over 75 years, building 35 to 40 high-end custom homes annually. The firm's decades of experience has delivered an extensive gallery of over 200 luxury home styles, a solid portfolio that gives its clients the assurance of quality craftsmanship and the range of services that it can offer.
Brett Hardesty, the firm's principal, is a member of the Board of Directors of the NAHB. Over the years, he has held various memberships and positions in the industry's biggest organizations, including the National Development Committee, the Land Use Policy Subcommittee, and as president of the St. Louis HBA.
Hardesty Homes serves the entire city of St. Louis, building homes with values that start at $400k and above. The firm specializes in designing and constructing ranch and farmhouse style homes, combining different materials and patterns to create unique residential spaces. Additionally, several of its projects make use of the common elements in masonry construction, with exteriors dominated by a brick tapestry that is uniformly laid out on its symmetrical facade.
---
10) Minton Homes
9900 Clayton Rd. Suite C, Saint Louis, MO 63124
Minton Homes has been serving the St. Louis residential building industry since 1988.  As a custom home builder, it understands that every homebuilding process involves thousands of details that can overwhelm first-time clients. As a result, the firm provides a method that helps homeowners confidently navigate through every stage of the building process.
Jim Minton, a Certified Graduate Builder, founded the company with the mission of redefining what it means to be a custom home builder. His dedication to design-practical and client-friendly methods to construction is the advocacy that helped the firm secure its memberships in big industry organizations such as the NAHB and HBA.
To deliver the finest results, the firm only takes on a handful of projects every year. Its English-style Ladue Home, for instance, is one of the firm's biggest homes, which took 28 months to complete. The carefully crafted residence was modeled after Long Island's historic Westbury House. The home embodies its owner's hospitality, featuring a vast pool area with a charming pool house to welcome guests.  Inside are multiple bedrooms, several baths, a game room, and a billiards hall.
---
9) Stockell Custom Homes
271 W First St., Eureka, MO 63025
Stockell Custom Homes focus on sustainability and efficiency, taking pride in its proven systems for client-builder communication, smart home construction, and cloud-based construction management. These methods ensure consistency in delivering custom home building services to Missouri's most demanding clients.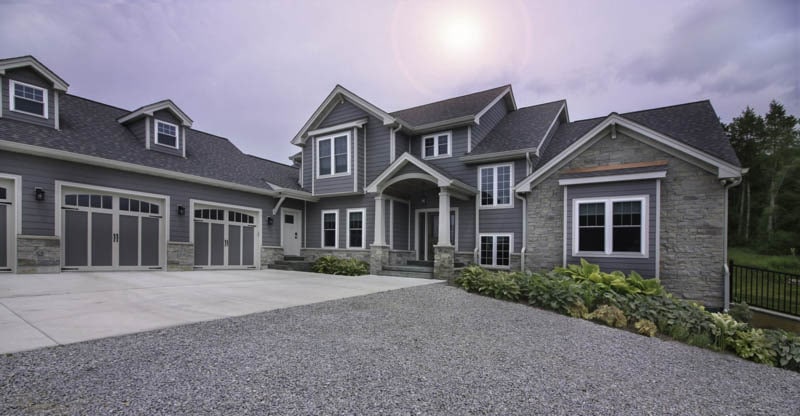 The firm is the residential division of its mother company, Stockell General Contracting, Inc. Donald Stockell founded the main company in 1986 as a commercial and residential builder and remodeler.  This business decision gave the company an opportunity to establish an exclusive team of designers and builders that specializes in addressing the planning and construction needs of a custom-built home.
Donald Stockell holds several certifications given by the industry's leading organizations. In 2008, he earned two designations as a Certified Green Professional and a LEED Accredited Professional, and his in-depth knowledge of green building and sustainable architectures can be seen in the firm's rich portfolio. While the firm focuses on innovative building technologies, its projects celebrate the traditional influences of the craftsman, ranch, arts and crafts, and farmhouse styles.
---
8)  Benchmark Homes
201 Greenbriar Estates Dr., Des Peres, MO 63122
Building green is at the heart of Benchmark Homes' mission to provide smart home alternatives to aspiring homeowners in St. Louis County's prime neighborhoods. Over the years, the firm's portfolio has earned a total of nine Homer Awards.
From efficient planning to the final phases of construction, the firm relies on Green Building methods to deliver high-quality home building projects. This is because the firm believes that taking an environmentally-responsible approach to construction gives the residential spaces better quality and higher value.
The firm has over 24 years of history, building residential spaces that complement its environment, customizing homes to harmonize perfectly with the client's chosen area. With the help of the firm's teams of designers and builders, it can construct homes of different styles and sizes. The most prevalent entries in the firm's portfolio are craftsman bungalows with hints of Tuscan and French influences.
---
7) Higginbotham
10129 Manchester Rd., Saint Louis, MO 63122
At the end of the second World War, brothers Bruce, Cameron, and Richard established Higginbotham as a homebuilding firm in St. Louis. The Higginbothams came from a family of real estate developers, and this deep-rooted familiarity with the industry's sales and construction side gave the firm a solid advantage to become one of the city's premier builders and developers.
The firm specializes in projects of all shapes and sizes, and these include custom building and renovations for single and multi-family residences.  Kent Higginbotham and Bruce Korn, the firm's current principals, lead the company's new generation of builders, along with a carpentry crew of master craftsmen, some of whom have served the firm for over 25 years. Kent is a member of the Certified Builders Guild (CBG) and was a former chairman of the Custom Builders Council of St. Louis's HBA, while Bruce has been a master carpenter since 1975.
Most of the firm's custom residential projects are inspired by the French architectures, with buildings showcasing massive chimneys and walls with stucco finishes or brick claddings.
---
6) Aleto Construction Group
3801 Connecticut St., Saint Louis, MO 63116
Aleto Construction Group has completed over 20 new home construction projects, 1,000 renovations, and dozens of gut rehabilitation projects since it was founded in 1955. Thomas Aleto established the company with a vision to provide quality craftsmanship that endures. Today, Mike and Patti Aleto continue their father's legacy as St. Louis's premier builders and remodelers while incorporating sustainable methods to their projects. The firm relies on responsible technology and environmentally-responsible elements to come up with green designs that guarantee safety, efficiency, and quality. This advocacy to use eco-friendly materials earned them the designation as an EPA Lead-Free Firm.
Additionally, Aleto is a Certified Graduate Remodeler (CGR) and is one of the founding members of St. Louis's local chapter of the National Association of Remodeling Industry (NARI), as well as an active member of the HBA. Many of its notable projects blend the minimalist qualities of modern architecture while staying faithful to the charms of traditional elements. For instance, one of its interesting portfolio entries is a modern farmhouse residence- a three-bedroom property that took more than a year to complete. The home features a meticulous approach to the design's details, from the home's window placement to its modern indoor and outdoor spaces.
---
5) Al Droste & Sons
1517 N Third St., Saint Charles, Missouri 63301
Al Droste & Sons is the oldest general construction company in St. Charles, boasting over 80 years of industry experience as a residential and commercial builder, remodeler, and renovator. The firm's wide scope of services makes it one of Missouri's choice builders, supported by a loyal client base and impressive customer reviews.
Alvin Droste laid the very first foundation of the company in 1933 when he worked as a journeyman carpenter. Over the years, his quality craftsmanship helped him establish a solid reputation as a full-scale home builder. Even after World War II, the company thrived and with the help of his two sons, Robert and Raymond, his legacy continued up to the present. Today, Nate and Jeff Droste lead the firm into the 21st century, bringing with them the wisdom of traditional craftsmanship and the promise of the modern and innovative future.
The firm's portfolio showcases a variety of Tudor, ranch, and craftsman homes, among others. The firm often draws from architectural influences that were popular after the first World War. For instance, one of its largest projects is a French-inspired custom home that features sharp elements on its facade, with a dominantly steep gabled roof and clay brick wall cladding.
---
4) R.E.A Homes
2401 Centerline Industrial Dr., Maryland Hts, MO 63043
Many of R.E.A Homes's high-end custom homes can be found along St. Louis's most picturesque neighborhoods, boasting values that start from $800k to $8 million. In addition to the timeless elements of luxury found in its residential projects, the company offers High-Performance Luxury HomesSM that strategically incorporate the sustainability of smart technology, modern design, and green building features. Most recently, the firm was awarded the "Overall Home Design" in St. Louis' 2019 Architect & Designer Awards along with Mitchell Wall Architects and the Tamsin Design Group for a 7,400 square foot luxury home.
Jeffrey Bogard is a second-generation builder who founded the company over 30 years ago. His first achievement in the industry came earlier when he headed a division in one of St. Louis' leading building companies. Later on, he became an active player in the industry's green building movement, and it was in 2009 when he received his first major designation as a Green Building Professional. A few years later, he earned the distinguished LEED Green Associate credential from the U.S. Green Building Council (GBC).
Many of the firm's project can be found across St. Louis, with some built in the region's scenic neighborhoods such as Ladue, Creve Coeur, Chesterfield, Frontenac, and Clayton. Many of its luxury homes have bold exteriors characterized by minimalist patterns and elegant brick wall tapestries. The most dominant features of these homes, however, are the wide solar roof panels that turn many of the firm's Tudor, French, and modern homes into sustainable architectural masterpieces.
---
3) Amherst Corporation
7350 Forsyth Blvd. Saint Louis, MO 63105
Amherst Corporation has been building custom residences since 1987, and since then has grown to cover projects of a wide range of sizes and complexities. The firm's success can be attributed to its principal, Charles Schagrin, who obtained both a Masters of Architecture and Masters of Business degree. Under Schagrin's leadership, the firm became one of St. Louis's most recognized builders.
Design, construction, and client relationships are at the center of the firm's vision of transforming its client's vision into life. Schagrin's background as a builder and a businessman gives him the leverage to focus on these three aspects of the firm's homebuilding approach while staying faithful to the homeowner's budget and planning preferences.
One of the firm's notable projects is the Clayton, a four-bedroom residence that ranked fourth in St. Louis At Home Magazine's The 10 Most Beautiful Houses in St. Louis. The home was built in 1998 as a sanctuary for its owner's art collection. Today, it magnificently sits on a double-wide lot surrounded by an allee of thick and tall shrubs. Its white-brick facade and semi-minimalist elements exude a relaxing ambiance to every onlooker who takes time to stop and marvel at its presence.
---
2) Agape Construction Company
435 East Clinton Place, Kirkwood, MO 63122
Agape Construction Company is an award-winning firm that specializes in custom new homes, remodeling, home additions, and custom renovations. With principal Kevin O'Brien and nationally-recognized architect Laurie Smith at the helm, the firm's entire team boasts over 200 years of combined experience in custom home building, designing, and project management.
Since its founding in 1985, it has received distinguished industry recognition.  For the firm's business ethics and client-centered approach, it won the Better Business Bureau's (BBB) Torch Award in 2008, 2013, and 2018. The company has also been awarded as one of the Top 500 Remodelers in the U.S. for five consecutive years since 2014; just two of the 13 organizations that recognized the firm's achievements through the years.
The firm's residential buildings combine structural details of a farmhouse, ranch, and prairie architectures. Additionally, most of its projects feature wood siding, stucco, stone and brick finishes, with their typically asymmetrical facades often complemented with custom-built Victorian porches.
---
1) DH Custom Homes
2055 Craigshire Rd. Suite #100, Saint Louis, MO 63146
DH Custom Homes has elevated its status as one of St. Louis' prime home builders, winning elite recognition from the industry's biggest organizations. The firm is one of the few companies that won over 70 Homer awards and ten Bravo neighborhood awards since it was established 30 years ago. Additionally, many of the firm's projects have been featured in the industry's leading magazines, such as the St. Louis Homes & Lifestyles Magazine, Professional Builder, St. Louis Business Journal, and the New York Times.
Dennis Hayden is the firm's current president and acts as the team leader on all its custom home building projects. Dennis manages every construction project head-on, with a full-scale involvement in the process that starts from the first client meeting, through the development process, until project completion. The firm's mission to simplify even the most complex custom home building processes has made it a choice builder for first-time homeowners. Additionally, this focus on client satisfaction has helped it earn BBB's award for World-Class Customer Satisfaction.
From building unique residential spaces to interior renovations, the company's extensive portfolio shows what its decades of experience can offer: timeless designs that celebrate the classical sophistication of Italianate, French and colonial architectures. Moreover, the firm's farmhouse and ranch-style residences exhibit the traditional expertise of its teams of builders and designers.
---
Note: This article was updated on March 20, 2019 to reflect additional information that became available.
---
How can I find a custom home builder near me?
Read our latest articles on the best custom home builders across Missouri. If you don't see your city below, just let us know – we are happy to create a tailored recommendation list just for you.
Custom home builders in Kansas City
Custom home builders in Missouri
---
About Our Rankings
This list takes a range of ranking criteria into consideration, including but not limited to: work history, customer satisfaction, awards and recognition, geographic area of work, cost, building permits, and clientele. We spent over 40 hours researching local contractors before calculating the final ranking for this post. If there is additional information about your business that could affect these rankings, please fill out this form and we will take it into consideration.
---
Get Bids For Your Build
If you are thinking about building a custom home, we recommend checking each builder's license with the local licensing board, speaking to past clients, and using our bidding system to get competitive quotes from at least 3 contractors. Getting multiple bids is the best way to ensure you get a fair price and that bids include the complete scope of work.