This is a list of the best spec home builders near you. Investing in your first home is almost always a complicated, expensive task. And planning your own home is even more stressful, and can represent a huge financial and emotional risk for every homeowner. That might be why some opt for speculative homes, which reduce stress and risk alike. Speculative homes, or spec homes, are constructed on semi-finished properties and sold by builders on land they've acquired. These spec homes can be custom finished for the customer, or the client can choose from available floor plans. For many first time buyers, choosing a spec home is a safe choice, as it provides an easy solution for homeowners who find custom homes too complicated.
The Washington Post pointed out that a lot of builders are starting to jump into the spec home pool. Custom home building puts a particular demand on real estate, and some builders have found success in imagining, and then constructing, entire communities prior to the sale of individual homes a practical alternative.
And so the market for spec homes is growing. With all the new builders entering the market, determining the best one for your needs can be difficult. Luckily, this list provides the 25 best spec home builders in the US. These builders all develop communities as a whole, and they customize floor plans for all of their individual clients. There's a mix of national and local builders on this list, but all of these firms were selected based on the number and quality of awards they have earned, the media attention that they have generated, and, of course, the quality of their work.
If you are thinking about building a custom home, we recommend checking each builder's license with the local licensing board, speaking to past clients, and using our bidding system to get competitive quotes from at least 3 contractors. Getting multiple bids is the best way to ensure you get a fair price and that bids include the complete scope of work.
---
25) Southern Homes
1925 E Edgewood Dr. Suite #100, Lakeland, FL 33803
Most of the 2019 real estate forecasts predict there will be a huge jump in Florida's housing rates, especially in Polk County. Given that higher housing rate, it's best to put your trust in one of the most trusted builders in the area. Southern Homes is Polk County's leading spec home builder and it has built communities in Auburndale, Haines City, Lake Wales, North Lakeland, South Lakeland, and Winter Haven. Established by Greg Masters and Ed Laderer in 1991, the firm is a household name in Florida because it consistently wins prestigious local and national awards. Its most recent awards include Best New Home Builder from Haven Magazine and a spot in Professional Builder magazine's 2016 Housing Giants list.
The firm has gained the trust of Florida's homeowners through traditional design, building homes that are familiar and welcoming to every client. The firm favors Craftsman, but it also has completed Cape Cod and cottage-style homes. The firm favors the kind of off whites that suit Florida sunshine and often matches that palette with earth-toned bricks.
---
24) Tim Jackson Custom Homes
3201 Wyndham Ln., Richardson, TX 75082
Texas Association of Builders (TAB) President Tim Jackson wanted his name to be synonymous with luxury home building in his state, and Tim Jackson Custom Homes was established in 1996 to cater to some of the most elite communities in Collin, Dallas, Denton, and Grayson. The firm has only built a little over 100 luxury custom homes, as it's very selective with its clientele. Those residential works of art, however, have earned as many awards as any firm could ask for: ten Associates, Remodelers and Custom (ARC) Builders awards.
Tim Jackson Custom Homes developed one of the most prestigious communities in Texas, Three Oaks Drive. Located in the lush hills of Fairview, this gated community is bordered by the Heard National Science Museum and Wildlife Sanctuary. The firm took extra precautions to preserve the surrounding environment, including a number of hundred-year-old trees that share the neighborhood. This exclusive community will only accept eleven families as it is constricted by strict building regulations put in place to shield the 289-acre nature preserve. The homes in this mini utopia are mostly traditional, multi-level brick homes that blend well with the green surroundings.
---
23) JayMarc Homes
7525 SE 24th St. Suite #487, Mercer Island, WA 98040
Childhood friends Jay Mezistrano and Marc Rousso tried every kind of business together, from providing DJ services to buying and selling homes. The partners finally found their niche when they established JayMarc Homes in 2010. As one of Washington's leading luxury home builders, the firm constructs homes on Mercer Island and in Bellevue community. Mercer Island is known for having quality education and Bellevue is the sixth wealthiest community in Washington. JayMarc Homes has been in the business for less than ten years, but it's already the go-to builder for Washington's most prestigious communities. And it consistently receives awards from the National Housing Quality Awards and the Gold Nugget Awards.
The firm has a penchant for modern interpretations of the Craftsman style. The homes the firm built in family-centered Bellevue tend to be a modern fusion of Colonial Revival and Craftsman. Wood siding and brick exteriors are common, often accented by either columned entryways or exposed wood beams.
---
22) OnPoint Custom Homes
3939 Essex Ln. Suite #100, Houston, TX 77027
Located in Texas's busiest metropolis, OnPoint Custom Homes is a sought-after custom home builder that brings a modern take to traditional home styles. Founder John Leggett believes that he has to stay on top of architectural trends to stay in Houston's competitive housing market. Leggett also has experience in the high stakes industry of the real estate business. Expect the firm's contemporary homes to be found in the best neighborhoods, including Briargrove, Upper Kirby, and Hyde Park. The firm is known as one of the best home builders in Houston, and it has received numerous Houston Prism Awards for its custom home projects.
OnPoint stands out with its modern design offerings such as Southern Elegance, Upscale Blend, Urban Contemporary, and Timeless Traditional. The homes in Memorial Park and Upper Kirby are predominantly modern with angular facades. The OnPoint team has also completed traditional multi-level farmhouse homes in Briargrove, Rice Military, and Oak Forest.
---
21) Century Communities
8390 E Crescent Pkwy. Suite #650, Greenwood Village, Colorado 80111
Century Communities is a prominent Colorado community developer, and it recently expanded its services to nine additional communities. Dale Francescon has led the firm to expand its services as well, offering townhomes, condominiums, and apartment buildings. As it serves a wider range of clients, the firm continues to grow and is now becoming known nationally. Forbes Magazine named Century the 26th Fastest Growing Company and the firm topped Builder magazine's 100 Fastest Growing Companies List.
The firm aims to create architecturally pleasing, functional homes in every state it serves. Its designs are consistently traditional Craftsman and farmhouse. In contrast to the traditional exteriors, the interiors of the homes are colorful and modern. Whether it's an exposed brick wall or a bright green wall, every room has a focal point that makes the home simultaneously surprising and inviting.
---
20) Blue Heron
1320 Villa Barolo Ave., Henderson, NV 89052
Tyler Jones established Blue Heron to bring progressive architecture to Nevada's prestige home communities. As a Nevada native, he knows that the city needs not only a different style of home but a different style of community. The city needs, in other words, neighborhoods specifically constructed for Nevada's idiosyncratic landscape. And so every Blue Heron community is uniquely tailored for its location. Instead of building new home communities, the firm works around existing infrastructures, increasing their livability and sustainability. Thus Blue Heron has built a reputation in Vegas for visually stunning luxury homes that somehow stand out from, and blend into, the stark desert backdrop at the same time. The firm has received more than 30 awards in Vegas and has received the Best Luxury Homebuilder Distinction twice in a row.
Blue Heron has one-of-a-kind home communities that are designed to be distinctly different from each other, but the home styles found in the communities are all predominantly modern. The facades all feature bold geometric lines with elevation changes that emphasize the desert mountain landscape.
---
19) Ashton Woods
1405 Old Alabama Rd., Roswell, GA 30076
Traditional exteriors with clean modern interiors: this is the signature of an Ashton Woods home. The Atlanta-based firm is building a reputation for having the best design studio, one capable of catering to modern lifestyles. Its design studio aims for functionality, but it also wants the home to be shaped by its natural surroundings. Take, for example, the Naples design studio. Its cooler color palette was inspired by its seaside location. This keen attention to design and detail has brought Ashton Woods deserved recognition, including being named on Builder magazine's  Top 10 Private Builder List, as well as a Leadership in Housing award from the Environmental Protection Agency (EPA).
For the firm's 30th anniversary, Ashton Woods is looking back at how the firm's design has progressed throughout the past three decades. In its early years, the firm's style was a mix of rustic and country designs. Today, the firm has refined its style to a more minimalist aesthetic, but the firm still plays with different style elements for a fun, modern look.
---
18) Beazer Homes
1000 Abernathy Rd. Suite #260, Atlanta, GA 30328
Internationally known as one of the oldest home builders in the world, Beazer Homes came to the U.S. in 1985, and it has now expanded to more than ten states. For nine generations the company has been making functional, beautiful homes, but it also focuses on developing neighborhoods in sites that are practical for the family. Furthermore, the firm is known for offering affordable energy efficient floor plans that will lower utility costs. The firm's floor plans are all Energy Star certified and, in fact, the organization has presented the firm with a Sustained Excellence Award from 2014 to 2018. The firm's economical and practical approach to homebuilding has become popular among homebuilders in the country, and that's likely why it has been consistently included on the Professional Builders Housing Giants list since 2013.
The firm's portfolio consists of a variety of traditional styles. Craftsman is the most commonly used style and the firm gives it a classic Italianate and Colonial Revival interpretation. The home pictured is a very traditional home that features a shingled roof with an all-white exterior.
---
17) Highland Homes
5601 Democracy Dr. Suite #300, Plano, TX 75024
Highland Homes started in a single neighborhood in 1985 by siblings Rod Sanders and Jean Ann Brock, and now it's the largest private homebuilder in Texas. Only 13 homes were sold in its first month, but now it builds more than 3,000 homes in Austin, Houston, Dallas-Fort Worth, and San Antonio every year. Highland Homes wants to maintain its award-winning customer service, and for this reason, it remains 100% employee-owned. The firm's business model has caught the attention of many national companies and was named one of Texas Monthly magazine's 50 Best Companies to Work For in Texas, and they were named in the top 20 of Builder magazine's 100 Best Builders List.
The firm's homes are quaint Cape Cod style cottage homes. The exteriors have the traditional features of a Cape Cod home—gabled roof, brick and wood cladding—but its interiors are modern with clean neutral color palettes brought to life by complex patterns.
---
16) LGI Homes
1450 Lake Robbins Drive, Suite 430, The Woodlands, TX 77380
One of the fastest growing companies in the industry, LGI Homes wants to simplify home building. LGI's turnkey process assures all of its clients that the home they purchase will meet both their expectations and their budget. The firm has received praise specifically for its efficient business model. Chief Executive Officer Eric Lipar has been in the residential land development industry since the 90s and he makes sure that he oversees every step from land acquisition to completion. Now, the firm serves over 27 markets in 17 states and it's the eleventh on the 2018 Builder 100 List.
LGI Homes creates homes that are familiar to every homeowner. These classic homes range from ranch to farmhouse. The firm likes light color palettes for its exteriors and exposed brick or wood as accents.
---
15) Taylor Morrison
4900 N Scottsdale Rd. Suite #2000, Scottsdale, AZ 85251
Despite being in the business for only ten years, Taylor Morrison has established itself as one of the largest home builders and developers in the country. The firm went public in 2013, and it quickly found its place on Professional Builder magazine's Housing Giants: it ranked eighth on the list this year. Chief Executive Officer Sheryl Palmer, one of the most established home builders and developers in Arizona, is largely responsible for the firm's success. Palmer wanted to make sure that, after expanding operations and services, the firm would still have quality customer service. And the company successfully pulled off that high wire act: the firm has consistently received the Builder Integrity Award and the Houston PRISM awards.
The firm builds familiar, yet memorable traditional homes, reminiscent of country cottage homes. Below you'll see a brick exterior, and feel its warm, invitation. This vintage look has become the signature of every Taylor Morrison community.
---
14) Magleby Construction
1291 West Center St., Lindon, UT 84042
Family owned luxury builder Magleby Construction has been providing Utah with the best estate communities since 1974. The firm started from humble beginnings; founder Paul Magleby used to frame homes by hand. Now Paul is a recipient of the Lifetime Achievement award from the Utah Home Builders Association. His son, Chad, took over the business and turned it into an upscale estate community developer, but the firm still preserves the cozy rustic feel of its projects. Its distinct style has earned the firm accolades from across the country, including the ICF Builder Awards and the Denim and Diamond awards.
The Magleby Communities division is a relatively new venture for the firm, but it has already constructed some of the most prestigious neighborhoods in Utah. All of its communities are close to nature; the firm's estate homes are framed around scenic views. The firm's projects range from modern multi-level estates to traditional brick or wood homes.
---
13) William Lyon Homes
4695 MacArthur Ct. 8th Flr., Newport Beach, CA 92660
William Lyon Homes has been creating the finest communities in California, Arizona, Nevada, and Oregon for six decades. The firm is known for developing prestige communities of luxury homes, neighborhoods that use a variety of styles, from Mediterranean to traditional. And the firm's convenient, client-friendly building process is as much a part of the experience of luxury for the client as the home itself.  Its wide-scale projects span multi-level homes to estate homes. The firm has won some of the most prestigious awards in the industry, including the 2018 Builder of the Year from the Building Industry Association (BIA), six Silver Nugget awards, and 12 awards from the SoCal awards.
The William Lyon Signature Home has exquisite architecture and creative floor plans. These signature homes reflect everything you might associate with California: hip, sunny, and optimistic. Adobe bricks and red tile roofing are common features. This Mediterranean estate— a beige color palette that's accented with textured adobe and stone—is an archetypal example.
---
12) Fischer Homes
3940 Olympic Blvd. Suite #100, Erlanger, KY 41018
Northern Kentucky-based Fischer Homes was established by Elaine and Henry Fischer. The firm's original goals were simple, humble: provide home solutions. The firm opened its doors in 1981, and it only took the firm 10 years to expand to other states and erect over 200 homes. As of this writing, Fischer Homes is the 37th on the list for revenue in the U.S. That's impressive enough, but even more impressive is the fact that a majority of that income is generated by customer referrals. Its clients keep coming back—and sending their friends—for the firm's inviting Craftsman homes.
Since 2003, Fischer Homes has been partnering with St. Jude's Children Hospital to create the annual St. Jude Dream Home. The St. Jude's collection perfectly sums up Fischer Homes's style with its wide range of varying farmhouse and Craftsman homes. For the 2018 Dream Home, the Yale collection featured multi-level homes with generous space for every essential aspect of any home.
---
11) Drees Homes
211 Grandview Dr., Fort Mitchell, KY 41017
Drees Homes is the product of the American Dream. Its narrative starts in 1928 when German immigrant Theodore Drees started his own home building company. Ralph Drees continues his father's legacy, and the firm is one of the longest standing builders with over 90 years of experience. Since the firm expanded to other states, it started offering DreeSmart Innovations, wherein it creates energy efficient homes that are still technologically advanced. The features of a DreeSmart Home include a video doorbell, a smart thermostat, and an app that lets residents remotely control the home.
The rustic aesthetic of Willowsford community, located in Washington, was featured in Builder and Developer magazine. The firm offers four customizable floor plans for the community that can be tailored according to the family's lifestyle. The exteriors of these homes were made to blend in with the community's country aesthetic.
---
10) The New Home Company
85 Enterprise Blvd. Suite #450, Aliso Viejo, CA 92656
The New Home Company is a home builder that creates family-centered communities. Founder Lawrence Webb wants the company to incorporate a conscientious decision process throughout the duration of every project. For this reason, every community has a sustainable feature that is not found in other neighborhoods. Take the Bedford in South Corona: it has its own private park. In contrast, The Cannery in California has gardens that grow vegetables for the community. These innovative, sustainable communities have received awards from the Marketing And Merchandising Excellence (MAME) organization and from Eliant.
The homes are beautiful, but the firm is not only about aesthetics: these homes all strive to be environmentally conscious. Like this hillside home, it's a simple farmhouse elevated by the tropical landscaping, suitable to a California home. But the firm is not limited to traditional designs, it also has completed some truly gorgeous contemporary Spanish and Mediterranean villas.
---
9) NVHomes
3410 Tennessee Dr., Alexandria, VA 22303
Since 1979, NVHomes has been bringing elegance to classic home styles across Delaware, Pennsylvania, Maryland, and Virginia. NVHomes is part of NVR, one of the most established companies in the industry, with consistently high revenues every year. NVR provides housing and financing to homeowners in need of beautiful, affordable homes. The NVHomes division, along with Ryan Homes and Heartland Homes, provides the home building services.
NVR's homebuilding companies offer a range of styles for every kind of client, and NVHomes is the upscale luxury building brand of the company. The firm assembles prestigious communities with classic home styles, Americana styles elevated with luxurious touches. These stunning projects have earned NVHomes the honor of being the only firm to receive an A+ rating from Big Builder magazine.
The firm's portfolio includes a range of classic traditional styles, Colonial, Tudor, and farmhouse homes are all represented. The pictured home perfectly represents the firm's style because it's a classic meeting of colonial and Greek revival. The solid red brick exterior gives the home the feel of a stately English country home.
---
8) K. Hovnanian Homes
90 Matawan Rd., Matawan, NJ 07747
Originating out of Kevork Hovnanian's early building ventures, K. Hovnanian Homes was founded in 1969 as a customer-centered home builder. Hovnanian instilled the value of customer service to everyone who worked for him, and he rightly believes that is why the firm has had numerous repeat customers for the past 60 years. Most of its repeat customers have acquired more than one Hovnanian home, and that fact inspired the firm to begin to build communities. The firm's active adult communities have become popular across the country, because of the resort-at-home amenities offered. Its communities and custom homes have won countless awards, including 14 Fabulous Achievements in Marketing Excellence (FAME) awards.
K. Hovnanian Homes offer a wide array of communities for every walk of life, and for every stage of life. The Four Seasons community was made for retired homeowners looking for a neighborhood that has beautiful homes combined with an active lifestyle. The Hidden Brook community in Delaware offers two-story ranch homes with six different floor plans that are all available for customization.
---
7) D.R. Horton
1341 Horton Cir., Arlington, TX 76011
Donald Horton was studying to become a pharmacist, but his urge to join the family real estate business led him to establish what would become one of America's largest homebuilding companies instead. Established in 1978, D.R. Horton is the highest grossing company in the industry and serves 83 markets in 27 states.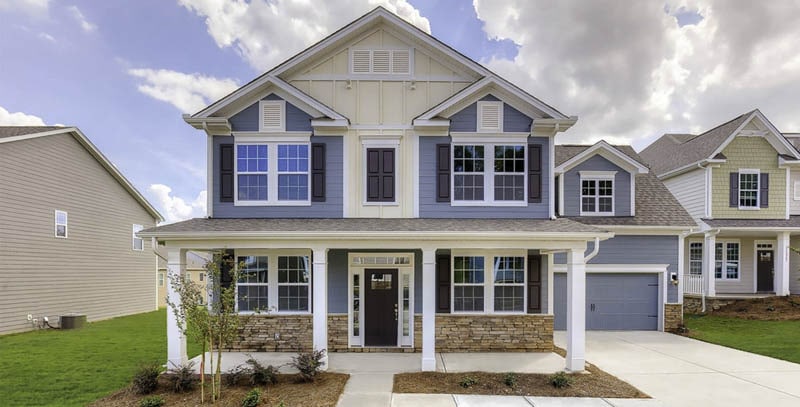 Horton believes that the firm found success because of its personalized floor plans, which cater to every client. D.R. Horton goes the extra mile to tailor the home to the family's lifestyle. In fact, there are 7,000 marketing professionals spread across the country to help every homeowner build their personalized home. The firm's dedication to providing one-of-a-kind homes for every client has landed it on the top of Professional Builder magazine's Housing Giants list since 2002.
The firm's family-friendly homes have classic looks that will surely make any homeowner feel welcome. This blue Neoeclectic's inviting ambiance is generated by its cheerful color palette. The colonial elements, such as the columns and shingled windows, give it a classic all-American look.
---
6) Maracay Homes
15279 N Scottsdale Rd. Suite #300, Scottsdale, AZ 85254
Maracay Homes has been Arizona's leading home builder for 25 years, and that might be down to its innovative smart home solutions. All of the firm's projects are Energy Star and LEED certified. The firm has provided 10,000 of these homes across Arizona. The firm's design studio and Flex Design building process provide a simplified plan for homeowners who want a sustainable home. This approach has gained the respect and trust of the firm's clients, of course, but also its employees. Maracay Homes was named as one of Arizona's Top Companies to Work For. It also received the Innovation Project Residential Award from the U.S. Green Building Council.
The firm's Arizona and Phoenix communities are made up of beige ranch homes that blend perfectly into the desert landscape. And the uniform look is comforting, it celebrates community and expresses affection for the distinctive Arizona landscape. If the exteriors are all Arizona, the interiors are cosmopolitan, modern, and chic. Some interiors have, for instance, a playful post-modern mix of hardwood flooring and Mediterranean tiles, complete with contemporary rustic furnishing.
---
5) Meritage Homes
8800 E Raintree Dr. Suite #300, Scottsdale, AZ 85260
Since its conception in 1985, Meritage Homes has been striving to build sustainable homes that are good for the family and good for the environment. The firm's Energy Star-certified homes have unique energy-efficient features found in almost every room. From its advanced framing to its conditioned attics, every aspect of the home is up to Energy Star standards, so expect a sustainable home that has improved air quality and state of the art insulation. For these reasons, it's not surprising that Meritage Homes has been Energy Star's Partner of the Year for Sustained Excellence since 2013.
Meritage Homes has a diverse portfolio that ranges from Tudor to Craftsman. Its simple, elegant Craftsman bungalows often feature Spanish inspired roofing. Its multi-level homes vary traditional styles with a rustic touch. This home, for example, has clear Craftsman features including detailed stonework, but it also smuggles in hints of the Prairie-style.
---
4) KB Home
10990 Wilshire Blvd., Los Angeles, CA 90024
KB Homes has been leading the speculative home market for over 60 years because of its intensive Build-To-Order process. This customer-centered method seeks the client's approval on every step of the process. Furthermore, a representative who explains every step. This lengthy, meticulous process was instilled by Founder Eli Broad. As one of the pioneers in the homebuilding industry, Broad knows that being practical with the floor plans will always guarantee a satisfied client. And the process creates homes that are not only convenient but sustainable. The firm's green building services recently won twenty awards in the Energy Star Certified Homes Market Leader awards.
This project is a classic KB Home: a simple Craftsman with beige bricks, complemented by wooden window panes. Craftsman and farmhouse are common styles used by the firm. The home's beige color palette folds it into the neighborhood, giving individual home and the community a rustic touch.
---
3) Tri Pointe Homes
19520 Jamboree Rd. Suite #200, Irvine, CA 92612
Tri Pointe Homes is the most decorated member company of the Tri Pointe Group. The firm annually receives hardware and recognition from Eliant awards, MAME awards, BIA awards, and Golden Nugget awards. All of these awards are generated by Tri Pointe Homes's meticulous approach to design. The firm makes sure both the exterior and interior of the home are cohesive. In its blog, the firm highlights a lake house that was decorated according to its theme. A cool color palette gives the home a beachy vibe, and rustic decorations bring out the natural textures of the room.
Tri Pointe's lets its aesthetics follow the themes of its community locations. Its California homes, for instance, are a mix of traditional and contemporary Spanish homes. These two styles are perfect for the domesticated desert landscape.
---
2) Lennar
700 NW. 107th Ave., Miami, FL 33172
Established in 1954, Lennar builds communities in 21 U.S. states. The firm has constructed specialized communities, including active adult, urban, suburban, and golf course living. Its wide scope of services has led Lennar to be the second highest earning home building company in the United States. And Lennar's modern homes have earned numerous awards, including ten Synergy awards and nine FAME awards.
Lennar creates technologically advanced houses that aim to make home life easier for its clients. The homes are engineered to be controlled remotely through the convenience of the homeowner's phones. Additionally, its projects are made more luxurious because of the cutting edge fixtures and appliances.
Even though the Lennar offers modern interiors, most of its exteriors are traditional: stone accents and wood lining. This Craftsman home features the front gabled roofing and a Victorian style porch.
---
1) Pulte Group
3350 NE Peachtree Rd., Atlanta, GA 30326
Bill Pulte was only 18 years old when he built his first home and, much to his surprise, it sold for $10k. This inspired him to establish his own company and develop his own neighborhoods. So in 1956, he established Pulte Group and it was an instant success. Its first subdivision provided homes for the price of $29k.  In 2019 it's the country's third highest earning company, and it serves over 50 housing markets in the country.
Pulte Group is not only about its history, however. The company is striving to become a more conscientious builder through sustainable practices. Being a sustainable builder means shifting to a more technologically advanced practice so the firm is offering premium smart houses for its communities. Pulte Group was the first builder to prewire houses with premium WIFI wiring.
The firm's award-winning communities have a diverse look that ranges from farmhouse to modern, but still maintain classic, traditional facades. The home pictured is a modern—or perhaps even a post-modern— reimagining of a Craftsman home. The pop of green gives a playful, ironic twist to the classic style: Main Street, Norman Rockwell America with a knowing wink.
---
How can I find a home builder near me?
Read our latest articles on the best home builders across the country. If you don't see your city or state in the articles below, just let us know – we are happy to create a tailored recommendation list just for you.
Custom home builders in the US
Prefab and modular home builders in the US
About Our Rankings
This list takes a range of ranking criteria into consideration, including but not limited to: work history, customer satisfaction, awards and recognition, geographic area of work, cost, building permits, and clientele. We spent over 40 hours researching local contractors before calculating the final ranking for this post. If there is additional information about your business that could affect these rankings, please fill out this form and we will take it into consideration
---
Get Bids For Your Build
If you are thinking about building a custom home, we recommend checking each builder's license with the local licensing board, speaking to past clients, and using our bidding system to get competitive quotes from at least 3 contractors. Getting multiple bids is the best way to ensure you get a fair price and that bids include the complete scope of work.