Gone are the days when the bathroom was just a place to take a shower. These days, it has become a place of luxury in which to unwind after a long, busy day. Bathrooms in San Jose's homes are considered private, peaceful sanctuaries amidst the bustling life of Silicon Valley. These spaces embody the artsy nature, laidback life, and modern style of the city.
According to the San Jose Mercury News, homeowners spend an average of  $6,000 to $14,000 on small improvements on bathrooms, while luxury remodels can reach to $60,000 and up. In many homes in the valley, bathrooms are being upgraded using technology; water temperature and custom lighting can now be controlled with a push (or a tap) of a button. In terms of style, vintage mirrors and unique light fixtures are on trend. They provide an interesting vibe while neutral and monochromatic elements throughout the whole space keep it relevant and up-to-date.
San Jose has many talented contractors who are expert bathroom remodelers. This list of 15 are local and national awardees, press favorites, and contractors highly praised by clients and homeowners.
If you are thinking about remodeling a bathroom, we recommend checking each builder's license with the local licensing board, speaking to past clients, and using our bidding system to get competitive quotes from at least 3 contractors. Getting multiple bids is the best way to ensure you get a fair price and that bids include the complete scope of work.
---
15) EOL Builders
214 Birch Ridge Cir, San Jose, CA 95132
San-Jose based EOL Builders offers a variety of building, construction, and remodeling services. Headed by principal Eli Lavie, this firm provides custom construction with specialties in kitchen and bathroom remodeling and additions. Additionally, the firm also builds commercial projects. The firm serves San Jose and the Silicon Valley.
The company's work speaks for itself in terms of its style and functionality. This remodeled bathroom pulls inspiration from European bathrooms with its semi-floating sink and cabinetry. The clean lines in a cream and white palette accented by dark gray make for a modern look.
---
14) Hauser Construction
302 Lincoln Ave., Suite 202, San Jose, CA 95125
Hauser Construction is a design-build firm that primarily focuses on the renovation and upgrading of aging-in-place homes and accessory dwelling units (ADUs). Founded by Roy Krautstrunk, the firm is passionate about helping families live closer together and providing them a safe home through its additions, renovations, and remodels. For more than ten years, the firm has served the Silicon Valley and surrounding areas.
This firm creates some of the most relaxing and Zen-inspired bathrooms in the area. To achieve this, a neutral color scheme and good lighting is utilized throughout the space. Wood accents such as shelves and wall features can be seen to bring in nature. This featured bathroom features light in every part of the space, from the recessed wall and ornate light fixtures to the sleek shower and the steps leading up to it.
---
13) Baron Construction & Remodeling Co.
14510 Big Basin Way, Saratoga, CA
Family-owned and operated since 1981, Baron Construction & Remodeling Co. has the skill and expertise earned through years of experience to build superior new homes and remodels tailored to its clients' wants and needs. The once-small firm has since expanded in 2014 to allow for more services such as new home construction, additions, and renovations within San Francisco and San Jose areas.
The firm often constructs and remodels bathrooms in modern styles. Reviews from clients praise the company's world-class work on tiling and cabinetry. It makes an understated all-white bathroom interesting through varying shades and textures seen in the tiles, wall accents, and accessories. A skylight effectively and naturally illuminates the space to bring out the details.
---
12) EZ Baths
21615 Hesperian Blvd., Hayward, CA 94541
EZ Baths is a family-owned and locally-operated remodeling company that specializes in bathroom remodeling. Serving Alameda, Contra Costa and San Mateo, it has over 25 year of experience in providing high-quality remodels and renovations to homeowners.
The firm offers a variety of options for its clients depending on their needs. These range from remodeling or updating bath systems and shower systems, to installing aging-in-place accessibility products. Its specialization in aging-in-place accessibility allows the firm to understand the lifestyle of its older clients and readily harmonize design and functionality to one of the most important rooms of the home.
This countryside-inspired bathroom is an example of what the firm does best. The walk-in bathtub is ideal for an ADU bathroom and acts as the focal point of the room. An eye-catching wallpaper, traditional toilet and sink facilities, and quaint accessories complete this charming bathroom.
---
11) HomeTech Construction & Design
111 N Market St. Suite #300, San Jose, CA 9511
HomeTech Construction & Design is a boutique company of highly trained professionals with a mission to provide top design and construction with an emphasis on longevity and environmental impact. As a green company, it utilizes sustainable materials and practices to remodel and upgrade homes within the Silicon Valley and Bay area.
The firm offers a comprehensive list of services when it comes to bathroom remodeling—tub to shower conversion, expansions of small bathrooms, and everything in between. Its portfolio of bathrooms feature a marriage of light and dark tones used in the tiles and cabinetry. This Scandinavian-inspired bathroom has a freestanding tub, dark-stained floating cabinets with his-and-hers sinks, and a full-glass encased shower area.
---
10) American Kitchen and Bath
1758 Junction Ave. Unit D, San Jose, CA 95112
With over 30 years experience in the remodeling industry, American Kitchen and Bath has built a reputation in the industry marked by national recognition for their renovation projects throughout San Jose and the Silicon Valley. A member of the NKBA and NARI, the firm has been recognized as one of the Top 500 Remodelers in the United States by Qualified Remodeler. It is also a Diamond Certified company, having passed the rigorous 12-step process that includes a stringent customer satisfaction research by the American Ratings Corporation.
The firm is headed by president and owner, Johans Wartenbergh. He has more than 30 years of experience in residential and commercial construction and leads the company in its projects along with an expert team of designers and builders. He also leads the firm in giving back to many community and charity projects through sponsorships, such as The Bay Area Rescue Mission and the Special Olympics. Bathrooms from this firm are more on the traditional side, with dark cherry cabinets and granite tiles often used. Pops of color and chrome or pewter hardware in this featured bathroom make the room more interesting.
---
9) Goodfellas Construction
2033 Gateway Pl. Suite #643, San Jose, CA 95110
Goodfellas Construction is a general contractor that does residential home remodeling and commercial construction projects all over California, from San Francisco to Los Angeles. The firm started in Los Angeles in 1998 and expanded their operations to serve the Bay area in 2007. A full-service remodeler, it specializes in kitchen and bathroom remodels.  
The firm's portfolio boasts a mix of luxurious suites and quaint rooms that are tailored and style to fit the client's needs. Recently, the firm collaborated with mom and blogger Joy Cho on a dreamy pastel kitchen to showcase its skill and technique in building. Its bathrooms come in all shapes and sizes, from traditional powder rooms to large ensuite bathrooms.
The expansive remodel of a bathroom suite features a massive walk-in shower with three shower heads and floor to ceiling tile of mixed mediums for that ultimate spa experience. A modern vanity features a large trough sink with double faucets and gorgeous gold accents that complement the marble of the room.
---
8) EBHCI
441 Rutherford Avenue, Redwood City, CA 94061
Ebcon Corporation|Hughes Construction, Inc. (EBHCI) is the product of a merger between two companies who both have solid reputations going back to 2002. The new company is led by Erik Bergstrom with Erik Hughes, former CEO of Hughes Construction, Inc., heading Business Development and new market explorations. The company specializes in high-end custom homes and luxury remodels in the Peninsula and Bay Area.
After the merger in 2016, the company won multiple awards in the remodeling industry such as the NARI Meta Gold Award and several NARI Regional Contractor of the Year awards. Various magazines have also recognized the firm's work, such as Luxe Magazine and Modern Vintage.
Bathrooms built by this firm range from Southern-inspired traditional bathroom to contemporary Scandinavian baths. Pastel colors such as sky blue and peach can be found in a number of projects as well as the staple all-white scheme. Chandeliers, alcove dual vanities, and free-standing tubs bring in luxury and class to its projects.
---
7) CALbath Renovations
2109 O'toole Suite E, San Jose, CA 95131
CALbath Renovations is a full-service bathroom remodeler based in San Jose. Its projects are defined by detailed workmanship—from charming bathroom fixtures to warm, inviting spaces. A member of the NKBA, NARI, and BBB, it has gained national recognition in the remodeling industry through Qualified Remodeler's Top 500 Remodelers since 1999, and Remodeling Magazine's Top 550 of 2013.
The firm is the brainchild of college roommates Dan Leichty and Scott Davis during their last year at the University of California – Irvine. It started as a small business in 1991 in which they refurbished bathtubs by soliciting door-to-door to apartments in the area. Now, the firm offers every service possible to upgrade and remodel a bathroom. The firm often works with acrylic bath systems, dual vanities, and alcove bathtubs. Dark cabinets and light tiles are also prominent features in most of the firm's projects. An occasional pop of color and greenery make its spaces interesting.
---
6) Valley Home Builders
3466 Edward Ave., Santa Clara, CA 95054
Located in the heart of Silicon Valley and servicing San Jose, Palo Alto & Santa Clara Counties, Valley Home Builders is a designer-builder that sets itself apart through distinct remodels and upscale additions of homes. It aims to reflect the cutting-edge technology of the region by creating living spaces that embody both beauty and function.
Mehdi Vatani founded the firm in 2006 after being laid off twice from tech-sector sales positions. His change of career proved to be successful, as the company has developed into one of the premier design-build firms in the area. He is a member of Remodelers Advantage, a nationwide trade group devoted to awareness and industry improvements. He is also the recipient of Remodeling Magazine's Big 50 Award in May 2013, while the firm has received two NARI-Silicon Valley Meta Gold Awards for their remodeling services.
The firm builds and remodels bathrooms in both traditional and modern styles. Often, the two are combined to get the best of both. All the elements of the space is done for form and functionality, as in this NARI-awarded bathroom suite. The traditional is heightened with a modern touch as seen in the posh custom flooring and dual vanities with added lighting. A freestanding tub, huge glass shower doors, and a mirrored cabinet makes the room feel larger, while the half wall defines the spaces of the shower and the tub without constricting the overall look.
---
5) Hammerschmidt Construction
1574 Country Club Drive, Los Altos, CA 94024
Hammerschmidt Construction is a design-build firm that does upscale remodeling and renovations throughout the Silicon Valley and Bay areas. The firm is founded by California-native and third generation builder John Hammerschmidt. He, along with his wife Lynn, run the company and manage a portfolio filled with award-winning bathrooms, kitchens, and whole house renovations.
The firm is known to integrate technology in its projects and work with both traditional and modern building techniques in order to provide the best of the best to its discerning clientele. For its seamless execution of its projects, the firm has earned 14 NARI Meta Awards in Gold, Silver, and Bronze for their building and renovation projects. In 2007, Remodeling Magazine included them in the Big 50 list of the best US remodeling companies.
This high-tech spa-like bathroom was the product of a required renovation after water destruction affected most of the room. The firm modernized it by installing an iPad for music and video entertainment, and for control of security functions. A touch screen control panel on the inside shower wing wall allows for customizing colored lights in the shower, adjusting various shower heads desired by each user, and safe water temperature control for the homeowners' children.
---
4) RemodelWest
12333 Saratoga-Sunnyvale Road, Saratoga, CA 95070
When it comes to expanding or remodeling a home, RemodelWest brings more than 20 years of experience to the table with a team of experts from the remodeling industry. The firm started out as Cupertino Kitchen Design in 1992 by founder Bill Reid. He draws from 24 years of hands-on experience in cabinetry design and sales. What was once a two-person team grew to a full design-build company with fifty employees ready to deliver exceptional kitchen and bathroom remodels, additions, and whole house renovations.
The firm's kitchen and bathrooms have earned awards from the industry, with four awards from the National Kitchen and Bath Association (NKBA). The firm was also recognized in 2001 by the National Association of Home Builders (NAHB) as a National Remodeling Quality Award Winner.
The photo below features a European-inspired bathroom from this firm. The space is reminiscent of a traditional 'wet room' often seen in Europe. The walls and tiles are clad in white tile trimmed in light blue and dark gray to bring a sense of peace and calm to the room. A vintage trough sink and unique lighting adds interest.
---
3) Heartwood Residential
520 E McGlincy Ln., Campbell, CA 95008
Heartwood Residential is a design-build remodeling company known for kitchen and bathroom remodels in upscale neighborhoods across the Silicon Valley and South Bay. In addition to its specialties, this NARI member also does many dimensions of remodeling and renovation such as build-outs, tech integration, demolition, and custom cabinetry. As a member of the US Green Building Council, the firm also uses green building practices to provide homeowners more eco-friendly and sustainable homes.
At the helm of the firm are Nick and Michelle Yegge. Nick is a fourth generation builder who has worked for several general contractors. He had framed for a high-end, custom home builder, where he learned the best practices from exceptional craftspeople. Michelle serves as project coordinator, guiding and assisting the firm's clients throughout the whole process.
The firm has a knack for integrating natural elements and smart design in its projects. Bamboo, granite, and stone are paired with sleek lighting and contemporary hardware to achieve a polished look. For its impeccable bathroom remodels, the firm has won three NARI-Silicon Valley Meta Gold Awards. This award-winning coastal bathroom features an open layout similar to a resort-like vibe of the space. A glass wall separates the shower area while the floating sink and modern lighting completes the contemporary look.
---
2) Timeline Design + Build
14401 Big Basin Way, Saratoga, CA 95070
Saratoga-based Timeline Design + Build is a multi-awarded firm specializing in custom homes and renovations. With numerous awards from NARI and the NKBA for its kitchen and bathroom remodels year after year, the firm has built a solid reputation as one of the top contractors in San Jose and the Silicon Valley area.
The firm was started in 1990 by Matthew Harrigan. He started his career when he was just 14 years old, building cabinets for customers in his parents' garage. Matthew served as former president of the San Jose Chapter of NARI. He works with a team of fellow experts in the field such as top notch designers and builders to produce award-winning designs and construction. One of them is interior designer Kyle Le who was recently awarded with the prestigious NKBA 30 Under 30 Award in 2017.
The firm has earned over 15 awards for its bathrooms which consist of an eclectic mix of styles and forms drawn from all over the world. This luxurious bathroom remodel in upscale Portola Valley exudes luxury and opulence with its gold palette. It opens up to a newly landscaped backyard through a large Nana window to become an outdoor room.
---
1) Harrell Remodeling
944 Industrial Avenue, Palo Alto, CA 94303
Harrell Remodeling is an award-winning design-build remodeling company that began in 1985 with Iris Harrell. The one-woman company steadily grew to an expert team of 50 people composed of award-winning designers, architects, and craftspeople. Today, this 100% employee-owned company is headed by Ciro Giammona, a Certified Remodeler and  Certified Green Building Professional.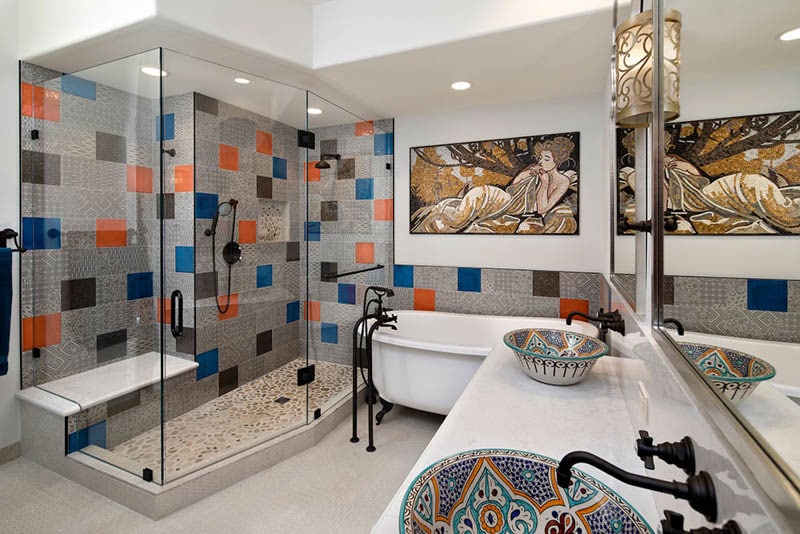 The firm has built a stellar reputation in all things remodeling in the Bay area- kitchen and bathroom remodeling, specialty rooms, and whole house renovations. It is also a leader in Green Building, Universal Design, and Aging in Place. Its awards portfolio includes a 2016 Master Design Award gold recognition for Kitchen More Than $150,000, a NARI Silicon Valley Platinum Metamorphosis Award in the universal design (barrier-free) category, and two Judges' Choice Awards as the greenest and overall best of the 43 projects in the contest.
The firm is not afraid to play around color and design when it comes to its bathrooms. This Moroccan-inspired suite features bold pops of color in the shower tiles as well as intricate sinks in the same scheme. A vintage clawfoot tub and dark exposed shower plumbing complements the fun artistic palette of the space.
---
How can I find a contractor or home builder near me?
Read our latest articles on the best residential contractors and home builders in and near San Jose. If you don't see your city or project type below, just let us know – we are happy to create a tailored recommendation list just for you.
The Best Bathroom Remodeling Contractors in Fremont, California
The Best Bathroom Remodeling Contractors in Oakland, California
The Best Bathroom Remodeling Contractors in Berkeley, California
---
About Our Rankings
This list takes a range of ranking criteria into consideration, including but not limited to: work history, customer satisfaction, awards and recognition, geographic area of work, cost, building permits, and clientele. We spent over 40 hours researching local contractors before calculating the final ranking for this post. If there is additional information about your business that could affect these rankings, please fill out this form and we will take it into consideration
---
Get Bids For Your Build
If you are thinking about remodeling a bathroom, we recommend checking each builder's license with the local licensing board, speaking to past clients, and using our bidding system to get competitive quotes from at least 3 contractors. Getting multiple bids is the best way to ensure you get a fair price and that bids include the complete scope of work.
---