Paradise is a small yet beautiful town in Butte County. It is an idyllic community filled with a vast expanse of trees, land, and nature. Homes here typically cost in the area of $200k, and the homeownership rate is 70.5%, which is higher than the national average of 63.6%. Common architectural styles in Paradise include the classic American Craftsman style and European themes such as Mediterranean and Tuscan. 
This list compiles the best custom home builders in Paradise — the firms behind the area's most beautiful homes. These firms were chosen based on skill, previous work, awards, and the range of services they offer, which come into play due to the area's unique environmental conditions.
If you are thinking about building a custom home, we recommend checking each builder's license with the local licensing board, speaking to past clients, and using our bidding system to get competitive quotes from at least 3 contractors. Getting multiple bids is the best way to ensure you get a fair price and that bids include the complete scope of work.
---
9) Lockwood Enterprises
2850 W. Center St., Anderson, CA 96007
Lockwood Enterprises specializes in new home construction, entire house remodeling, and emergency restoration services. Its highly skilled team is well-versed in all aspects of the construction industry, making the firm equipped for even the most specific concerns, such as aging-in-place requests. The firm has offered its services in the area since 2001, and, being a local family-owned company, it offers a better understanding of the common needs and concerns clients in the area often share.
The firm's portfolio highlights its specialization of log house and cabin themes. As seen in the featured project, the firm's team showcases a particular skill for woodwork. Here, it made use of a more traditional approach to the bungalow through the stacked logs and wood-paneled walls by the windows.   
---
8) Morris Construction
1906 Jackson St., Lodi, CA 95242
Established in 1985, Morris Construction utilizes a design-build approach and offers general contracting and construction management services. It extends its services to both the private and public sectors and has steadily grown into one of the region's most respected builders. Some of its past projects include high-end residential family homes and modern medical offices. It is led by founders Barry and Dan Morris, two contractors with a combined experience of over six decades. Together, they lead their team of expert residential and commercial builders, and have established a strong bond with some of the area's best architects, engineers, and subcontractors.
Although the firm has worked on homes with a wide variety of styles, it specializes in Spanish villas, Mediterranean-inspired homes, and eclectic modern houses. It often makes use of warm and inviting tones, in addition to pillars and terracotta tiled roofs.
---
7) Interwest Homes Corp.
950 Tharp Rd. Suite #1402, Yuba City, CA 95993
With nearly four decades of experience, Interwest Homes Corp. has constructed over 2,500 new houses around the Northern California area. It has established a solid reputation for quality craftsmanship and excellent customer service, as well as livable floor plans and inviting exteriors. The firm constructed several of the beautiful neighborhoods around the Yuba-Sutter area, such as Montecito Estates and Kensington Palace. Its homes often feature terracotta-styled roofs with stucco finishes, along with shuttered windows. It also makes use of simple yet elegant pillars, and specializes in one-story homes.
The featured work is an example of the firm's contemporary bungalows. Here, window shutters and a stucco finish give the home a traditional yet modern feel.
---
6) Len Stevens Construction, Inc.
12888 Spenceville Rd., Penn Valley, CA 95946
Len Stevens takes pride in having constructed a wide variety of homes, from mid-range houses to sprawling estates. The firm includes a complete support staff and a team of in-house interior designers, project managers, and superintendents, all of whom who are onsite on a daily basis for optimal coordination. Throughout its years in service, the firm has established relationships with some of the area's most reputable subcontractors. It is through these partnerships that the firm is able to maintain its high-quality craftsmanship and competitive pricing, all while utilizing the latest technology in the industry. In addition to its custom homes, the firm also takes on entire house remodeling projects and offers additional design and decorating services after the completion of a new build or remodel.
The firm's portfolio is a gallery of traditional and modern themes, as seen in the featured contemporary farmhouse. Here, the firm's team made use of large windows to give the house a modern touch against the numerous barn elements such as the color palette, gabled roof, and finishes.   
---
5) JEJ Construction, Inc.
10556 Combie Rd., PMB 6478, Auburn, CA 95602
JEJ Construction, Inc. offers its clients over 40 years of design-build experience and extends its services throughout the Greater Sacramento area. It focuses on high-end residential custom homes and luxury remodels, in addition to select commercial projects. The firm's traditional designs are showcased in its portfolio, with an array of quaint cottages and large farmhouse revival estates. It specializes in American Craftsman-inspired homes, using exposed beams, intricate custom finishes, and rustic wood flooring.
The featured project embodies these elements, along with finely-crafted columns and a timeless gabled roof. The firm used a palette of blue and white, further bringing out the classic American Craftsman theme, and incorporated natural elements such as the plants and garden surrounding the home for an inviting appeal.
---
4) Marsico Custom Homes, Inc.
17204 Brewer Rd., Grass Valley, CA 95949
Marsico Custom Homes, Inc. specializes in new home construction as well as entire house remodeling. It offers its clients a wide range of services, including deck construction, outdoor living, and design and architectural services. The firm specializes in the Tahoe architectural style, and its work is often characterized by the use of timber frames, specialty facades, interior details, and unique accents and finishes. The firm is led by Sam Marsico, a general contractor with over 15 years of experience who first learned the building trade from his father and uncle. He is a Certified Green Professional and uses the latest green building practices on each of his projects.
The featured project showcases one of the firm's European-inspired works. For this home, the team utilized stucco exteriors, gabled roofs, and a small turret and tower just off the side of the house, reminiscent of classic Tudor and Victorian architecture.    
---
3) Trilogy Construction, Inc.
7066 Skyway, Paradise, CA 95969
Trilogy Construction is a family-owned business that has been in the industry since 1967. It offers its services throughout Northern California, which include custom home building, commercial building, fire restoration and rebuilding, and entire house remodeling. Its portfolio is filled with a vast range of architectural styles. As an Aging-In-Place Specialist, the firm also provides a variety of services, from childproofing to installing fixtures for differently-abled people. The firm specializes in classic craftsman architecture, often showcasing intricate column and beam work.
These elements are featured in the selected project. For this home, the firm's design team added stucco finishes to the entrance columns to give the home an unique touch. The team also opted for a smooth shingled roof to complement the slated exterior walls.  
---
2) Airehart Construction, Inc.
555 Main St. Suite #210, Chico, CA 95928
Airehart Construction offers high-end custom home building services and is best known for its ability to handle ground-up construction in the most challenging environments. It has worked on building homes atop basalt lava cap canyon rims and houses right in the middle of orchards, which make them more susceptible to flooding. Still, the firm has been successful despite these factors, through its use of the latest industry technology and techniques, in addition to several partnerships with some of the area's best subcontractors and engineers. Airehart also incorporates green building practices into each of its projects. It views green building as a focal point of its work, providing rain catchment systems, sustainable landscaping, and solar heating.
The firm also provides custom furniture work and has gained a solid reputation for its innovative designs and superb craftsmanship. It often handles the interior finishings and furnishings of its custom homes, with its team collaborating to render raw elements such as steel and lumber into gorgeous and luxurious pieces like desks, shelves, and dining tables.
---
1) Haldeman Homes, Inc.
11850 Enterprise Dr., Auburn, CA 95603
Halderman Homes boasts a vast portfolio of intricate architectural styles, which vary from Tuscan and contemporary, to Spanish, Craftsman, Tahoe, and Victorian. In addition to its custom single family homes, it has also worked on several commercial and multi-family projects. The firm is led by Jan Haldeman, a founding board member of the Right Hand Auburn Homeless Shelter. Together with his team, he offers clients a highly streamlined process and an unique "one-year touch-up policy," wherein clients may contact the firm for any updates needed on their new home within a span of a year. The firm has had its work featured numerous times in the Auburn Journal, which also named Haldeman as its "Builder of the Year" several years in a row.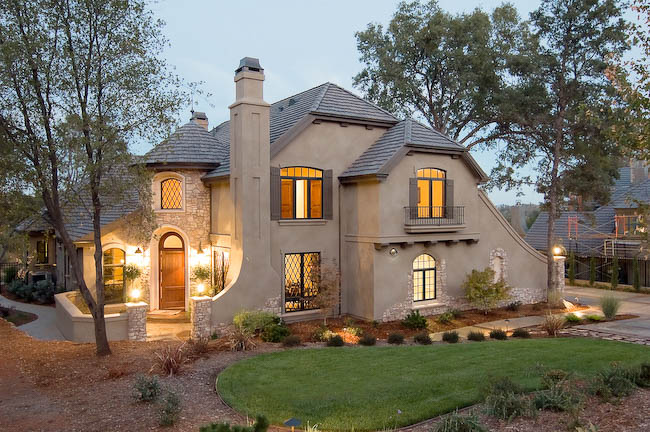 The featured project showcases the firm's Tuscan work. The incorporation of slopes and lines in this home perfectly blend with one another, true to its Mediterranean themes. For this home, the firm's team utilized a neutral and earthy palette, but used a cooler tone for the roof for contrast. More European features include the stucco finishes, metal mesh windows, and classic French shutters.
---
How can I find a contractor or home builder near me?
Read our latest articles on the best residential contractors and home builders in and near Paradise. If you don't see your city or project type below, just let us know – we are happy to create a tailored recommendation list just for you.
The Best Custom Home Builders in Sacramento, California
The Best Custom Home Builders in California
---
About Our Rankings
This list takes a range of ranking criteria into consideration, including but not limited to: work history, customer satisfaction, awards and recognition, geographic area of work, cost, building permits, and clientele. We spent over 40 hours researching local contractors before calculating the final ranking for this post. If there is additional information about your business that could affect these rankings, please fill out this form and we will take it into consideration
---
Get Bids For Your Build
If you are thinking about building a custom home, we recommend checking each builder's license with the local licensing board, speaking to past clients, and using our bidding system to get competitive quotes from at least 3 contractors. Getting multiple bids is the best way to ensure you get a fair price and that bids include the complete scope of work.
---